Monday, Nov 12, 2018
First-ever OUWB students to be accepted into competitive scholarship program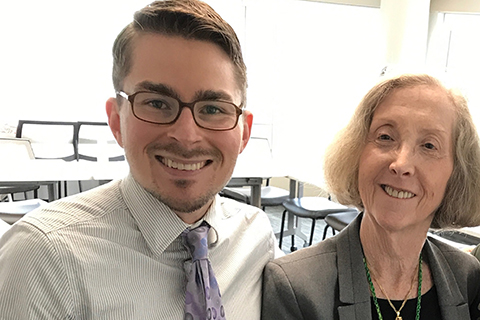 M3 Jeff Triska works with Assistant Professor of Public Health Rachel Yoskowitz on OUWB's Score for Success Refugee Youth Program.
M2 Michelle Fedorowicz and M3 Jeff Triska were the first OUWB students to be selected for the highly competitive National Health Service Corps (NHSC) Scholarship Program. This program awards scholarships to students pursuing primary care health profession training, and in return, the students commit to providing primary care health services in health professional shortage areas.

The prestigious scholarship program is competitive – fewer than ten percent of applicants are accepted – and the application process is demanding. Candidates must write three essays, provide two letters of recommendation, and exhibit an unwavering commitment to serving disadvantaged populations. Scholarship recipients receive financial support including payment for tuition and other education costs.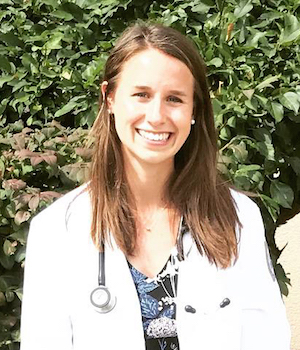 M2 Michelle Fedorowicz's commitment to AmeriCorps in
Philadelphia helped qualify her for the national scholarship.
Hard work pays off

After years of volunteer work, an arduous application process, and a long waiting period, Fedorowicz and Triska were thrilled to learn that their applications had been selected.

"I have wanted this for a long time, and I'm happy to see this desire finally become a reality," Triska says.

The two both commit their time to serving the community, from Triska's work with OUWB's Score for Success Refugee Youth Program and Fedorowicz's service in AmeriCorps in Philadelphia.

"I think it's so important for medical students to partake in service activities because it allows us to connect with the community," Fedorowicz says. "Our country has some disturbing health disparities, and I see it as my job as a future physician to provide care to people who might not normally have access to it."

Triska adds: "Volunteering is a great way to be exposed to and engage people from backgrounds different from your own. I think this is important so we can develop empathy and understanding when helping those who come from all backgrounds—especially disadvantaged ones—in and out of the clinical setting."

Both students recognize that the vigorous application process and competitive nature of the program may deter their classmates from applying, but they advise other students to be persistent. Fedorowicz, who also applied last year and was not accepted, is glad that she didn't give up.

They also emphasize the importance of expressing your passion for and commitment to working in underserved areas in your application. "If you're passionate and sincere about helping others, that will show in your application," Triska says.

To learn more about and apply for the program visit: https://nhsc.hrsa.gov/scholarships/prospective-scholars/index.html.