Thursday, Mar 08, 2018
Dr. Folberg honored as pillar of society alongside distinguished metro-Detroit leaders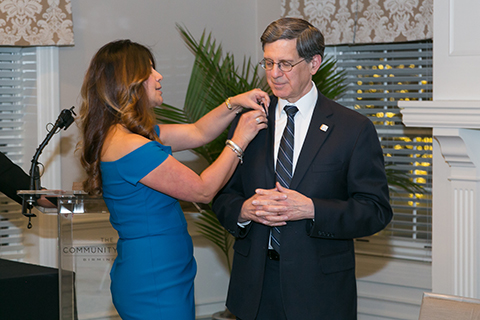 OUWB Founding Dean Robert Folberg, M.D., received recognition at the annual Bates Street Society Dinner, alongside several other Detroit-area leaders who support the work and mission of The Community House in Birmingham.
Dr. Folberg was inducted as the Pillar of Education and Wellness, while David DiChiera, founder of the Michigan Opera Theatre, Paul W. Smith, WJR NewsTalk 760 radio host, and Robert Bury, executive director and chief executive officer of the Detroit Historical Society, were inducted as Pillars of Culture. The Pillars of Philanthropy included Geoffrey Hockman, chairman of the Beaumont Health Foundation, Julie Rodecker, president of DeRoy Testamentary Foundation and Katie Valenti, community philanthropist.
The evening included a keynote address by Ethan D. Davidson, treasurer of the William Davidson Foundation, who shared his journey of putting his music career on hold to return to Detroit and work for his father, William Davidson, the chairman, president and CEO of Guardian Industries Corp., one of the largest automotive and architectural glass manufacturers in the world.
The Community House is a nonprofit that is home to those seeking continuity between personal, professional, philanthropic and recreational pursuits. Since its founding in 1923, The Community House has provided a destination where people can come together to enjoy experiences from educational development to the early planning of life's landmark events, business to pleasure, and charity to recreation.