Friday, Jan 27, 2017
OUWB Celebrates the Life of Martin Luther King, Jr. with Service Days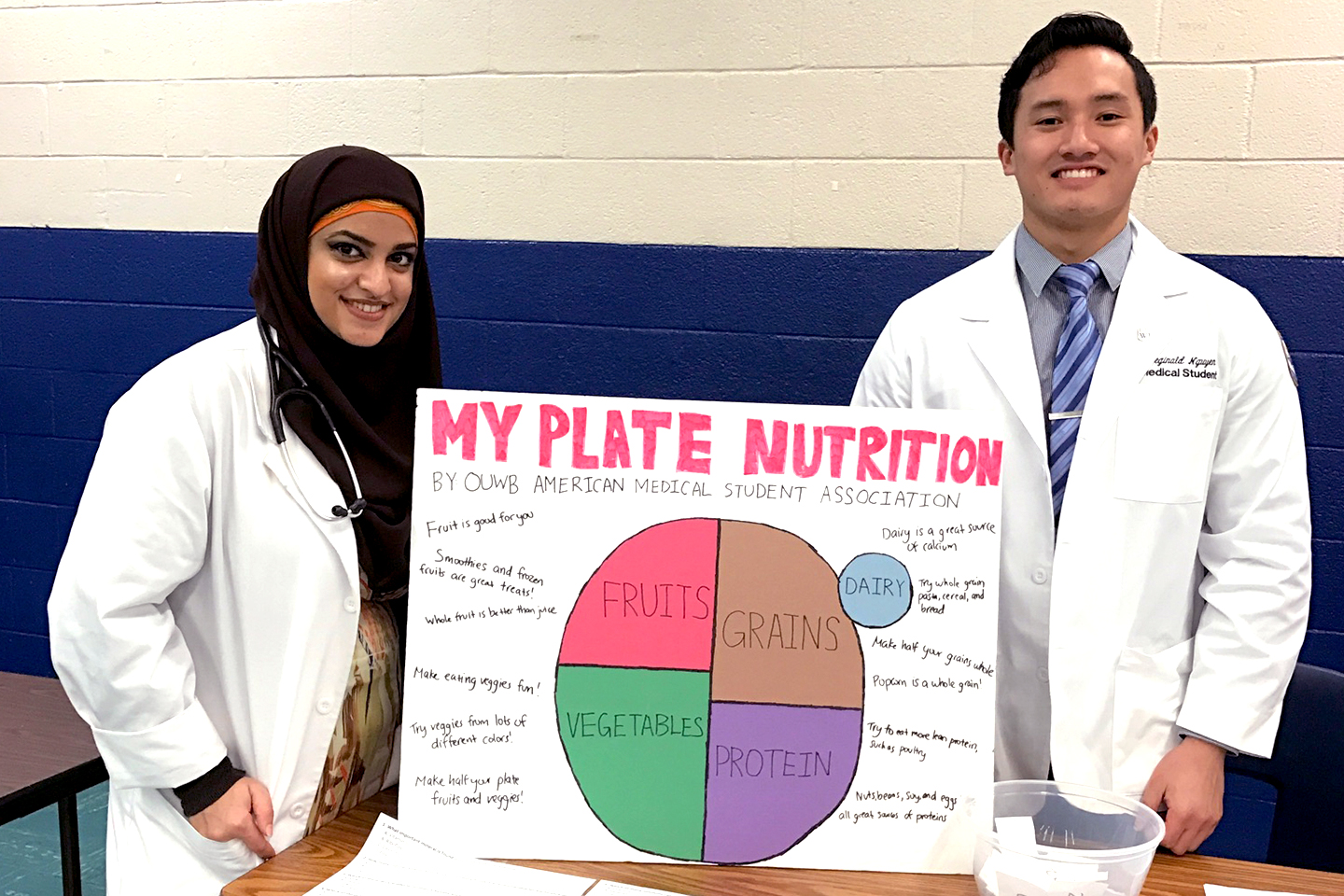 Jamilah Alhashidi - class of 2019 and Reginald Nguyen - class of 2020
To honor the mission of Dr. Martin Luther King, Jr., who said, "Everyone can be great because everyone can serve," Oakland University William Beaumont School of Medicine  (OUWB) students, faculty and staff served communities across metro Detroit.
They volunteered to serve breakfast at the Baldwin Center in Pontiac and delivered meals to homebound seniors with representatives from the Older Persons' Commission. At the South Oakland Shelter, OUWB volunteers assembled first aid kits and hygiene kits.
At the Beaumont Children's Hospital in Royal Oak, student volunteers read new books, donated by OUWB students, faculty and staff, to pediatric patients.
The readings occurred as a live broadcast with medical students reading to the camera as the children watched them on TVs in their hospital rooms.
Health Fair and Taste Fest
OUWB wrapped up the days of service with the families at Chandler Park Academy Health Fair and Taste Fest, where medical students and faculty members transformed the school's cafeteria into a hub of activity, hosting education stations focused on healthy eating habits, the benefits of exercise and stress management.
OUWB medical student Belinda Asare, Class of 2020, shared her love of dancing by leading a station that encouraged participants to move. Her playlist of Nigerian and Ghanian music inspired many to show off their moves.
"Dance is one of the ways I stay fit, " says Asare, who was raised in Toronto by parents who were born in West Africa. Organizers also hosted an Xbox Kinect station to show that there are interactive video games that promote activity.
Building a Healthy Body
To illustrate that smoking is harmful, Asha Shajahan, M.D., family medicine at Beaumont Hospital, brought two cadaver lungs, one pink and healthy, and one black and charred for her table.
At the station called, Wreck your Life, Kim Holka, D.N.P, adjunct professor at Oakland University School of Nursing, distributed goggles that assimilated drinking and driving. Participants tried picking up objects from the floor and walking a straight line while wearing the goggles. They were surprised to discover their level of impairment, emphasizing the severity of driving while drunk.
OUWB Medical Librarians staffed a table with stacks of health information and provided lists of reliable medical websites.
"We are identifying resources for kids that they can use for their health-related school projects. The resources are written for their age group so the information is understandable and not over their head," said Keith Engwall, M.S. L.I.S., assistant professor, and web and emerging technologies librarian.
Students who worked the station about wound care demonstrated how to take care of wounds from bites; the correct way to manage a nose bleed; and the steps it takes to care for wounds to ensure they heal properly. At other tables in the room, students administered health screenings for blood pressure, blood sugar, and cholesterol, and gave vision tests and flu vaccinations. They shared nutrition facts and quizzed people on their knowledge of what a healthy plate of food should contain.
"It is really cool to see that the community, especially the high school kids, are receptive to the information that we are offering here. It's important to get them to think about their health at this age," said Allyson DiMagno, Class of 2020, who calculated the results of a person's weight and Body Mass Index (BMI).
While these special events are planned in honor Dr. King's legacy every January, OUWB's mission to promote, maintain and restore health to individuals and communities served by the school supports his vision all year long.