Changiz Mohiyeddini, Ph.D.
Professor in the Department of Foundational Medical Studies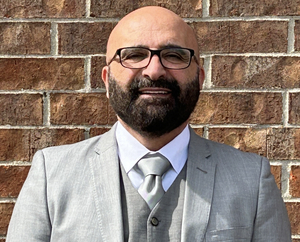 Dr. Mohiyeddini joined Oakland University William Beaumont School of Medicine faculty in September 2019 as a Full Professor in the Department of Foundational Medical Studies. He is the director of Behavioral Medicine and Psychopathology.

Dr. Mohiyeddini received his PhD in Psychology from the Universidad of Trier (Germany) and his habilitation from the Eberhard Karls University of Tübingen (Germany) with a thesis on "Personality, Emotion Regulation, and Psychopathology." Prior to joining the faculty at OUWB, Dr. Mohiyeddini held senior faculty positions at higher education institutions in Germany, Switzerland, Austria, Luxemburg, England, and the United States.

Dr. Mohiyeddini considers scholarship and academic leadership as a collaborative effort to provide efficient, novel, tailored, and scalable solutions to pressing socially relevant issues and challenges. Inclusiveness-based Diversity awareness is the main component of his concept of communication which governs his teaching, supervision, mentoring, and collaboration approaches.

The teaching portfolio of Dr. Mohiyeddini comprises Behavioral Medicine, (Child and Adult) Psychopathology, Brain and Behavior, Clinical-Health Psychology, Personality Psychology, Positive Psychology, and Advanced Assessments and Quantitative Methods. Furthermore, he has extensive expertise in development, evaluation, and management of academic programs and curriculums.

A hallmark of his research philosophy is his interdisciplinary, translational, and team-oriented approach. His research is focused on biological, cognitive, and behavioral indicators of resiliency, trauma, and emotion regulation. The main aim of his educational line of research is to enhance students' success and learning experiences, their sense of inclusion, and the retention of students.

In addition, Dr. Mohiyeddini serves as a quantitative and assessment counselor to medical schools and hospitals in Europe to develop, implement, and evaluate community-based educational and health-related clinical projects.

Contact Information:
Office: 410 O'Dowd Hall
Phone: 248-370-3905
Email: mohiyeddini@oakland.edu
Specialties:
Behavioral Medicine and Psychopathology
Education:
Ph.D., Psychology, University of Trier, Germany
M.Sc. (Diploma), Psychology, University of Trier, Germany