Berkley Browne, Ph.D.
Assistant Professor in the Department of Foundational Medical Studies
Associate Dean for Student Affairs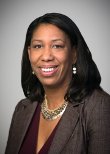 Dr. Browne provides leadership and oversight of OUWB's student support programs and services, signature student events, and student organizations in support of the school's efforts to incorporate best practices in student wellness, residency match preparation, and professional identity development.
In addition to overseeing the career development, academic success, and student wellness and well-being programs, Dr. Browne serves as an adviser for medical students, M1 through M4 years. Dr. Browne is also an assistant professor in the Department of Foundational Medical Studies and serves as a co-course director for the PRISM curriculum.
Her professional background includes more than 15 years of student affairs and student support services experience at the secondary, undergraduate, and graduate levels. Dr. Browne joined OUWB in 2014 as the director of Academic Success. Her most recent positions were assistant dean and interim associate dean for Student Affairs.
Dr. Browne is an alumna of Albion College, where she earned a Bachelor of Arts in political science. She earned her master's in clinical counseling from Ashland Theological Seminary and earned a doctorate in higher education leadership from Oakland University. Her doctoral research, which explored student wellness and wellbeing issues in medical education, was named the Most Outstanding Dissertation (non-STEM category) by Oakland University in 2020.