Four medical schools from across Michigan took part in a symposium hosted in late February by one of Oakland University William Beaumont School of Medicine's student interest groups.
The 7th Annual Robert J. Lucas Surgical Society Research Symposium drew participants from OUWB, Central Michigan University College of Medicine, Michigan State University College of Human Medicine, and Michigan State University College of Osteopathic Medicine.
The event was hosted by the Robert J. Lucas Surgical Society (RJLSS) — an OUWB student organization that aims to provide students with exposure to the surgical field through guest speakers, mentorship, and events.
The symposium highlights the accomplishments of medical students headed for careers in surgery from OUWB and other nearby medical schools.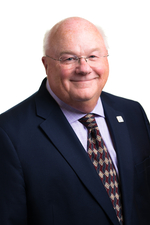 Mezwa
"The fact that the symposium annually draws students from all over Michigan speaks to the importance of recognizing the outstanding research by medical students in the field of surgery," said Duane Mezwa, M.D., Stephan Sharf Dean, OUWB.
"This is the only multi-institutional event in surgery and we are proud that this has become a signature event for OUWB," he added. "The quality of the research and presentations is simply outstanding and matches that of what we would see at any national symposium. I could not be more proud of the students in our Michigan medical schools."
Mark Frikker, M.D., chairman of Surgical Services, Beaumont Health, and chair of OUWB's Department of Surgery, spoke to those in attendance about the impact of Robert J. Lucas, M.D.
"The strength in his practice lay in the fact that he was completely and utterly honest, felt a deep sense of responsibility, and placed a high value on sound surgical judgment," said Frikker.
"He set the standard all of us tried to strive toward when we entered practice," Frikker added. "I would say that there has never been a surgeon here, and there never again will be a surgeon here, who has commanded or will command the respect that Robert Lucas commanded in his own quiet way."
The annual event usually is held at Beaumont Hospital, Royal Oak, but went virtual for a second year in a row as a result of the COVID-19 pandemic.
Nicholas Ludka, president, RJLSS, said regardless of setting, the event is important.
"The process of creating a poster or oral presentation, effectively communicating with an audience in a short amount of time, and fielding questions from lead surgeons from Beaumont is an invaluable experience for budding physician scientists," he said. 
Normally, he said, medical students submit abstracts to national conferences alongside seasoned residents and attending physicians.
"The symposium provides a medical student-focused meeting where students can present their research in a setting made for professional development," he said. "Also, it provides a collaborative space for regional medical students to connect with each other through their shared research interests."
This year, the event featured 12 poster and seven oral presentations.
The top three presentations in each category were identified by a panel of judges. They were: Mezwa; Pierre Morris, M.D., associate dean for Clinical Education, OUWB; Graham Long, M.D., Beaumont surgeon and OUWB professor; Robert Runner, M.D., an orthopedic surgeon at Beaumont; and Darci Foote, M.D., Beaumont surgeon; and Alan Tom, M.D., Beaumont surgeon.
Winners were announced by another judge, Anthony Stallion, M.D., chief of pediatric surgery, Beaumont Health, professor of surgery and pediatrics, OUWB, and a PRISM mentor for OUWB's Class of 2022.
"It's been wonderful hearing your research," said Stallion to the participants. "You are doing a fantastic job of presenting some very difficult subjects."
The top three poster presentations were given by: Misha Haq, M2, OUWB; Shourya Verma, M1, MSU College of Human Medicine; and Catherine Barkach, M2, OUWB.
The top oral presentations were given by: Noopur Ranganathan, M1, OUWB; Siddharth Ramanthan, M3, OUWB; and Zachary Brennan, M3, MSU College of Osteopathic Medicine.