FALL EVENT HIGHLIGHTS:

Our fall performance season kicked off with Mark Stone's annual Peace Day concert on Sept. 20. The event happened live in the Varner Hall Courtyard and was livestreamed on the SMTD Facebook page. Professor Stone was interviewed by Civic Center TV, during which he discussed the return to campus and the Peace Day concert.

The Peace Day concert was so successful that SMTD continued to have more outdoor, socially-distanced events in the Varner Hall Courtyard including From Vivaldi to Metal - the OU Strings Play It All; Brass Ensembles; Percussion Studio Recital; and World Music Concerts.

SMTD's partnership with the Chamber Music Society of Detroit continued on Thursday September 17 as Associate Professor of Music Tian Tian (piano) joined the Aeolus Quartet and Caitlin Lynch (soprano) for a free livestreamed performance of music by Bach, Brahms and Ravel.

On Friday Oct. 9, four students from the Department of Dance presented a socially responsive event at Elliott Tower entitled "Bodies in Protest." Using sections from iconic speeches, new choreography and audience participation, the event examined nonviolent protest from the past and the present in an effort to inspire future support. The choreography was by class members Katie Kirkum, Victoria Poirier, Laurel Ryan, and Grace Zimmerman, under the direction of OU Associate Professor of Dance Thayer Jonutz.

SMTD also started streaming a series of play readings from the Department of Theatre entitled New Voices Rise Up!, as well as faculty events like New Music Night (Ben Fuhrman) and Twilight and Night (Drake Dantzler, tenor and Victoria Shively, piano.)

Brandon Wright, a special lecturer for theatre at Oakland University, who is directing Appropriate for the New Voices Rise Up! series of play readings from the Department of Theatre, was featured on the Oakland County Megacast on Nov. 17. Civic Center TV and the Megacast have posted the interview on their website and a link to the podcast can be found here: https://civiccentertv.com/oakland-university-school-of-music-dance-theatre-lecturer-talks-teaching-virtual-performance/. Appropriate streams on Monday, November 23 at 7 p.m. RSVP to smtdboxoffice@oakland.edu to reserve your virtual seat.

On Nov. 7, more than 140 students and educators participated in the Department of Music's first ever Instrumental Musicianship Symposium. The participating high schools spanned from Michigan to Utah, Georgia, New Jersey, California and Malaysia. The day included innovative sessions by headliners like Patrick Sheridan of The Breathing Gym, "The President's Own" United States Marine Band and Marine Orchestra, Regina Carter, Yoga for Musicians and much more.

As the semester draws to an end, we are adding more live and pre-recorded events on our website daily at https://www.oakland.edu/smtd/performances-and-events/.

ALUMNI HIGHLIGHTS:

Acting alumna Jordan Taylor (BFA '19) was in the premiere reading of Jeff Whitty's adaptation of A Midsummer Night's Dream — in collaboration with Play On Shakespeare and originally commissioned by the Oregon Shakespeare Festival. Jordan, who is in the MFA program at Case Western/Cleveland Playhouse, played the role of Hermia. The play was directed and produced through Zoom by Shakespeare at Notre Dame. For more information, click here.


A research article written by James Isabirye (PhD '19) has been accepted for publication in the international journal Research Studies in Music Education. The article, based on his dissertation study, is titled "Indigenous Music Learning in Contemporary Contexts: Nurturing Learner Identity, Agency, and Passion." Isabirye has also been appointed as full-time Lecturer of Music and Music Education at Kyambogo University in Kampala, Uganda. James says "Thank you for all the support and hello to all of my friends in SMTD at OU."

Music alumna Ann Toomey (BM '14), soprano, has been cast in the role of First Lady in the 2021 production of Mozart's Die Zauberflöte at Glyndebourne, a world-leading opera house in the heart of the Sussex countryside in England. Toomey was recently signed to IMG Artists for general management. For more information, visit https://www.glyndebourne.com/events/die-zauberflote-2021/.

Theatre alum Matthew Carlsen (BFA '20) recently won the 2020 Kennedy Center American College Theatre Festival (KCACTF) National Award for Costume Design for his presentation/costume design work on OU's fall 2019 production of Urinetown.
Read more at www.oakland.edu/oumagazine/news/smtd/ou-alum-wins-award-for-costume-design-at-national-theatre-festival.


Dance alumna Kathryn Calleja (BA '20) has been admitted to the Doctor of Physical Therapy program at OU (her first choice of grad schools.) In addition, Calleja was one of only six students at OU to receive an award in a field of research for her honors thesis and was awarded both a "Thesis Award in Dance" and "Honors College Thesis with Distinction" for her anatomical study of improper pointe shoe use and how teachers can help their student work in more healthy way. "I am so excited to continue my education at such an amazing school and to keep pursuing my goals," Calleja said. "I am very grateful for all of the dance faculty's support and inspiration throughout my time in the program, and every opportunity they have provided me with, to allow me to grow as an artist and individual. I especially want to thank Dr. Kattner, my mentor, for her guidance in helping me to combine my passion for dance and science into my thesis!"

Theatre alum Kai Stidham (BFA '18) and SMTD vocal coach/collaborative pianist Cat Menzies have landed roles in Nicely Theatre Group's upcoming production of Disenchanted! There will be a virtual release in January 2021. For more information, visit www.nicelytheatregroup.org/shows.

ON-CAMPUS AND REMOTE TEACHING HIGHLIGHTS:

Oakland University started the Fall 2020 semester in a hybrid of in-person and online classes.


If you were on campus, you may have seen the Brass Band or Golden Grizzlies Band rehearsing in the parking structure or Take Root's Dance for Parkinson's Disease program filming videos outside on the lawn between Elliott and Varner. Take Root has been creating ongoing videos that they've been posting to their website, www.takerootdance.com, every month for the Dance for Parkinson's Disease program and the Arts Education Impact Program. The videos are filmed on campus and include Take Root interns who are also OU dance majors. "This is our way to continue our connection with the community and support them through this pandemic," said Associate Professor of Dance Ali Woerner, who co-founded Take Root in 2013 with fellow Associate Professor of Dance Thayer Jonutz.

On the virtual side, our Voice Area's first meeting of the semester included two "family photos" — you can see them here and here. They continue to meet as a large group for masterclass on the first Tuesday of each month. Any alums who would like to attend are welcome, just email altadantzler@oakland.edu.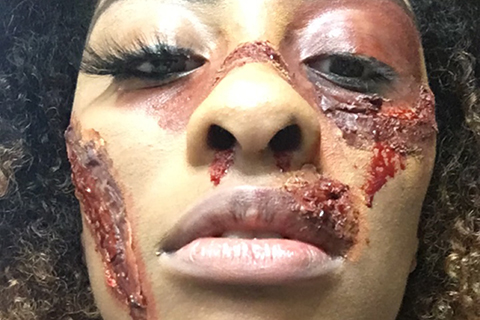 Students in Visiting Assistant Professor of Theatre Whitney Locher's makeup class took photos of the great work they have been doing — view photos here on our Facebook page.

Students found creative ways to virtually rehearse with one another. Claudia Montoya-Hernandez and Corrin Kliewer — members of the OU Flute Ensemble — have been working on several video recording projects this semester. Click here, and you can see them performing the first and second movement of Duet in G by Wilhelm Friedemann Bach. Claudia and Corrin both study with Brandon LePage.

The Oakland Chorale held its annual costume contest on Friday, Oct. 30. Professor of Music Mike Mitchell, director of the Oakland Chorale, shared this photo of the students dressed up like "baby shark," Little Bo Peep, renowned composer Eric Whitacre and many more.

STUDENT, FACULTY and other SMTD HIGHLIGHTS:

Oakland University and the Detroit Institute of Music Education (DIME) have partnered to provide Bachelor of Arts degrees in performance, songwriting and music industry business classes to students wanting to study commercial music and pursue a career in music. Since the announcement, SMTD has had several OU/DIME events, including a masterclass on Oct. 9 and a Virtual Living Room Open Mic night on Oct. 23. The masterclass was the first of these collaborative classes with DIME and OU faculty, including Phyllis White. Dr. White said, "It was an incredibly positive and incredibly successful masterclass and I believe the first of many positive and successful collaborations to come."


Vocal performance and music education major Lily Belle Czartorski performed in the Opera Grand Rapids Collegiate Vocal Competition on Sept. 12. She placed third and won the Friends of the Opera Audience Award. Czartorski was one of 10 singers selected nationally for this competition. Alumna Gillian Tackett (BM '20) was also a finalist but opted not to compete this year. For full details of the competition and to watch Czartorski perform an aria from Street Scene (37.07), visit: https://www.operagr.org/collegiate-vocal-competition/

Several OU dance faculty members participated in the virtual Detroit Dance City Festival, which was held Sept. 9-13. The Friday Dance Battle, which was held on Sept. 11, was adjudicated by Gregory Patterson, OU associate professor of dance and chair of the Department of Dance, and the Live Q&A with Masters, held on Sept. 12, was moderated by Elizabeth Kattner, OU associate professor of dance. 


On November 9, the 2019-20 Wilde Awards were announced and OU Theatre Special Lecturer Thomas D. Mahard received "The Critics Award" for his career of exceptional work on stage and his lifetime of devotion to Michigan theatre as an actor and teacher.

This year's Michigan Dance Festival, held November 13-14, was completely virtual and free to all Michigan Dance Council members. Several OU dance faculty members taught at the festival, including Christina Tasco, Teresa Muller and Gregory Patterson.

Associate Professor of Dance Elizabeth Kattner's new book, Finding Balanchine's Lost Ballets: Exploring the Early Choreography of a Master, is available through University Press of Florida books. In the first book to focus exclusively on Balanchine's Russian ballets, Dr. Kattner offers new insights into the artistic evolution of a legend through her reconstruction of his first group ballet, Funeral March. Drawing on more than a decade of research conducted in archives in the United States and Europe, Kattner synthesizes textual descriptions, photographs, musical scores, and the comparative study of other early Balanchine ballets in order to re-create this forgotten work. Finding Balanchine's Lost Ballets enriches our understanding of Balanchine's development as a choreographer through its ambitious, original approach to the subject.


Junior musical theatre major Noah Canales was selected to join 29 other vocalists to compete in the semi-final round of the the American Pops Orchestra (APO)'s 4th annual vocal competition "NextGen: The Voices of Tomorrow" on Nov. 21. The 30 semi-finalists come from university programs across the country and will virtually compete to move on to the final round of the NextGen competition. During the competition, finalists will be selected based on votes from a panel of judges and a virtual audience. Please consider joining the audience (and supporting Noah) by registering for free at https://www.eventbrite.com/e/127459297189. Selected finalists will advance to the final round to win the ultimate title. Cash prizes will be awarded, and the first-place winner will be featured in an upcoming APO show in the 2021-2022 season. Noah studies voice with Alta Marie Boover.

The Michigan Chapter of the National Association of Teachers of Singing (NATS) held online student auditions this month and three of our students placed: Seth Miller received 2nd place for collegiate Tenor, Baritone, Bass (all levels Freshmen-Senior); Kevin Cornwell III received 1st place for collegiate Tenor, Baritone, Bass (all levels Freshmen-Senior); and Angela Bonello received 1st place Junior Treble Voices.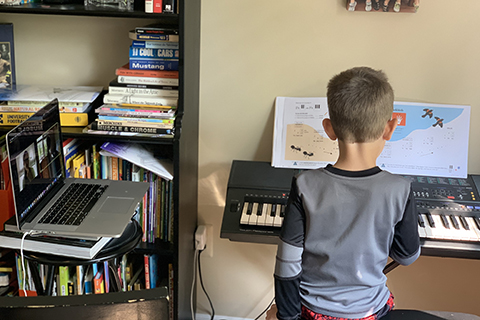 Lastly, it is not too late to start music lessons this fall and winter season! Oakland University Community Music (OUCM) offers virtual lessons for all ages in all instruments/voices. Our highly qualified teachers — who offer the expertise, commitment and vibrant energy of a university music department — are here for you. OUCM is offering a special discounted private lessons package for new students! To learn more, visit oakland.edu/smtd/communitymusic or email communitymusic@oakland.edu.