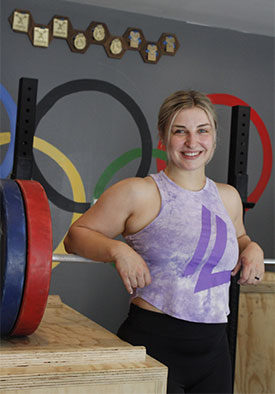 Kate Nye is headed to Tokyo this month as a member of the U.S. Olympic weightlifting team. Photo by Sophie Hume, The Oakland Post.
Oakland University student Kate Nye has established herself as a top contender in the sport of weightlifting, becoming a world champion in 2019. Now, she's headed to Tokyo where she'll try to become an Olympic champion. 
After competing in gymnastics most of her life, the 22-year-old Oakland Township native rose to prominence after winning a silver medal at the 2018 Junior World Weightlifting Championships. The following year, Nye became the youngest American woman to win a world weightlifting championship, at age 20. She holds nine American records and one junior world record, according to the Team USA website.
Nye was named to the U.S. Olympic team in May, joining an eight-member weightlifting roster that will vie for medals in multiple weight divisions. In an interview with OU's student newspaper, The Oakland Post, she said that attending Oakland has allowed her to balance academics with a rigorous training schedule. 
"I'm really glad I ended up here because it's allowed me a lot of freedom in my life [that] I feel like I wouldn't have had if I went somewhere else," said Nye, a health sciences major and Honors College member.
In the midst of pursing her athletic ambitions, Nye has also stepped forward as an advocate for mental health. She shared her experience being diagnosed with bipolar disorder in 2019.
"I was too proud to get help for far too long," she wrote on Instagram. "I felt weak for thinking I needed help, but honestly it has taken a weight off my shoulders knowing what I have to do to feel like a functioning human being. I'm excited for the future of having a healthy mind and body."
Nye's symptoms improved with the help of medication, and she has encouraged others who are struggling to seek help. Her story has garnered extensive media coverage, including an in-depth interview with ESPN.com. With her mental and physical health in order, and fresh off winning her second national championship, Nye is focused on achieving her best on the Olympic stage.
 "I've always been really proud to be an American," Nye told The Oakland Post. "I think that paired with my greatest passion, which is obviously weightlifting, there's nothing that could be better and a bigger dream of mine than to represent the red, white, [and] blue on the Olympic platform."
The Tokyo Olympics kick off on July 23. Nye's division (Women's 76 kg) will compete on Sunday, Aug. 1 starting at either 12:50 a.m. or 6:50 a.m. Eastern Time.