With support from OU INC, a Smartzone Business Accelerator located on the campus of Oakland University, and the OU Mobilization Zone, Novi resident Yerko Sepulveda has taken his idea for a wearable, portable rumble pack and practice amp for bassists from concept to commercialization.

Known as BackBeat, the device plugs directly into a bass guitar and turns every low note a musician plays into a vibration they can feel. It also features a rechargeable lithium ion battery, and a built-in headphone jack.

"Bass players need the low frequency subwoofer sounds, which are more felt than heard," Sepulveda said. "That's where BackBeat comes into play. It gives them the physical feedback so they can feel their music rather than just hear it."

Sepulveda, who earned an engineering degree from the University of Sydney in Australia, came up with the idea for BackBeat while playing bass with a jazz funk ensemble called The Bedfords in September 2016.

"Rock 'n' roll used to be about how big your amp could get, but that is no longer the way things are done," Sepulveda said. "These, days, when a musician is on stage, they no longer use amplifiers for the most part. It's much more personal now, which means using an in-ear monitor.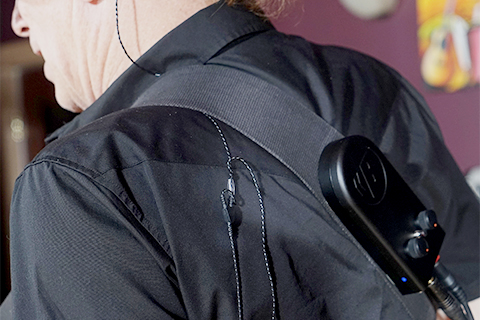 The BackBeat
"But I found I was missing the experience of having an amplifier and feeling the bass when I was on stage, so I came up a solution — a wearable, portable device that would attach directly to the musician's strap. It was a real 'eureka' moment."

After experimenting with various components, Sepulveda developed several prototypes, which received a positive response from his fellow musicians. Knowing he would need help to take his idea to the next level, Sepulveda reached out to Greg Doyle, manager of Oakland County's One Stop Shop (OSS) Business Center and Tech248 leader.

"As an engineer and a musician, the biggest challenge for me was understanding what this was going to look like as a business," Sepulveda said. "Greg basically showed me what I needed to start thinking about and what I needed to start doing. It was a new way of thinking."

With encouragement from Doyle, Sepulveda also presented his prototypes at 1 Million Cups, a program developed by the Kauffman Foundation that provides an opportunity for entrepreneurs interested in starting their own companies to talk about and share their ideas. While there, Sepulveda met Michael Long, executive director of the Mobilization Zone at Oakland University.

"I thought his idea was very cool," Long said. "I'm not a musician, but I love music and I've listened to rock music my whole life. If the bass beat doesn't come through, you don't have a song. I just thought (BackBeat) was a really good idea."

Long introduced Sepulveda to the I2B program at Oakland University, which helps OU students, staff and faculty members, as well as regional businesses like BackBeat Technologies, develop their entrepreneurial ideas.

"The I2B students analyzed the market and provided Yerko with a market analysis and identified important retail contacts," Long said.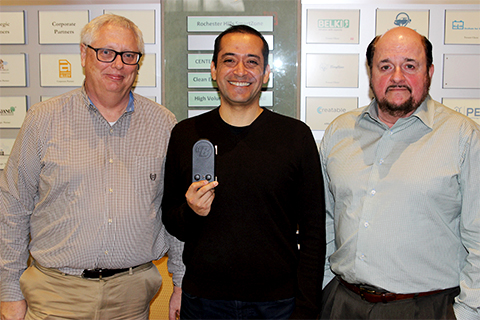 Steve Kent, Yerko Sepulveda & Michael Long
In addition to the I2B program, Long also introduced Sepulveda to Steve Kent, manager and client strategist with OU INC, a multi-purpose business incubator which provides entrepreneurial resources and strategic business solutions for developing business ventures.

"The steps that Yerko had already gone through made it easier for us to work with him," Kent said. "He had a vision, not only of what they product could do, but what the company could do. That made it a very good fit for working with OU INC."

With help from OU INC, Sepulveda developed a business plan, prepared an executive summary, and applied for a patent with the U.S. Patent and Trademark Office.

"Getting a patent was a huge deal," Sepulveda said. "We submitted in May of 2018, and we received a response in August. It usually takes two to three years before you get a patent, and we got one in three months."

Sepulveda also raised more than $129,000 via a successful Kickstarter campaign that launched in March 2018.

"Our initial goal was $25,000," he said. "We wanted to raise enough so we could build a handful of units to hand out to people to see if they liked it, but the interest just exploded out of the gate."

Kent said he's thrilled at the response BackBeat has received.

"At OU INC, we're working with early stage companies and every one of them has an exciting idea," he said. "It's phenomenal to see someone take the idea and incorporate everything they've learned into making it work. To me, I'm as excited about this happening as Yerko is. It shows that the process works. All the components, if done properly, can result in a huge success."

To learn more about BackBeat, visit getbackbeat.com.

For more information about OU INC, visit oakland.edu/ouinc.