Adopting the tagline "Explore. Discover. Connect.," Oakland University's new Career and Life Design Center is ushering in transformational change in preparing students to navigate their lives and careers before and after graduation. 
Kelly Dorner, director of Career and Life Design and Campus Partnerships, and student Josue Garcia in OU's Career and Life Design Center.
"We are reimagining career development and shifting the culture around career planning and the need for students to begin wherever they are – to get curious, explore their interests, try new things and learn by doing to build a meaningful, well-lived life," said Wayne Thibodeau, senior director of the Career and Life Design Center.
The center is based on the Design Thinking model described in the book "Designing Your Life," by Stanford University researchers Bill Burnett and Dave Evans. The book shows how the "design thinking" behind innovative technology, products and spaces can be used to design and build one's career and life. OU's Career and Life Design Center will employ a design thinking approach to empower students to design their lives with purpose and strive for their potential.
"Over the past three years, with feedback from students, academic partners – as well as talking with other institutions around the country – we've been able to get a better understanding of how we can better serve our students' needs," said Kelly Dorner, director of Career and Life Design and Campus Partnerships at OU. "We are equipped with resources to help students do things like map out plans for their future and the steps they can take along the way to achieve their goals."
Students are encouraged to explore and develop their interests in a multitude of ways, including through on-campus jobs, experiential learning opportunities and student organizations. Such experiences not only help students identify their interests, goals and values, they also provide avenues for students to engage with their peers, as well as industry professionals who can offer mentorship and guidance in bridging the gap between the academic and professional worlds.
The Career and Life Design Center seeks to engage students early and often, whether they are settled on a career path or still exploring.
"We want students to see the Career and Life Design Center as a space they should be visiting the first semester of their freshman year, with the mindset that they don't need to come to Oakland University with all the answers," said Dorner. "They don't have to know what their major or career path is, they just need to be open to exploring their interests and learning about themselves."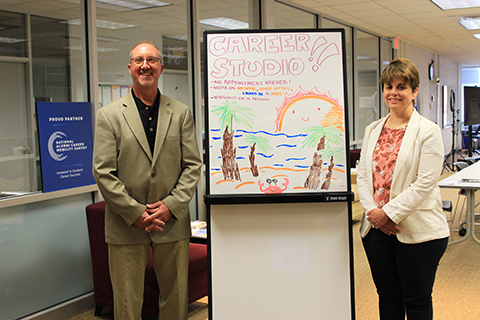 Dorner and Wayne Thibodeau, senior director of OU's Career and Life Design Center, are leading a campus-wide transformation in preparing students to navigate their lives and careers. 
A great way to get started within the Career and Life Design Center is with a visit to the Career Studio, where students can drop in to work on their resume, develop LinkedIn and Handshake profiles and even have a professional headshot taken.
In the Career Studio, students are also using artificial intelligence (AI) technology to help their resumes stand out. Student Josue Garcia has used the technology to improve his resume and helped other students do the same through his role as a Career Ambassador at Oakland. According to Garcia, the AI software gives students a comfortable starting point in a process that can sometimes feel overwhelming.
 "A lot of students get intimidated because they feel like they need to already have a ton of knowledge and a polished resume," he said. "The AI software kind of eases them in and they're able to upload their resume and have it evaluated with the same parameters that corporations use. They can get feedback about what companies are looking for without having to visit them directly."
Along with peer Career Ambassadors in the Career Studio, professionals in the Career and Life and Design Center foster career development by regularly meeting with students to help them explore their interests, engage in career exploration and career planning, and establish connections with employers.
The career and life design concept is nonlinear, Thibodeau adds, so it applies to everyone, from incoming freshmen, to transfer students to alumni.
"Our message is that no matter where you are on your journey, we will work with you through the three pillars of exploring, discovering and connecting in every phase of your life," he said.
The Career and Life Design Center's grand opening will take place from 11:30 a.m.-1:30 p.m. on Thursday, Aug. 31, in 103 North Foundation Hall. Among those who will speak at the event are OU President Ora Hirsch Pescovitz, Senior Vice President for Student Affairs and Chief Diversity Officer Glenn McIntosh, Senior Director of the Career and Life Design Center Wayne Thibodeau, and student Madison Lorincz who will share how design thinking has influenced her journey at OU and vision for her future.
The OU community is encouraged to attend. For more information, call (248) 370-3250 or email careers@oakland.edu.