The artwork of Oakland University student Andrea Jones is currently on display inside the Michigan State Capitol, House of Representatives Building and Senate Building in Lansing as part of "Student Art in the Legislature," a unique program that highlights the creative talents of students at public universities across the state.

The program is a joint partnership between the Michigan Association of State Universities and the Michigan Legislature.

"The opportunity to be part of 'Student Art in the Legislature' with my paintings has allowed me to see that there is a lot of talent between all the university students," Jones said. "Mine being chosen to be presented was a great opportunity and honor."

Through late September 2024, Jones will have five of her paintings on display — the most of any student — in the following locations in Lansing:

• "Ballad of the Forgotten" – 4th Floor Entry Lounge – Michigan Senate Binsfeld Office Building

• "Mitten Monument" – 5th Floor Entry Lounge – Michigan Senate Binsfeld Office Building

• "Rocky Horror," "Adolphus Shephard," and "Map of Hope" – Michigan House of Representatives – 13th Floor South - Anderson House Office Building.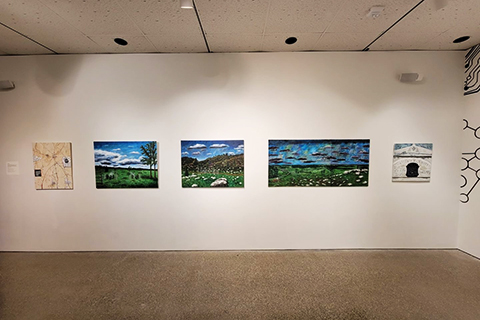 "This series depicts landscapes where Michigan Civil War Combat Units fought and died in the Battle of Gettysburg," Jones said. "Having visited these historic battlefields in person, exploring and documenting what are now verdant pastures, I've chosen to translate my experience in painting as a way to connect with and capture the emotional weight of the history I felt while there."

In addition to visiting the historic sites, Jones' work was also inspired by her father's passion for history, particularly the American Civil War and the Battle of Gettysburg.

"My Dad reminded me that he has the original letters from a Dearborn, Mich. soldier — Private Adolphus Shephard — who served in the 24th Michigan Regiment as part of the Iron Brigade," Jones said. "He was assigned to the 4th United States Artillery, Battery B, and was stationed near the railway cut of the Gettysburg Battlefield in 1863. This is where Private Shephard was killed and where, some years later, a monument was dedicated to Battery B."

One of Jones' paintings, "Adolphus Shephard," was inspired by the letters that Shephard sent to his family before he died, and a letter his commanding officer sent to his sister after his death.

"He (Shephard) liked to describe the scenery around him — the things his family would never see," she said. "That's what I wanted to capture in my paintings — the beautiful land that surrounded these Michigan troops on those hot summer days in July 1863."

Jones said she's excited to be a part of the "Student Art in the Legislature" program, and is thrilled to have her works on display inside the Capitol buildings.

"I thought it was appropriate for them to be displayed at the Capitol since my painting series focuses on Michigan Civil War Regiments who fought at Gettysburg," she said. "The 24th Michigan and the 16th Michigan Regiments came from all around this great state and I can't think of a better way to honor them and their families."

Jones and her fellow student artists were honored last month during a reception at the Michigan State Capitol hosted by members of the Legislative Arts Caucus.