The COVID-19 pandemic has many people using delivery services for everything from food to medicine for the first time. At some point in the future, Autonomous Vehicles (AV) ranging from automobiles to Unmanned Aerial Vehicles (UAVs) might provide these services without drivers present which would further lower risk of contracting the deadly virus.

Students in Oakland University's Industrial and Systems Engineering (ISE) Department course "Systems of Autonomous and Connected Vehicles" are learning the latest technologies and business cases used across various industries that may play a key role in defining what a future with AV looks like.

"This class taught us not only the current and the past technologies, policies and their growth, but also in a manner that even a non-engineering major student can easily understand," said Abhishek Bagare, an engineering graduate student at OU.

ISE Instructor Larry Osentoski designed the course based on a 20+ year career related to the design and development of novel embedded electronics solutions for Autonomous and Connected Vehicle Systems. These solutions have been used across military markets on programs like the first Condition Based Maintenance pilot system for the Army in 2007; in commercial markets, such as the first Connected Vehicle (CV) fleet of 2,000 vehicles in Michigan in 2005; and in other applications that are now part of the core methods employed by the U.S. Department of Transportation (USDOT) nationwide pilots.

"Not everyone needs to be an electrical engineer or computer science major to have a major impact on the future course of AV and CV Systems development," said Osentoski, who also serves as the chief technology officer at GC Associates USA, a veteran-owned defense firm based in Arlington Va. "What the industry needs are hands-on, educated professionals who are technology agnostic. We need critical thought to advance the proper deployment of these systems.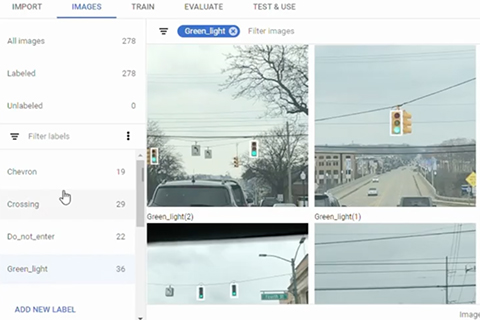 Training the machine learning model to recognize specific aspects of images
"Many industries, such as State Departments of Transportation, for example, are struggling to align their desired end-user applications with the proper technologies," he added. "We want our students to understand not only the technology trade-offs, but also the business drivers for each industry in order to add real value to potential employers in various markets. Any employer looking for a new hire into their Autonomous or Connected Vehicle program would be lucky to land one of my students. I am very proud of their progress this term in spite of the difficult conditions we all currently face."

The Systems of Autonomous and Connected Vehicles course focuses on understanding technology and also how to properly apply it within various industries, which were more than happy to share their expertise with the class.

For example, Caleb Bailey-Moss of Google Cloud provided a remote lecture to the class in order to familiarize them with the AutoML technology students would use for this project. Google Cloud was also gracious enough to provide 300 hours of development time to each team at no cost. As a result of the success of the course, Forbes online is looking at doing an article on the class and how classes such as this are needed to bridge the gap in workforce required to ramp up AV and CV systems.

"The ISE Department would like to thank the guest speakers from across various industries who contributed lectures and held discussions with our students as part of this new course," said Dr. Robert Van Til, chair of the Industrial and Systems Engineering Department at Oakland University. "Specifically, Sam Bellestri of 3IS, Caleb-Bailey Moss of Google Cloud, Kristie Pfosi of Mitsubishi, Matt Smith of Michael Baker International, and Neil Garbacik of FCA Fiat Chrysler Automobiles. This new course is a valuable addition to our degree programs in Industrial and Systems Engineering, Engineering Management, and in Systems Engineering."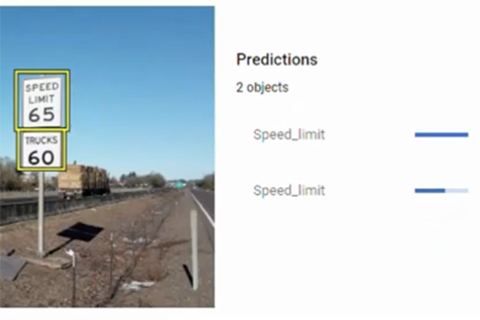 Testing ML models with images not seen before
This year's class projects involved the use of Google Cloud's AutoML technology to create machine learning models aimed at solving real-world issues related to Autonomous and Connected vehicle system deployments. The projects ranged from recognition of deer and traffic signs to a concept for an airport AV shuttle service.

Bagare and OU Engineering Graduate Student Blaise Nugent snagged the top project award this year.

"This team not only did a well-thought-out project topic, with an extremely high image recognition rate and video demonstration, but they also accepted the challenge to learn Python coding, which enables their solution to theoretically integrate into a greater control system architecture," Osentoski said.

Nugent spoke positively of his experience in the class.

"I didn't have any previous experience with Python, but when Professor Osentoski mentioned there would be extra credit for implementing Python functionality into our final project, I figured it would be a good opportunity to pick up the skills," he said. "I really just needed a few hours of tutorials on the basics, since AutoML provided the backbone of the image prediction code.

"I think it was really beneficial to understand the actual software that went into the machine learning behind the AutoML user interface," Nugent added. "I think the most interesting topics covered in class were the case studies of great AV companies already creating change in the industry. Hopefully with my experience in this class and future coursework in ISE, I'll have an opportunity to work for one of them in the future.