In recognition of his professional success as a distinguished attorney and his many outstanding leadership contributions to the Metropolitan Detroit area, the Oakland University Board of Trustees awarded the honorary degree of Doctor of Humanities to Eugene A. Gargaro, Jr. at their formal session on Sept. 11, 2023.

"Just as the conferral of the doctoral degree is a university's recognition of the highest academic achievement, so also is the conferral of the doctorate honoris causa a university's recognition of truly distinguished achievement beyond the classroom and the campus," said Dr. Ora Hirsch Pescovitz, president of Oakland University. "Today, Oakland University is proud to confer the honorary degree upon such an outstanding citizen."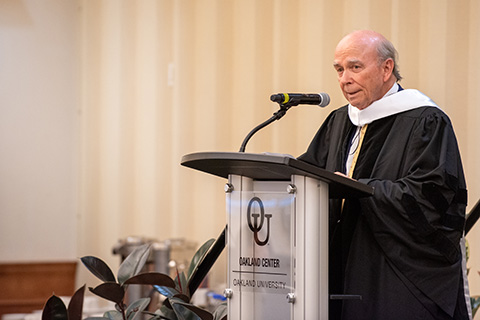 Dr. Eugene A. Gargaro, Jr.
To continue to support the DIA, Gargaro led the regional millage initiative involving Wayne, Oakland, and Macomb counties. This provided approximately $230 million dollars to support the museum. His work to protect the DIA through Detroit's bankruptcy was critical to its success and independent status. Due to their efforts, Gargaro and his wife, Mary Anne, each received the DIA's Lifetime Service Award in May 2015 for their exemplary volunteer service. 

"(Gargaro's) philanthropic involvement and leadership in corporate Michigan has made, and will continue to make in the future, a lasting mark on the city of Detroit, the region, the state of Michigan, and, frankly, all over the world," said Oakland University Trustees Board Chair Robert Schostak. "His incredible leadership for decades and his involvement with the DIA has been especially beneficial to the greater community and the state, and will always be remembered."

In addition to his role as chairman of the Board of Directors of the DIA, Gargaro has served as a member of the Board of Trustees of the University of Detroit Mercy. He has also served as the board chair of the Michigan Manufacturers Association, the Citizens Research Council of Michigan, president of the Board of Trustees of University Liggett School, president of the Board of Governors of the Country Club of Detroit, and vice chair of the Board of Regents of Georgetown University. He has also served as a member of the Board of Directors of the Legacy Detroit Medical Center and New Detroit.

In his professional career, Gargaro was a member of the Dykema law firm in Detroit for 26 years before joining Masco Corporation in 1993. With Masco, he served as vice president and corporate secretary before his retirement from the company in 2008. Gargaro currently serves as legal counsel and president of the Manoogian Foundations. He is also a member of the Michigan Bar Association and is a past chairman of the State Bar of Michigan Taxation Section.

"It is a great pleasure to receive this recognition from the Board of Trustees," Gargaro said. "I'm going to remember this day for a long time, and I'm so happy to be part of the Oakland University team."