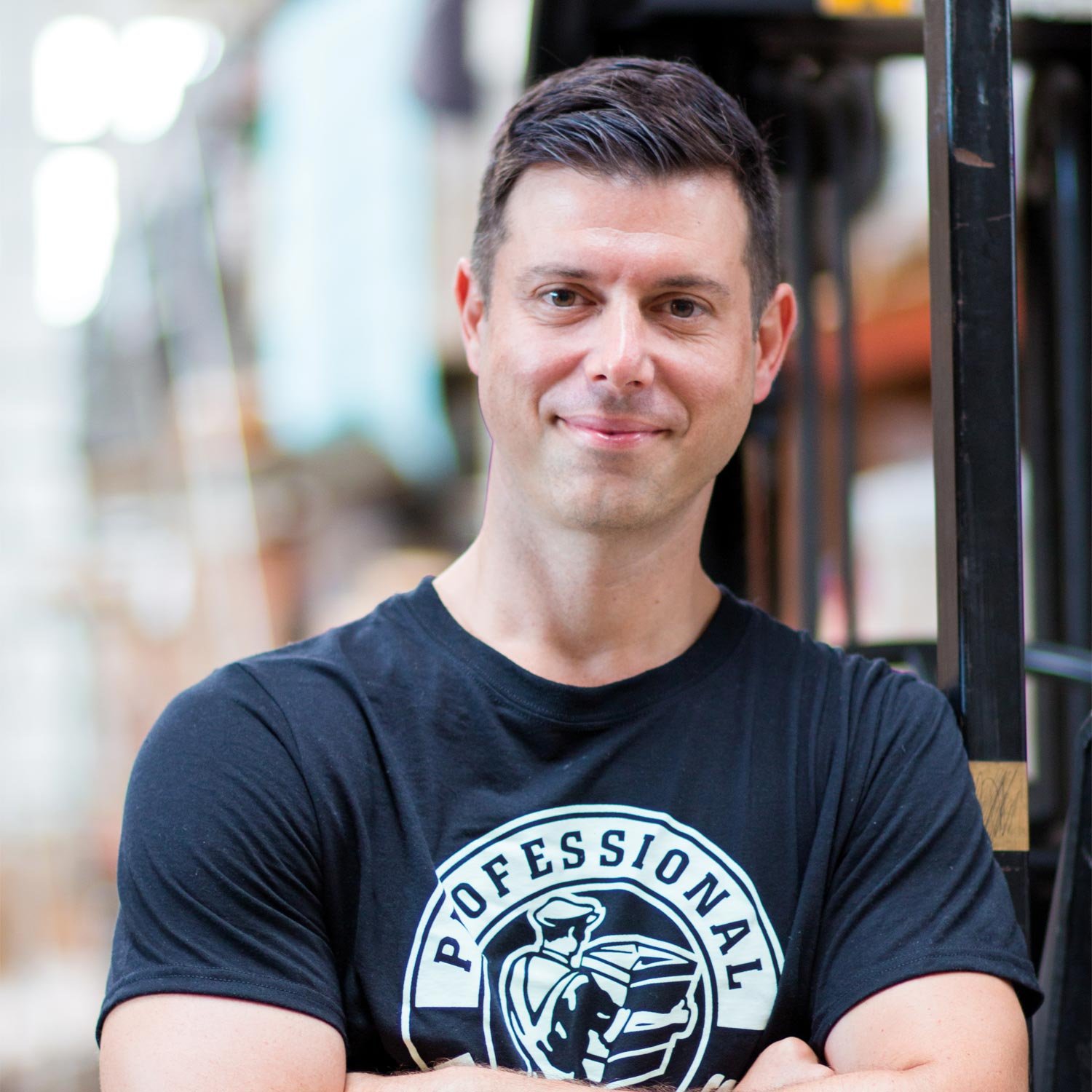 Andrew Androff, SBA '02, was recently named one of Oakland County's Elite 40 Under 40. He is proud that his organization, Professional Movers.com, often assists the OU facilities team with campus relocations.
Oakland County Executive L. Brooks Patterson started the 40 Under 40 program in 2012 to honor young leaders who live or work in Oakland County. Androff fits the bill, as the co-owner and director of marketing for Professional Movers.com, an award-winning residential and office moving company headquartered in southeast Michigan.
Success is a lifelong process
"I grew up exposed to the business at a young age; my family started a moving business as a freight and delivery company. The company operated out of our house, so as a kid I got to help clean trucks and earn an allowance," Androff explains. "But the real lessons were learned watching my dad negotiate truck purchases or listening to my older siblings professionally work with customers to solve problems."
During college, Androff worked for a production company representing Chrysler on the auto show circuit.
"I was spending my college semesters in Oakland University's business program while traveling four to five days a month working. It was my first experience seeing how marketing concepts taught inside the classroom were applied by global brands in the real world," he says.
Soon after graduation, Androff approached his family to form a branch of the company focusing on residential and business moving. He used his experience to form a unique niche for Professional Movers.com, where under his leadership, targeted campaigns have resulted in a 20 percent increase in overall sales and sustained growth.
Disrupting the industry
"At the time, moving was an antiquated industry. The way customers were finding a moving company was changing. Gone were the days of pulling out a phone book and paging through it to find a mover. We saw an opportunity to positively disrupt the moving industry," he explains.
The company purchased the domain ProfessionalMovers.com. The result: seventy percent of new business generated came from online visitors.
Customer, community connections
Androff's Detroit Moving Incentives campaign, the first and only of its kind, supports his company-wide goal of helping pioneer Detroit's renaissance. Through the campaign, Professional Movers.com offers discounts and value-added moving services to people and businesses relocating to Detroit.
"The program resulted in a 17 percent increase in revenue and enabled Professional Movers.com to hire new team members, purchase new moving trucks, invest in new technology and open a location inside the Chrysler House in Downtown Detroit to better serve customers," he says. "The last five years in Detroit have has been electric."
Professional Movers.com also supported Flint during its water crisis.
"We partnered with local mothers to collect water for Flint. We turned our Walled Lake, Michigan warehouse into an official collection facility. In the end, we collected and delivered 22 pallets totaling over 49,000 pounds of water to the Food Bank of Eastern Michigan," he says.
True to his school
Androff credits much of his success to OU.
"Some of my favorite things we did in class were to work on case studies of actual real-world examples of business problems or marketing campaigns. The case studies evoked our problem-solving skills and let us creatively work together to come up with solutions," Androff explains.
In 2014 Professional Movers.com became the official mover of Oakland University, assisting the facilities team with on-campus relocations.
"As alumni, this was an incredibly proud moment to see our moving trucks on campus ... One of the most memorable moments was when our team moved the 49-bell practice carillon in preparation of the new Elliott Tower," he says.
The 40 Under 40 recognition was icing on the cake.
"The recognition was definitely an incredible career highlight. It feels great to know that the positive work we are doing in the moving industry and in our community is meaningful and has purpose," he says.