Thursday, Nov 17, 2016
OUWB Department of Emergency Medicine undergoes expansion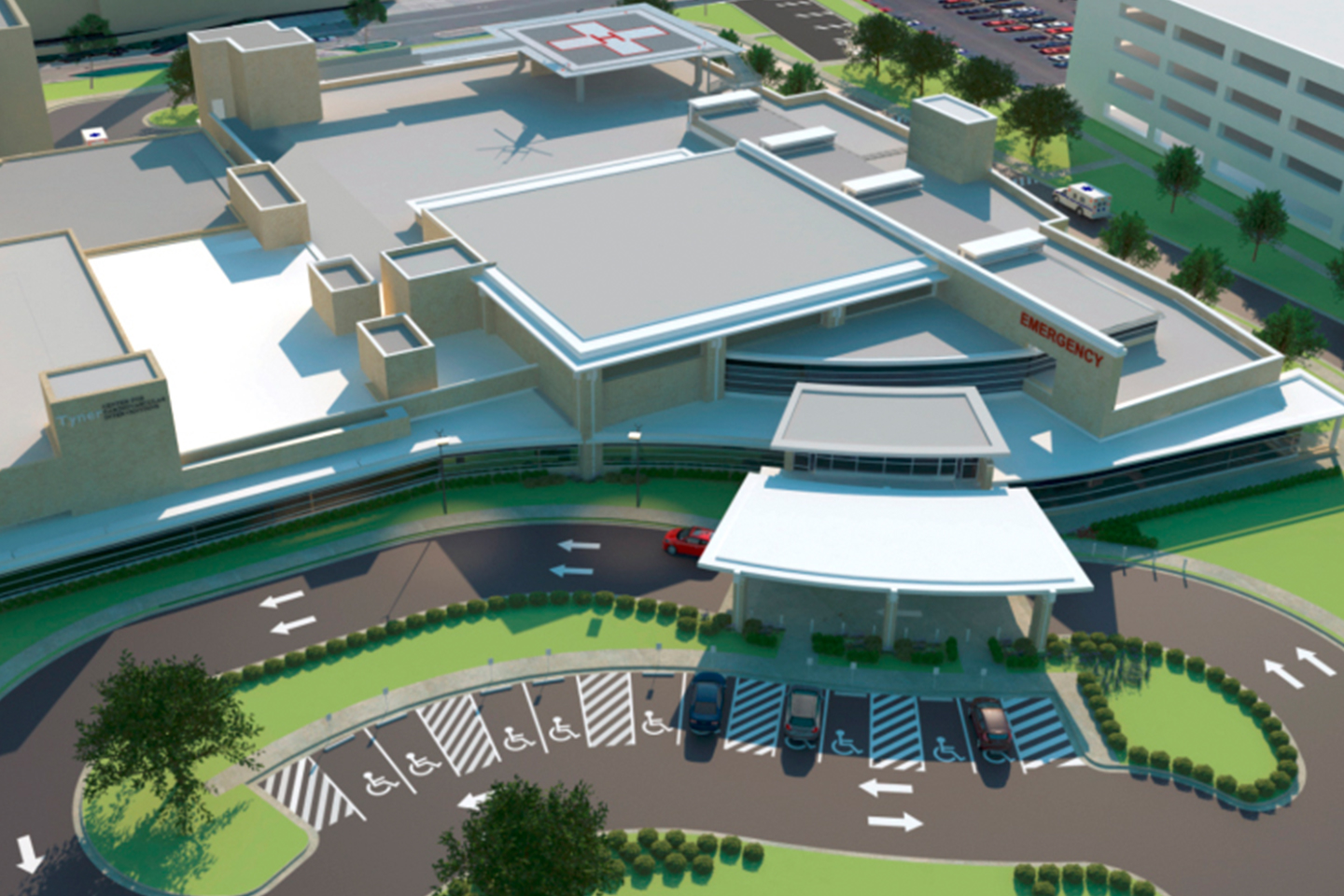 The new Emergency Center at Beaumont Hospital – Royal Oak is taking shape after more than a year under construction on the multi-year project promising improvements in capacity, patient privacy and service.
When complete, the 125,300-square-foot center will nearly double the size of the current 70,000-square-foot facility, which remains open during construction. The first phase is new construction, and is expected to be complete in spring 2017 with renovations made in phases thereafter until fall 2018. 
A $120.8 million renovation and expansion
Interior improvements include 133 adult private and semi-private rooms; a medical observation unit with more than 50 beds; and a dedicated pediatric emergency area with pediatric emergency medicine trained staff led by board-certified pediatric emergency medicine specialists. 

The updates in technology will include devices that can send results to medical staff fast and efficiently. Heart and trauma patients will be evaluated quickly with noninvasive heart monitoring and testing equipment. The easily accessible MRI machine will speed up the patient imaging process. 
"Our emergency room is the busiest in the entire state and our patient volume continues to grow," said OUWB Professor and Chair of Emergency Medicine Terry Kowalenko, M.D., who is the President and Chief Medical Officer of the Beaumont Medical Group; and Senior Vice President of Beaumont Health. "The new center will be meeting the needs of the community more than ever."
The details will make a difference to patients, too, as the facility will have an expanded lobby, and an intake / prompt care area. The space is designed to be more senior-citizen friendly, and among the changes, it will include a special "Fitbit" (fitness tracker) room, and a patient and family center, where advisory counseling will be available. 
With this expansion and renovation project, Beaumont Hospital – Royal Oak will continue to be the only accredited Level One Trauma Center in Oakland and Macomb counties, which means the center can handle the most severe trauma cases 24/7. The new helicopter-landing pad will have an elevator that leads directly to the trauma bays.
Clinicians dedicated to medical education 
While the Emergency Medicine department juggles the challenges of working among the construction, they also continue their research projects, community outreach, and mentoring of residents and OUWB medical students. 
Currently, more than 37 OUWB medical students are being mentored by 20 Emergency Medicine clinical faculty members on their Embark research projects. 
OUWB Professor and Chair of Emergency Medicine Dr. Terry Kowalenko, was recently selected to be President-Elect of the American Board of Emergency Medicine (ABEM). 
Emergency Medicine welcomes 14 residents a year. Currently, OUWB Charter Class alumna, Stephanie Goike, M.D., is a resident. 
OUWB Emergency Medicine clinical faculty member

Robert Swor, M.D., Director of Research & EMS

, along with 9

OUWB medical students, rolled out SaveMiHeart, a statewide initiative with a goal to double cardiac arrest survival in Michigan by 2020 by using bystander (hands only) CPR. 
Under the direction of OUWB Emergency Medicine clinical faculty member Amit Bahl, M.D., emergency ultrasound continues to evolve with the development of a comprehensive training curriculum for Beaumont Health residents.