Tuesday, Jan 14, 2020
OUWB alumni step up to host M4s traveling for residency interviews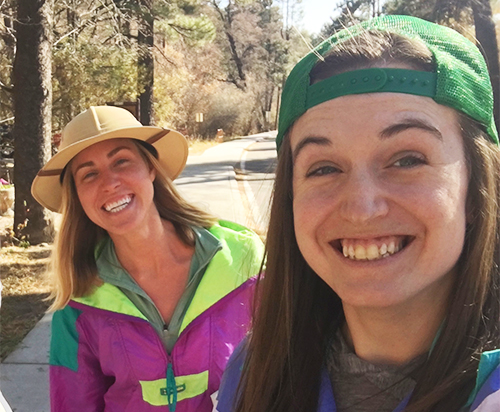 Cassy Hastings, M.D., OUWB Class of 2018, (right) hosted Lauren Weerasinghe (left) when she was doing residency interviews. They spent time thrift shopping for 80s clothes (hence the jackets) and did a hike to the highest point in Tucson, Arizona (Mt. Lemmon).
An Oakland University William Beaumont School of Medicine program that helps cut costs for medical students traveling for residency interviews hit its stride with a record number of participants in 2019.
OUWB'S Help Our Students Travel (HOST) program grew from less than 10 matches in 2018 to 60 in 2019. (In this context, a "match" is between an OUWB student traveling for a residency interview and a host for the interviewee.)
Launched in 2017, the number of participants in OUWB's HOST program just two years in is "unbelievable," said Pam Holtz, alumni and parent program coordinator, OUWB. Holtz said there were some weekends during peak season in the fall when she would get upwards of 80 requests from OUWB medical students for hosts.
"OUWB's HOST program took off like a shot this year," Holtz said. "People just started spreading the word and more and more people became aware of it."
According to the Association of American Medical Colleges, at least half of the country's medical schools offer some form of a HOST program.
The basic idea is that people — usually alumni — sign up to be a host for a traveling medical student. They open their respective homes to the traveler for a night, and provide a free place to crash instead of having to pay for a hotel.
Traveling students simply reach out to Holtz, who is able to connect the respective parties.
"As a traveling interviewee, it's just nice to know that if you're going to a place there's somebody who can give you a little bit more detail about the area, and offer a friendly face," said Megan Hsu, M.D., OUWB Class of 2018.
'Nice to give back'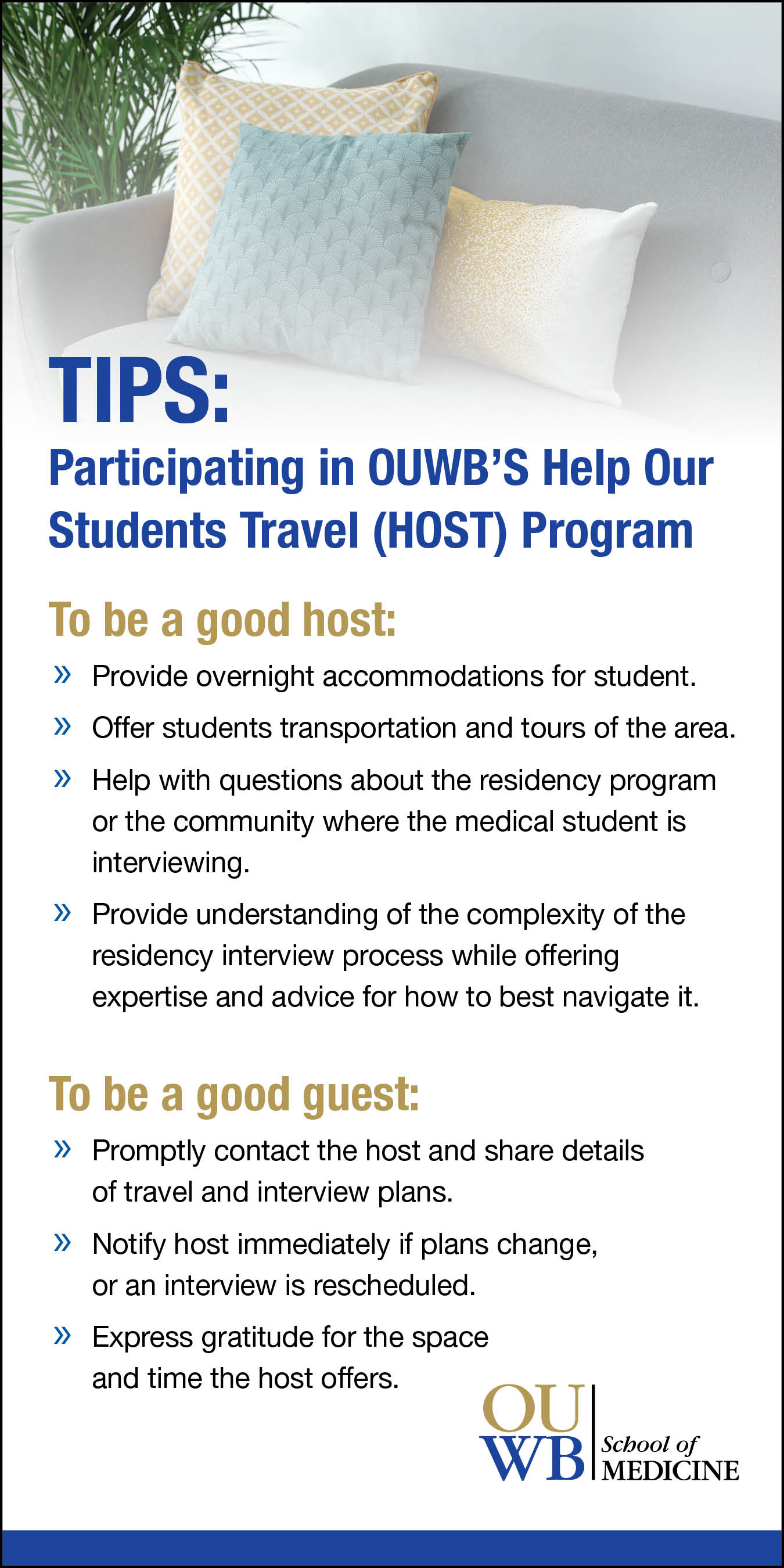 Hsu, now at an orthopaedic surgery residency at John Hopkins University, has hosted three traveling OUWB students.
She explained that being a host is more than simply providing a place to sleep.
For example, Hsu said she tries to make her guests feel comfortable with little touches, such as having their favorite breakfast foods available, and helping them learn a little about the area.
In exchange, Hsu said she feels like she is essentially "paying it forward" and maintaining a strong connection to OUWB.
"It's very exciting to see the growth of the OUWB network over time," she said. "It's nice to give back and be part of that."
Cassy Hastings, M.D., OUWB Class of 2018, has hosted six students in Tucson, Arizona in the last 18 months. She is in a pediatrics residency at the University of Arizona College of Medicine - Tuscson.
"It's important to give back in this way because we've all been there," she said. "As a fourth-year student, I remember the cost, planning, and sheer time it took to travel for interviews, and often at the end of an interview day, I felt completely exhausted.
"To have someone greet me at the airport with a smiling face, open their home to me, make sure that I felt ready for my interview, and provide encouragement meant the world to me when I was hosted," she added.
Hastings said that being able to relate to another medical professional during the interview process and ask them questions makes a world of a difference.
"You feel more prepared for your interview and go in with a different, renewed energy," she said.
Other benefits
Fourth-year medical student Nathan Loudon used the HOST program throughout the fall of 2019 as he interviewed around the country.
"I don't have a lot of money, and I went on a ton of interviews," he said. "Participating in the HOST program whenever it's available is an easy way to cut a good amount of costs."
The cost for interviewing at residency programs can be quite high.
According to the AAMC, students are required to pay application fees based on the number of programs that they apply to per specialty. Beyond that, they are responsible for all other expenses — including airfare, lodging, transportation to and from the interview, meals, and interview attire.
By example, if a student has an interview at UCLA, a flight from Detroit will cost upwards of $450, and lodging can be up to $200 a night, depending on where he/she stays.
"That means that they're looking at a conservative cost of at least $500-$650, without factoring in anything else, for only one interview at one program," Holtz said. "That's a financial burden that can add up quickly."
Loudoun said he tries to acknowledge how grateful he is for the opportunity.
"I try to give them a Starbucks gift card or something like that," he said. "Which pales in comparison to how much I would be spending at an Airbnb or hotel."
Going forward, Holtz said she hopes to continue building on the momentum of the OUWB HOST program by expanding its geographic footprint and having even more matches.
"I'm just thrilled at the growth of the program," she said. "Seeing the OUWB alumni really wanting to give back and assist just warms my heart."
Anyone from the OUWB community interested in being a host is urged to contact Holtz via email at pholtz@oakland.edu.
For more information, contact Andrew Dietderich, marketing writer, OUWB, at adietderich@oakland.edu.