Friday, Jan 24, 2020
Motivational speaker inspires Oakland University audience to live authentic lives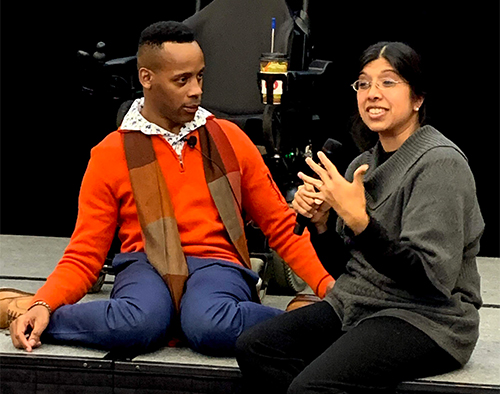 In business, Chris Coleman (left) is recognized as America's unconfined life coach, addressing audiences on how to "Rise Above Expectations," and to attain it, we must embrace who we are.
Christopher Coleman, motivational speaker and author, came to Oakland University's campus on a blustery January day when most of us were feeling cranky about bundling up for the frigid walk to the Oakland Center.
This same cold weather didn't seem to faze the Atlanta-based, 46-year-old, although he did admit questioning why he booked an engagement in Michigan at this time of year. In fact, I think he knew that his message would be just what the audience needed on this gray afternoon.
Coleman, whose visit was sponsored by Oakland University William Beaumont School of Medicine, spoke to us from the stage in his electric wheelchair. While physically it appeared that he was "confined," his life-story illustrated that this openly gay, African American man was anything but.
Coleman came into this world pronounced dead. For 15 minutes his parents thought they had lost their baby boy. He wasn't breathing; he had no heartbeat. He came to life when he heard his twin sister's cries as she was born.  As a result of his "death," Coleman has cerebral palsy, a grouping of disorders that affect movement and muscle tone due to damage that occurs to an immature brain.  
Finding determination
As if he knew from the day he was born that he didn't want to be restricted from opportunities afforded to his siblings, Coleman taught himself how to read and write by tucking himself away in his room with his sister's school books. He didn't attend school until he blew his mom's mind one day when he read out loud to her the news alert that was scrawling across the TV screen.
That revelation led him to school, where educators determined that he was reading at a ninth-grade level; so he started high school alongside his twin sister. He is the only person from his large extended family to graduate from college. (His mom is one of 16 children and each of her siblings has no less than seven kids.) Coleman is currently a doctoral candidate in leadership and change.
In business, Coleman is recognized as America's unconfined life coach, addressing audiences on how to "Rise Above Expectations," and to attain it, we must embrace who we are.
"You don't need permission to be you," said Coleman. "We can only be who we are and at some point, that has to be enough."
 He poses the question: "What's holding you back from being your authentic self?" At this point, he is eye level with the seated audience members for he has hoisted himself out of his wheelchair – and the message is clear – he certainly is living his most authentic self. 
 "To rise above expectations is to understand that freedom is a character trait," said Coleman.
He is passionate about equality for all people no matter skin color, physical capabilities or gender.  Coleman and the Unconfined Life Institute are launching a holistic equality movement by crawling a one-mile stretch across 27 different state borders, following Harriet Tubman's path for the Underground Railroads. 
His first outing, documented on video, occurred at the Florida – Georgia border.  He didn't use his wheelchair; he crawled with determination as traffic whizzed by him. On this crawl, he wondered out loud of the noises that Harriet Tubman must have heard on her journey more than 150 years ago. Coleman is looking for student volunteers this summer, visit #HolisticEquality for details.
While his speaking engagement lasted merely 90 minutes, Coleman's words have impacted audience members, who have shared hugs and personal questions with him, for the warmth of his message will be felt long after his visit to Michigan on a blustery, winter day.
Follow Christopher Coleman on Facebook, Twitter, and Instagram.
For more information, contact Michele Jasukaitis, director, communications and marketing , OUWB, at jasukait@oakland.edu.