Tuesday, Jan 28, 2020
'Heroic work' of Jewish doctors during Holocaust offers lessons for today's physicians, say OUWB professors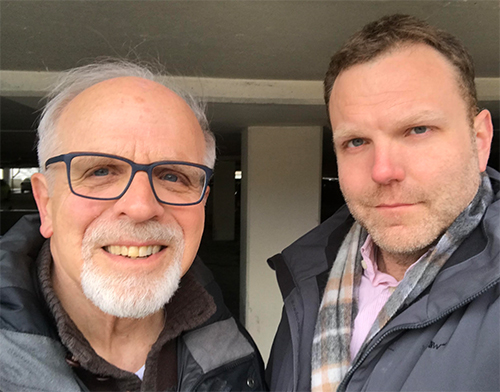 Rabbi Herb Yoskowitz (left), who teaches "Nazi Medicine and its Impact on the Founding of Bioethics" and "Jewish Bioethics" at OUWB, and Jason Wasserman, Ph.D., associate professor, Department of Foundational Medical Studies and Department of Pediatrics, OUWB.
Two OUWB professors say "the heroic work of Jewish physicians" in World War II Holocaust ghettos and concentration camps offers important lessons that should be used in modern health care.
That's according to Jason Wasserman, Ph.D., associate professor, Department of Foundational Medical Studies and Department of Pediatrics, Oakland University William Beaumont School of Medicine, and Rabbi Herb Yoskowitz, who teaches "Nazi Medicine and its Impact on the Founding of Bioethics" and "Jewish Bioethics" at OUWB.
Together, they wrote "Resistance, Medicine, and Moral Courage: Lessons on Bioethics from Jewish Physicians during the Holocaust" — a paper published in the most recent issue of Conatus – Journal of Philosophy. The biannual scholarly publication is dedicated to the dissemination of original philosophical research. The issue theme was "Bioethics and the Holocaust."
The paper centers on the stories of four Jewish physicians that are "instructive for positive bioethics … beyond warnings about what not to do," and demonstrate the power of what it means to commit to the underlying ethos of medicine.
"The experiences of each of these (physicians)…portends lessons for today's physicians faced with moral distress and ethical dilemma in the face of suffering, interpersonal relations, and socio-political conflicts that increasingly test the professed ideals of medicine," the paper states.
Why now?
Wasserman said he and Yoskowitz decided to team on the project after seeing the call for submissions for the issue by its sponsor, the Maimonides Institute (MIMEH).
According to its website, MIMEH is a nonprofit that provides educational programming targeted towards health care professionals "concerning the ways in which the power of medicine and the promise of scientific progress were used during the Holocaust to subvert the basic human rights of those deemed inferior in an attempt to improve the future of society."
Wasserman said the opportunity was a good fit for the two colleagues: He would focus on framing the importance of positive bioethics instead of negative, and Yoskowitz would concentrate on issues related directly to the Holocaust as they pertain to patient care.
Wasserman said the paper aims to be "an aspirational call to be our best selves" in the face of trying times, both past and present.
"We're both concerned that the response to abuses — both historic and contemporary — isn't sufficient if it's all focused on reacting to those negative events with rules, prohibitions, and proclamations about what not to do," he said.
'Let's focus on great heroes'
The paper is careful to recognize "the unprecedented horror of the Holocaust" and the need to "offer sufficient respect for the incomprehensible magnitude of that horror."
Concurrently, the paper states that it is "dangerous to suggest that…the Holocaust cannot teach us about our lives today."
"The lessons we extrapolate from history are meant to inform our present context, not to compare it," the paper states.
As such, Yoskowitz said the paper essentially serves as a statement on the importance of looking beyond self and survival.
"We must focus on creative survival, and how to contribute to life — not merely to preserve our own lives," he said. "What Jason and I did was say 'Enough of this focusing, in particular, on what not to do as a result of what the Nazi doctors did. Let's focus on great heroes who maintained the highest ethics even in the most despicable of situations, and among the most horrifying individuals.'"
To make their case, Wasserman and Yoskowitz concentrated on four physicians:
Viktor Frankl, whose work on hope and the meaning of suffering remains essential insofar as medicine inherently confronts disease and death.
Mark Dworzecki, who encouraged others in the Vilna Ghetto to document their experiences thereby illustrating the power of narrative for the human experience and the notion of ethics as narrative in the face of suffering.
Karel Fleischmann, whose art underscores not only the importance of reflective practices for professionals as a form of simultaneous introspection and testimonial, but illuminates hope amid sheer hopelessness.
Gisella Perl, whose resistance to orders from Josef Mengele (aka Auschwitz's "Angel of Death") highlights the importance of moral action, not just reflective reaction.
"They found a calling in reaching out, putting themselves out there, and risking their lives," Wasserman said. "But always in a proactive warm and engaged way, and we think that's an important part of what it means to live an ethical life."
Yoskowitz pointed to Perl as an example, noting she was initially "fooled" by Mengele into believing proper care was being given to women who were pregnant. When Perl found out that wasn't the case, she did as much as she could to truly help them, including risking her own life.
"There needs to be as much focus on Dr. Perl as there is on Dr. Mengele," Yoskowitz said.
Yoskowitz said many others were considered for inclusion in the paper — including 11 physicians who survived Auschwitz alone.
"We tried to choose people who each contributed in a different way, and offered a different skillset," he said.
By example, Yoskiwitz points to Fleishmann — an artist and physician. Fleishmann drew what he saw going on in the camps, "and sent the drawings out to England and other places, so people would know what the real story was."
Such actions demonstrated a commitment to the "underlying ethos of medicine," though they weren't doing things in their respective specialties or regular conditions.
"Even when they were doing things that were outside the realm of medicine, they saw what they were doing as being very much connected to the art of doctoring," Wasserman said.
"In exercising both explicit and introspective forms of resistance, the heroic work of Jewish physicians in the ghettos and concentration camps tells us a great deal about the virtues and values of medicine," the paper's abstract states.
Lessons for today
Wasserman said that the work of the physicians in the paper aligns directly with many of the visions and values of OUWB, specifically with regard to engagement, connection, and compassion for others.
"Our framing of these physicians as an example of positive bioethics is very much with the spirit of OUWB," he said.
Yoskowitz also said that the Jewish physicians demonstrate the need for doctors and medical students alike to feel like "they are doctors all the time."
"We find in studies that those medical students and those physicians usually have less burnout than those who don't have that kind of commitment to patients beyond the normal 8 to 5 kind of scheme that other professions have," he said. "I know that I see that in our OUWB students…and I am energized by that."
To read the entire paper online, visit https://ejournals.epublishing.ekt.gr/index.php/Conatus/article/view/20967/19010
For more information, contact Andrew Dietderich, marketing writer, OUWB, at adietderich@oakland.edu.