Friday, Jul 24, 2020
'Medicine transcends borders:' OUWB med student leads campaign to send medical supplies to Lebanon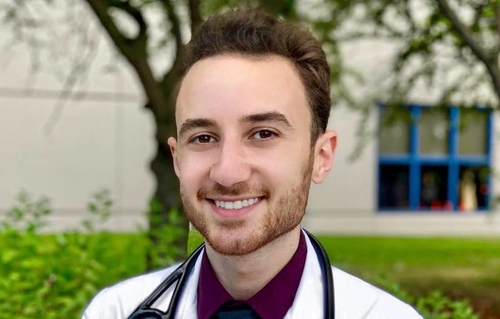 OUWB student Majd Faraj, a Lebanese American, said he is working with Southfield-based World Medical Relief to get medical supplies to Lebanon — one of many that continue to deal with the impact of COVID-19.
A campaign to send desperately needed medical supplies to Lebanon is being led by a second-year medical student from Oakland University William Beaumont School of Medicine.
Majd Faraj, a Lebanese American, said he is working with Southfield-based World Medical Relief to get medical supplies to the country — one of many that continue to deal with the impact of COVID-19.
Faraj said supplies will go to Rafik Hariri University Hospital, which is a nonprofit hospital that numerous sources identify as the primary hospital in Lebanon for COVID-19 patients.
Through a GoFundMe page, Faraj hopes to raise $15,000 to cover the costs of the supplies and shipping. He hopes to hit the goal before the next school year begins in mid-August.
"Lebanon's call has reached all parts of the world," states the campaign's GoFundMe page. "We, as Lebanese expats and lovers of the Lebanese culture and people, cannot sit back as our families and loved ones suffer as if no one is there to offer help or lend a listening ear to the cries of pain and help."
Faraj also cites the need in light of a "gruesome economic crisis in Lebanon (that) has thrown people's lives into a mysterious fate".
"The COVID-19 pandemic rendered the situation even more complicated," states the GoFundMe page. "The medical sector in Lebanon has sustained one of the greatest hits with the current state. Certain medical supplies and medications are limited and prone to becoming unavailable."
Inaya Hajj Hussein, Ph.D., associate professor, Department of Foundational Medical Studies, OUWB, was among those who supported Faraj's efforts to launch the campaign.
Hajj Hussein is familiar with the region having taught at Beirut Arab University, Lebanese University and the American University of Beirut, where she was also a research associate.
She said Faraj's "efforts to raise money for medical supplies to send to Lebanon is an excellent way to create a bond and help to strengthen relationships through a shared goal."
Identifying a need
Faraj was born and raised in Lebanon. He earned his undergraduate degree from University of Michigan. When the COVID-19 pandemic struck in early 2020, Faraj was wrapping up his first year at OUWB.
During the summer, he watched what was happening in Lebanon and began exploring ways to help.
Through previous volunteer efforts at World Medical Relief, he was familiar with the organization and reached out to determine how he could get medical supplies from metro Detroit to Lebanon. (World Medical Relief is one of OUWB's community partners.)
Faraj said he learned that if he raised enough to cover the cost of supplies and shipping, he would be able to send up to $500,000 worth of gear at a cost of about $15,000. 
After receiving positive feedback from Hajj Hussein, Firass Abiad, M.D., head of Rafik Hariri University Hospital, and others, he launched a GoFundMe campaign. In the first two weeks, the campaign raised just under $6,000 and was featured in The Arab American News.  
He said the reaction to the campaign has been "overwhelmingly positive."
"It reinforced the idea that people really do care about other people they might not know," said Faraj.
'Medicine transcends borders'
Faraj said he fully expects some people to question making a donation to another country as the number of COVID-19 cases surge in the U.S.
However, Faraj said he simply he views the effort as an extension of the Hippocratic Oath he recited at OUWB's 2019 White Coat Ceremony.
"I stated that, as a physician, 'I will remain a member of society with special obligations to all my fellow human beings,'" he said. "That statement and the fact that medicine transcends borders is why helping any country or group in a crippling crisis or in need is always the sound and the humanitarian decision that a physician is expected to abide by."
Hajj Hussein said she expects Faraj will get as much out of the experience of those the campaign helps in Lebanon.
"One of the most essential things that people need is connection," said Hajj Husesin. "When you volunteer, you provide that for others. Volunteerism will also help Majd build connections for himself with other members of the community, brings together people of diverse backgrounds and interests, and can improve physical and mental health. In addition, volunteerism has been shown to have a higher rate of academic success."   
To donate to the Medical Relief to Lebanon campaign via GoFundMe, visit https://www.gofundme.com/f/medical-relief-to-lebanon
(This story has been updated. The original version reported $15,000 would cover the costs of shipping $40,000 worth of medical supplies. The actual number is up to $500,000 in supplies.)
For more information, contact Andrew Dietderich, marketing writer, OUWB, at adietderich@oakland.edu. 
Follow OUWB on Facebook, Twitter, and Instagram.
NOTICE: Except where otherwise noted, all articles are published under a Creative Commons Attribution 3.0 license. You are free to copy, distribute, adapt, transmit, or make commercial use of this work as long as you attribute Oakland University William Beaumont School of Medicine as the original creator and include a link to this article.