Thursday, Aug 15, 2019
Residents as Teachers program at OUWB heads into seventh year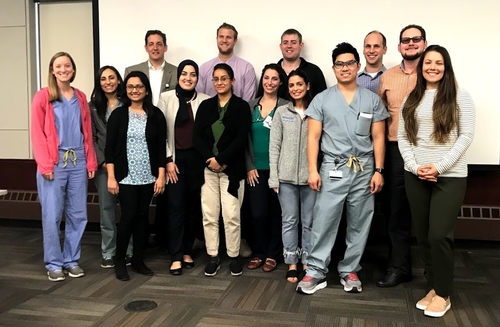 Residents who completed the Residents as Teachers program for the 2018-2019 year.
Oakland University William Beaumont School of Medicine's 2019-20 Residents as Teachers Program is set to kick off and help a new group of residents and fellows become better instructors.
Heading into its seventh year, the Residents as Teachers Program already has had 245 graduates.
The annual program aims to provide residents and fellows exposure to medical teaching concepts as well as opportunities to improve their teaching skills.  This enhances the educational experiences of their medical students and junior residents, and at the same time, enhances their own learning skills.
Residents as Teachers is a joint effort between the OUWB Center for Excellence in Medical Education (CEME) and Beaumont Health Graduate Medical Education (GME). Co-directors of the program are Jeffrey Devries, M.D., MPH, associate dean for GME at OUWB, and vice president for GME at Beaumont Health, and Ann Voorheis-Sargent, Ph.D., CEME director.
"This program is of tremendous importance to both OUWB and Beaumont Health, because both are fully invested in ensuring that our medical student and junior residents are receiving the highest quality instruction, both at the bedside and in the classroom," Devries said.  
"At the same time, the teaching skills they are acquiring will also be used as they partner with patients to ensure that their communication is clear and understandable," he added.
Voorheis-Sargent said the program is especially important because most residents have not had previous formal training on becoming effective teachers.
"The goal is to provide them with strategies on how to be more effective teachers, and, in turn, provide learners with a more inclusive learning environment," Voorheis-Sargent said.
Curriculum enhances teaching skills
The curriculum is designed to enhance skills that can be immediately used to teach junior residents and medical students.
The voluntary course — funded in part through the Sandor H. Shoichet, M.D., and William M. Davidson Endowment for Excellence in Internal Medicine Education — is offered to any resident or fellow in Beaumont Health. It is essentially divided into two sections.
The first portion of the program consists of interactive plenary sessions held once a month, August through December. During each large-group meeting, a specific topic is covered, such as "imposter syndrome", unconscious bias, effective bedside teaching, dealing with challenging learners, and more. These monthly sessions typically are held on Wednesday evenings, starting on Aug. 21.
The second section is based upon the Stanford University Faculty Development Clinical Teachers curriculum, and taught by several of eight Beaumont physicians who attended the month-long Stanford program to develop expertise in this curriculum. The seven small group sessions, with six to eight residents in each, consist of video vignettes and role-plays. The second portion of the program runs from January through April with meetings held bi-weekly at different times of the day and evening.
The program wraps up in May, following one last large-group meeting held during William Davidson Medical Education Week.
Upon completion of the course, graduates receive a "Certificate of Advanced Training in Medical Education", with appropriate mention in subsequent letters of recommendation.
'A better understanding'
Voorheis-Sargent said the Residents as Teachers program continues growing, due in large part to word-of-mouth information being shared about the quality of the program.
"It actually has been a selling point for some people to choose Beaumont for residency," she said.
Like Devries, Voorheis-Sargent said the benefits of the program go beyond the lessons taught.
"Not only do we develop our faculty, but we also provide support to all who work with our students," she said.
Past program participants said they took a lot away from Residents as Teachers.
"I joined the Residents as Teachers program because when I was a student, I was fortunate to work with residents who taught me well," said Miriam Bukhsh, M.D., OUWB alumna, class of 2018. "But, when I became a resident myself, I had a lot of apprehension about having my own set of students because I really didn't know how to teach them."
Bukhsh said among the many skills acquired through the program, she learned how to coach learners into doing self-reflection.
"I've gained a much better understanding about how to assess the knowledge of a student and challenge them at a level that is appropriate for them, and how to appropriately give feedback on their performance," she said. "I feel like I am a better teacher because of this program."
Darci Foote, M.D., University of Michigan Medical School alumna, class of 2017, said she expects to use many of the skills she learned through the program.
"The Residents as Teachers course not only gave me a framework for considering my teaching, it also put it in the clinical context in which I anticipate using these newly- acquired skills," Foote said. "The concepts taught were ones of which I had not been aware. I feel that this course was only the beginning of my journey in understanding how to become a better educator."
For more information, contact Andrew Dietderich, marketing writer, OUWB, at adietderich@oakland.edu.