Monday, Dec 02, 2019
OUWB co-sponsors event for Transgender Day of Remembrance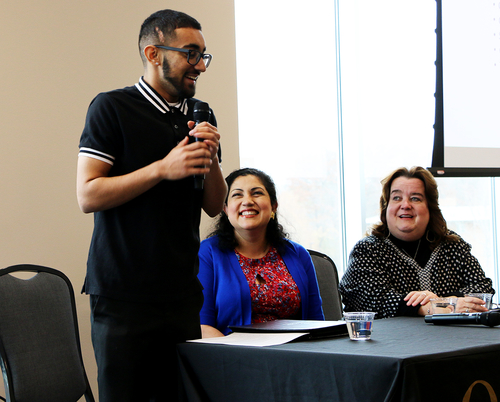 Jay Amin talks during a recent event held at the Oakland Center in conjunction with Transgender Day of Remembrance. His mother, Tejinder Gill (center), and pediatrician, Maureen Kelly, M.D. listen to his presentation.
A young man seeking to raise awareness about people who are transgender recently spoke at an event co-sponsored by Oakland University William Beaumont School of Medicine and Oakland University's Gender and Sexuality Center.
Jay Amin — along with his mother, Tejinder Gill, and Maureen Kelly, M.D., and OUWB clinical faculty member — took part in the Nov. 20 panel discussion held at the Oakland Center on Transgender Day of Remembrance. The day is an annual observance honoring the lives of those who were lost due to anti-trans violence.
Amin, of Bloomfield Hills, Michigan, and a certified Empowerment Life Coach with the Life Mastery Institute, has been sharing his story with the OUWB and Oakland University community for the last few years.
His overall intent is to help people gain a better understanding of the basic language to communicate well with/about LGBTQ, the difference between gender identity and sexual orientation, the basic needs of people who are transgender, and how to be an integral part of a supportive community.
"A lack of awareness exists in a lot of communities, especially in schools, and hospitals," Amin said after his presentation. "Sharing the realistic aspect (of being transgender) is the most important part of helping other people understand."
Gill said her family's journey essentially began while seeking treatment for Amin, who was at a young age at the time.
"I was very concerned about my child who had depression, no liveliness, didn't want to go to school — we were at a dead end," she said.
It was one particular annual physical examination with Kelly that proved invaluable in helping Amin turn the corner on his depression. In fact, he said, the exam turned into a nearly 3-hour session in which the two discussed being transgender.
"My pediatrician was the only person who literally talked to me," he said. "She took the time and really noticed something was wrong, and that I wasn't happy between my ears."
Kelly said Amin is a good example of why it's important to have open, frank discussions with patients.
"I find if you ask, they will tell you," Kelly said. "Sometimes we don't ask enough, and are just robotic…you just have to sit down, don't act rushed even if you are rushed, and I think they just kind of open up."
Once Gill was brought into the loop, she said she had to learn fast.
"It took me a couple of months to get my head around what transgender was because I didn't even know the meaning of it," Gill said. "With that (understanding), my whole goal as a parent became 'How do I get help for my child?'"
With the support of his family and pediatrician, Amin said he was able to take on a steep learning curve about what it meant to be transgender. Not only that, but it helped him during his medical transition.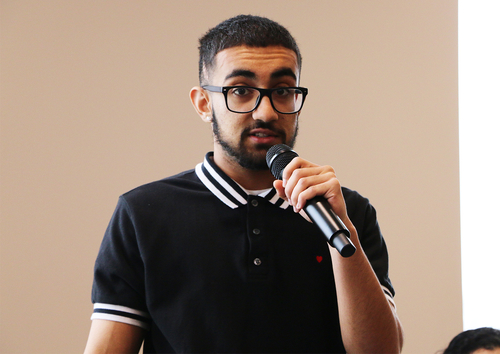 "Having support versus having a lot of tolerance can change the way a person perceives their medical transition," Amin said. "It's a hard time to go through. A lot of emotions are changing. There's a lot of hormones…just like any other person's puberty…while facing being trapped in the wrong body.
"Getting through that required a lot of support," he said.
Amin said he essentially hopes to help others feel more comfortable about having such discussions, which is why he speaks about his experiences at events like the one held at Oakland University last week.
In fact, Ann Voorheis-Sargent, Ph.D., CEME director, OUWB, said Amin, Gill, and Kelly have spoken at several student, faculty, and resident programs within OUWB and at Beaumont in the last few years.
The hope, she said, is to provide audience members an opportunity to have a better understanding of the transgender community and the available resources.
"According to Jay, he might not still be here if it was not for Dr. Kelly," said Voorheis-Sargent. "She took time to listen to him and work to find him resources even when she did not know anything about transgender.
"I hope that stories like these will help our OUWB students and graduates treat each person as an individual and really listen to their stories and find resources for them," she added.
For more information, contact Andrew Dietderich, marketing writer, OUWB, at adietderich@oakland.edu.