Tuesday, Nov 12, 2019
Graduate of OUWB's inaugural class to join faculty at Mass Gen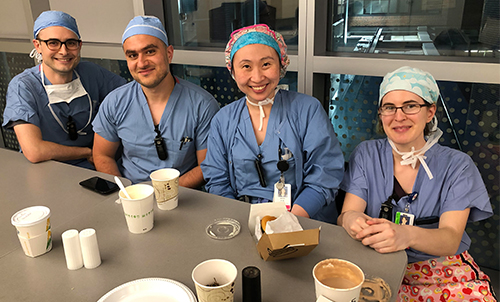 OUWB alumna Amanda Xi (second from right) was all smiles on the last day of her residency at Mass Gen.
A graduate of Oakland University William Beaumont School of Medicine's charter class has been appointed to the faculty at Massachusetts General Hospital — part of an "incredible journey" that she says traces to her first interview day at OUWB.
Starting next July, Amanda Xi, M.D., OUWB Class of 2015, will join the faculty at Mass Gen — the original and largest teaching hospital of Harvard Medical School. She is scheduled to start after completion of a one-year anesthesia critical care fellowship.
Concurrently, she chairs the council of review committee residents, Accreditation Council for Graduate Medical Education, and is program co-director and member of the board of directors of the American Medical Women's Association. Xi also writes a blog, stays busy on social media, and is an oft-cited expert on medical schools.
It's a career she couldn't be happier with, though one she didn't necessarily immediately imagine after she earned bachelor's and master's degrees in engineering from University of Michigan, and before she started at OUWB.
"It's been an incredible journey," Xi said. "I'm very thankful for OUWB, and everything that the institution has done to support me in my endeavors."
Finding OUWB and anesthesiology
Xi, a West Bloomfield, Michigan-native, said she had always wanted to be a physician in the back of her mind.
However, Xi admits she "didn't know if I would have adequate resources to study and succeed at the MCAT. I didn't know if my circuitous path would be frowned upon when evaluated by medical school admissions committees. Because of all of this uncertainty, I elected to pursue an engineering degree to have a 'back up' plan (i.e. a 'real' job)."
Still, she applied to be a member of OUWB's charter class, based in large part on the close proximity to her Michigan home and the reputation of affiliate, Beaumont Health.
According to Xi, her interview day at OUWB was especially enlightening.
"I loved my interview day," Xi said. "I got there and I was like 'This is a great place and I would really love to be here.'
"I'm really glad it worked out because when I was at Michigan, I had no idea that I would even get into medical school," she said.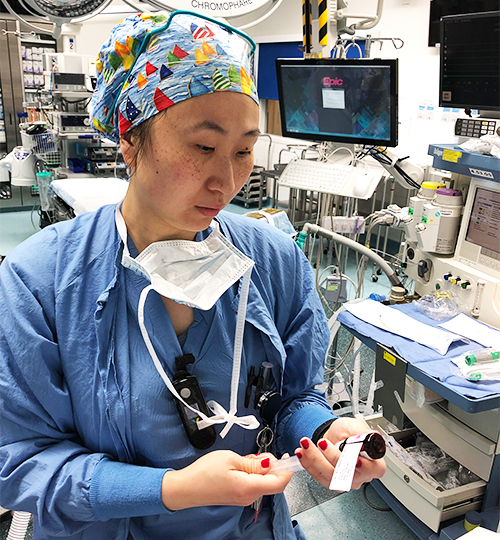 During her time at OUWB, Xi said she fully embraced all her exposure to various specialties, but she was having trouble deciding what to pick.
Eventually, she decided on anesthesiology, based on what she found herself putting the most value in: a fast-paced, team-based approach to patient care.
"When I was on my anesthesiology rotation, I saw that when someone needed help they called their colleagues and a whole crew of people would come in," she said. "Anesthesiologists would just flood in and say 'Hey, how can I help you?'"
Another factor, Xi said, was that she would receive training in critical care that would allow her to make rounds on intensive care units.
Xi said her education and training has turned her into a well-rounded anesthesiologist.
After OUWB
Post-graduation from OUWB, Xi had a one-year internship at Henry Ford Hospital in Detroit. She then moved to Boston to begin her anesthesiology residency at Massachusetts General Hospital.
Xi said it didn't take her long to feel like she was in the right place. Primarily, she said, it was because she was surrounded by others from whom she found it easy to learn.
"At Mass Gen, there are world-renowned researchers (and) clinicians that despite all of their accolades, are humble, approachable, easy to talk to — things that really drew me to the institution," she said.
Because of her positive experiences as a resident (and now fellow) at Mass Gen, Xi said she wanted to stay with the organization.
Xi said she loves the MGH anesthesia community, looks forward to teaching (and learning from) residents, fellows, and medical students, as well as the extracurricular, project, and leadership opportunities that she hopes will one day help her land a position in hospital administration.
'So many opportunities'
In 2011, Xi started a blog (which can be found at http://amandaxi.com/). The first post was June 21, 2011. It was called "Introductions."
"With this blog I plan to chronicle my experience as a medical student in the inaugural class of Oakland University William Beaumont School of Medicine (Rochester, MI) and whatever else gets thrown my way," she wrote. "While I cannot guarantee what this blog will mature into (or if it'll even be updated regularly), I hope that someone, somewhere can benefit from my words. I guess we'll see."
Xi has kept the blog going with new content.
Posts have evolved from those early days ("OUWB Orientation: Day 1," "An Evening of New Beginnings and White Coat Ceremony," etc.). Posts made in the last few months have included "Tips for applying to residency" and "How to interview like a boss."
"When I started the blog in 2011, my purpose was to answer questions and put out there what it means to be at a new medical school," she said, adding that questions ranged from basics about curriculum to what it was like to work with Beaumont physicians.
"I really enjoy the opportunity to help people who are pre-meds and are looking for a medical school, or new to a medical school, and can learn from the processes I went through," Xi said.
Eventually, Xi did her capstone project (now called Embark) on social media policies. She also expanded into the social media channels (Instagram, Facebook, Twitter, etc.).
In addition to serving as both a mentor and mentee at different times, Xi said her blog and social media endeavors have led to unique opportunities in her career, such as presenting at this past July at the Medical Women's International Association (MWIA) Centennial Congress.
Xi also was quoted as a source in an October U.S. News & World Report story about "What to Ask When Evaluating New Medical Schools."
"There's so many opportunities out there for growth in your career," Xi said.
For more information, contact Andrew Dietderich, marketing writer, OUWB, at adietderich@oakland.edu.