Friday, Nov 29, 2019
Full circle: OUWB students deliver babies alongside doctor who delivered them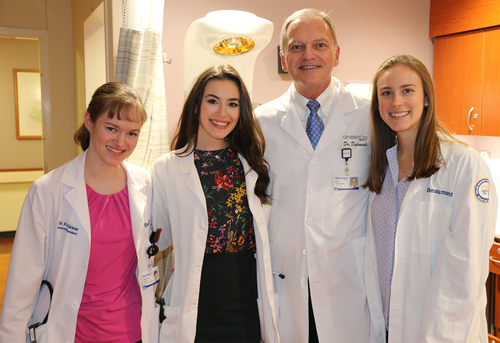 Mark Dykowski, M.D., (second from right) with three current and former OUWB students he also happened to deliver as babies. From left, Katherine Griese, M.D., Class of 2019, Kristin LeMarbe, M3, and Jennifer Klei, M4. Dykowski also delivered M3 Meredith Allen and Lauren Lendzion, M.D., OUWB Class of 2018.
When Oakland University William Beaumont School of Medicine student Kristin LeMarbe has her upcoming OB-GYN clerkship at Beaumont Hospital, Royal Oak, one aspect will be the culmination of a "full circle."
That's because it's anticipated that LeMarbe will deliver a baby alongside Mark Dykowski, M.D. — the same doctor who delivered her as a baby.
LeMarbe will be the fifth OUWB student delivered by Dykowski and to have the opportunity to work alongside the OUWB clinical faculty member in the delivery room as part of their medical training. The others are Jennifer Klei, Meredith Allen, Katherine Griese, M.D., and Lauren Lendzion, M.D.
It's a unique experience for Dykowski and the medical students made possible through OUWB's affiliation with Beaumont Health, which allows for third- and fourth-years to spend their days at the hospital rotating through different specialties, including labor and delivery.
"I was there at the start of their life, and then at the beginning of their professional life," Dykowksi said. "It is very professionally gratifying, and it is personally gratifying — all of the students have been so joyful about having the opportunity."
LeMarbe said her parents were "immediately excited" that she would be working with Dykowski, especially in light of their previous experiences with him.
"We were all really awed by how things come full circle," said LeMarbe, a third-year medical student. "They think the world of Dr. Dykowski and always say how wonderful and caring he was as their doctor."
"Working with Dr. Dykowski so many years after he delivered me was really exciting and an enormous privilege," said Allen, now a third-year medical student. "Being next to him in the operating room while he delivered a baby knowing it was once my mom on the operating table giving birth to me was surreal."
'It's a great job!'
Dykowski is a graduate of the Wayne State University School of Medicine. In the early 1980s, he served his residency at Beaumont Health, before going on active duty with the U.S. Air Force at George Air Force Base in Victorville, California, aka "the middle of the Mojave Desert."
He returned to Beaumont in 1990.
Dykowski, whose daughter Sara Dykowski graduated from OUWB in 2019, said delivering babies allows physicians to be part of "something special."
"I tell students and residents that we're invited into the most special event in a couple's life," he said. "The woman usually does all of the work, and then they thank us. It's a great job!"
Dykowski has delivered more than 6,200 babies. He said it isn't uncommon for him to be at a store or restaurant and have people recognize him in connection with a delivery.
But there's something a little bit more special when he works with an OUWB student whom he once delivered.
"To look at just one class (of 2021) and say that I delivered two out of 125 students? I feel kind of special," he said. "Not everybody can say that. It's really neat to be part of it."
The medical students say the experience is special to them, as well.
"I was very happy and grateful to have been able to work with Dr. Dykowski," said Griese, OUWB Class of 2019, and first year internal medicine resident at Beaumont. "When starting my OB rotation, I had hoped I would run into him and maybe even get to work with him. 
"When I found out one of his patients was potentially delivering during one of my night shifts, I made sure to jump at the opportunity," Griese said. "I was really glad to have had that experience and now it is a good story to tell as well."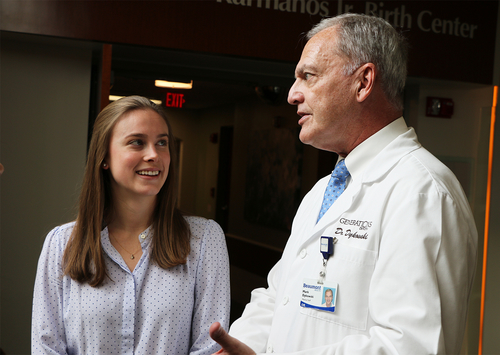 Klei (with Dykowski in the photo at right) expressed similar sentiments.
"It was such an amazing experience working with Dr. Dykowski," she said. "From the moment he saw me on his service, he was so welcoming and said he had been looking out for me as the medical students were rotating through."
One of Dr. Dykowski's most memorable delivery moments took place alongside Lendzion, Class of 2018, and current resident at Children's Hospital-Oakland (California).
"We did the delivery together at 2:30 in the morning, and as she walked back to the nursing station, she started to cry," Dykowski said. "I asked what was wrong, and she said, 'It's my first hands-on delivery, and my mom wanted me to remind you that you delivered me 25 years ago.'"
Dykowski, who keeps record of each of his deliveries, checked his notes and found that he had done exactly 4,000 deliveries between Lendzion and the newborn baby girl. The two shared the news with the new parents, who were honored to be part of such a special delivery.
'Surpassed many other experiences at OUWB'
Dykowski and the students say there's more to the experience of working with each other beyond the "full circle" and "surreal" aspects.
For Dykowski, it means taking a special interest in helping the medical students get the best possible training — consistent with OUWB's overall mission to enable students to become skillful, ethical, and compassionate physicians.
"So much of being a doctor is being able to interact with people," he said. "It's not just 'How do you feel today? Is your blood pressure fine?' It's 'You look sad today. Oh, I'm sorry I didn't realize your dad was ill.' And that's something I can teach, too, …it's something (students and residents) have to see."
It's something that Dykowski says never seems to be a problem with OUWB students.
For the medical students, working with Dykowski meant learning how to be a doctor in a way that goes beyond the books.
"Dr. Dykowski taught me the importance of teaching and empathetic patient care," Klei said. "He radiates such a passion for his career and makes every patient feel so comfortable. He truly treats all his patients as if they were family."
Allen expressed similar feelings.
"Being able to see not only his technical skill in the operating room but also his bedside rapport with his patients was a great learning experience and a reflection of how I want to practice medicine," she said.
Griese said the experience "surpassed many other experiences at OUWB."
"Working with Dr. Dykowski was a great learning experience on par with many other quality experiences I had as a student at OUWB," she said. "He is a good teacher and a good example of quality patient care. On a personal level, the experience surpassed many other experiences at OUWB. Doing a delivery with him was one of the things I had hoped to be able to do as a student, and I am so glad I had the opportunity."
For more information, contact Andrew Dietderich, marketing writer, OUWB, at adietderich@oakland.edu.