Tuesday, Jul 03, 2018
Rising M2 student honored at national Endocrine Society meeting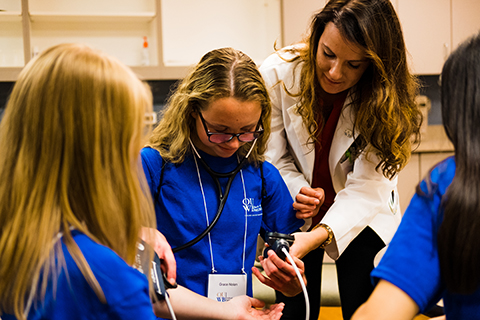 Monica Szmyd assists OUWB's Diversity and Inclusion team with their Future Physicians Summer Enrichment Program
Rising M2 Monica Szmyd's research was recognized at the Annual Meeting of the Endocrine Society (Endo-2018) in Chicago. After being selected for having one of the four top-scoring abstracts in her section, she presented in the Presidential Poster Competition alongside residents, fellows and doctors of philosophy (Ph.D.).

The research Szmyd presented examines the effects of Bazedoxifene acetate, a drug approved for the treatment of osteoporosis, on breast cancer cells. The results of her research illustrate that Bazedoxifene acetate could be a potential breast cancer treatment option in the future.

She began this research as an undergrad at Oakland University during an endocrinology course taught by Sumit Dinda, Ph.D., Oakland University associate professor of clinical & diagnostic sciences. Now, at OUWB, Szmyd continues this research as part of the Embark curriculum, a four-year required scholarly concentration program that provides a mentored introduction to research. She remains under the mentorship of Dr. Dinda.

Ultimately, her Embark research project will focus on understanding the effects that Bazedoxifene acetate will have on the breast cancer cells when they are treated with Bisphenol S (BPS), which is commonly found in plastic products like bottles, as a substitute for BPA. Her findings have shown that BPS is an endocrine-disrupting compound with potential cancer-causing effects. "It will be interesting to see if treatment with Bazedoxifene acetate inhibits the proliferative effects of BPS," she says.

Her work thus far has given Szmyd a greater understanding of the trials and studies behind the patient case studies they read in class. "Understanding how the bench work of research transitions to the bed-side is interesting and very important," she says. "It gives me more of an appreciation for the processes required to get to that point in the research."

An OU grad to an OUWB student

Before beginning her medical school journey at OUWB, the Madison Heights-native chose to complete her undergraduate degree at Oakland University. The decision was not difficult, as the campus is close to her home and she was excited about the new biomedical sciences program, a program designed to prepare students hoping to continue on to medical school.

"I've wanted to go to medical school since I could remember," she explains. "I grew up with a brother who has cerebral palsy, so our family sought medical attention for him on a regular basis." She admired the doctors who helped her brother and her family, and knew she wanted to help other families in a similar way.

When the time came to decide where she would go for medical school, Szmyd was already sold on OUWB. "After experiencing interview day, I knew this was the school for me," she says. "I loved how they focused on community and family, and truly that's the feeling I have now that I completed my first year."

This summer, Szmyd is continuing her work with Dr. Dinda in the research lab. She is also volunteering at the Northstar Reach Summer Camp, a summer program for children who have serious illnesses, for a week. She helped OUWB's Diversity and Inclusion team with their Future Physicians Summer Enrichment Program, in which she taught high school students interested in medicine important skills like taking blood pressure readings. In her spare time, she will be shadowing physicians in hopes to narrow down the specialties that are of interest to her.