Wednesday, Sep 26, 2018
OUWB alum shares stories about residency and life after medical school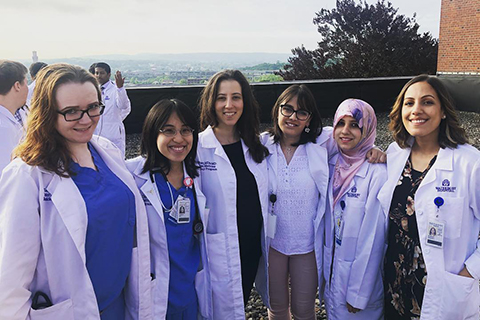 Flo Doo and her colleagues enjoy the view from the Waterbury Hospital rooftop.
OUWB graduate Florence Doo, M.D., Class of 2017, just finished the first phase of her residency in Internal Medicine at Yale-Waterbury, where she received the Intern of the Year honor. Now, she is starting the last phase of her residency in Diagnostic Radiology at Mt. Sinai-West.

Thus far, Doo has one word to describe her residency experience: intense. "The work!" she says. "It's an avalanche of responsibilities, where you strongly feel impostor syndrome, mixed with a dose of pride and panic."

Though residency has amplified the challenges she faced in medical school by giving her more patients to tend to and a less-defined schedule, she believes that her time at OUWB prepared her very well for residency, particularly the third and fourth year rotations that taught her key clinical skills and bedside manner

Despite her challenges, Doo recognizes her successes, as well: her development of two curricular projects and her efforts toward achieving a work-life balance by hiking, trying new restaurants and traveling – she's visited six countries in the past year.

Leadership in residency

Doo has always been interested in leadership, exhibited by her roles in student organizations during her time at OUWB, which included the national gender and sexuality chair at American Medical Student Association and the national student co-chair of the Gender Equity Committee at American Medical Women's Association.

She also worked with Beaumont leadership to develop a rotation that exposes fourth-year medical students to various types of health care careers including academic medicine, administrative roles, private practice and political.

She continued to find opportunities to lead during her first year in residency. While she did not anticipate it, she quickly made an observation: "Doctors serve in multiple leadership roles, often without formal leadership training."

As a result, she worked with her program director to create an elective to teach key leadership skills to internal medicine residents. She chose to focus on the billing/health systems delivery in California, as they have implemented innovations that are ahead of the rest of the country.

"It started with the premise that the landscape of U.S. health care is changing, and we can be a part of that change as leaders," she says. "Physicians of the future need to understand how those care coordination teams work and how this California-style billing system benefits their patients in order to plan for their future practices."


A mid-residency transition           
With the first stage of her residency completed, Doo moved to New York City to the Diagnostic & Radiology department at Mt. Sinai-West.
Starting over in a new field has been an adjustment for Doo. "I've already hit what they call 'first year blues' in Radiology," she says. "It feels like I'm starting from scratch again."
Despite the learning curve, she is thrilled to be in New York City working at her institution with a group of new colleagues.
Doo's hard work rewarded
When Doo found out that her Internal Medicine colleagues had voted for her to receive the Intern of the Year Award, she was surprised and humbled.
In the past, this award has always been presented to a categorical intern, an intern who is receiving his or her full residency training in one specialty. Doo, part of a preliminary program in which she completed one year of internal medicine training before moving forward to her specialty program – radiology – is the first preliminary intern to receive the award.
For those who know her, this is just the beginning of many more "firsts" for Doo, a proud OUWB alumna with the natural ability to inspire others to follow her lead.