Monday, Apr 09, 2018
M4 students share research at Embark Capstone Colloquium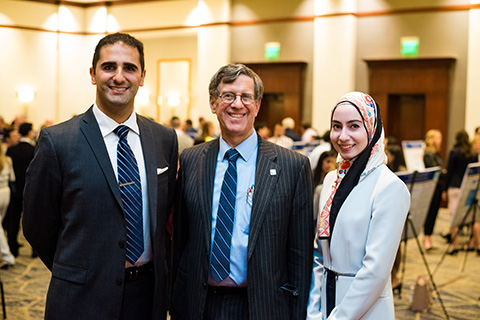 Fred Qafiti, OUWB Founding Dean Robert Folberg, M.D. and Eman Sahloul at the Embark Capstone Colloquium.
When they were M1's, the members of OUWB's current graduating class each selected a research topic, which they would continue to develop over their four years in medical school. On March 15, the M4 students had the opportunity to share their research at the Embark Capstone Colloquium.

The majority of these research projects were presented as posters to family, peers and faculty, who walked the rows of posters and asked questions of their creators; however, two projects are selected each year to be presented on stage before a seated audience.

This year, the selected projects were done by Eman Sahloul, who investigated the ways in which conflict affects cancer care with a focus on Syria, and Fred Qafiti, who developed a point-based risk scoring rubric to help identify women who are most likely not to show up to an important obstetric wellness visit, which takes place around 6 weeks after giving birth.

"Our hope is to use this rubric to identify these women on delivery day in order to provide service and address healthcare barriers before they leave the hospital," he explains. According to Qafiti, after testing and validating its predictability on Beaumont patients, the rubric proved to have very significant predictive strength.

The idea to explore this topic occurred to Qafiti after working in perinatal services in a San Diego community clinic, where he began to notice patterns in the patients who would miss this appointment. Not only did that experience inspire a research project, but the research project inspired his medical career decisions.

"Although I knew coming into medical school that I wanted to pursue OBGYN, this project absolutely fueled that fire," he says.

Though Qafiti and his fellow researchers hit roadblocks along the way, some delaying crucial steps in the process by months, they worked through the frustration. "Research is seldom a painless, streamlined process," he says. "In the end, it was absolutely worth it; we were able to do something novel, applicable and exciting. It gets my heart racing just thinking about the future possibilities."

Poster presenters explain significance of their research

Kyle Eaton and Cassandra Hastings were both among the poster presenters at the colloquium.

Eaton's research focused on self-forgiveness, particularly as it pertains to health professionals who have committed some type of medical error. He and his fellow researchers developed a short mindfulness exercise designed to relieve their participants from a past wrong-doing. They compared the subjects' level of self-forgiveness before and after the exercise, measuring stress markers such as heart rate, breathing and muscle activity.

"In our pilot group of 24 volunteers, we found a significant increase in self-forgiveness after the intervention," Eaton says. "We also found that signs of physiologic stress were lower during self-forgiveness versus angry rumination. This suggests that self-forgiveness is associated with a more relaxed physical state."

When selecting a topic, Eaton hoped to study something no one had thought of before. "This topic has important implications in developing physicians who can effectively cope with errors and continue to perform at the highest standards without becoming 'burned out.'" He says.

Though the data-collection process was more time-consuming than Eaton had anticipated, he is grateful for the Embark project, which spanned his entire OUWB education. "It was a change of pace from the intense clinical rotations, and it allowed me to step back and look at the big picture," he says.

Hastings, whose project centered around programs for children returning to school following treatment for cancer, also appreciated the research opportunity, despite challenges. "What had started off as merely a graduation requirement, soon grew into a project that gained interest nationwide," she explained. "I was invited to do oral presentations, won awards at national conferences, and even had the opportunity to discuss collaboration with a prominent research group out of Harvard."

She was inspired to select this topic after speaking with a focus group of teens with brain tumors who stated that one of the hardest parts of their whole treatment process was returning to school after being absent for a long period of time. "My research seeks to understand what school re-entry programing is currently being implemented across health systems so that future studies can begin to look at program effectiveness," she says."

Her hope is that future medical students will look at her research and discover the impact they, too, can make with research. "I hope they will discover that, when passion is mixed with academic inquisitiveness, it can breed a project that creates change," she says.

Hastings will present her research at the 2018 American Society of Pediatric Hematology/Oncology National Conference to take place this May in Pittsburgh.

Embark is a required scholarly concentration program that provides a mentored introduction to research and scholarship. By the time the four-year curriculum is complete, students will have developed research projects, which are presented at the annual colloquium.