Monday, Jan 02, 2017
Take 5 with James Grogan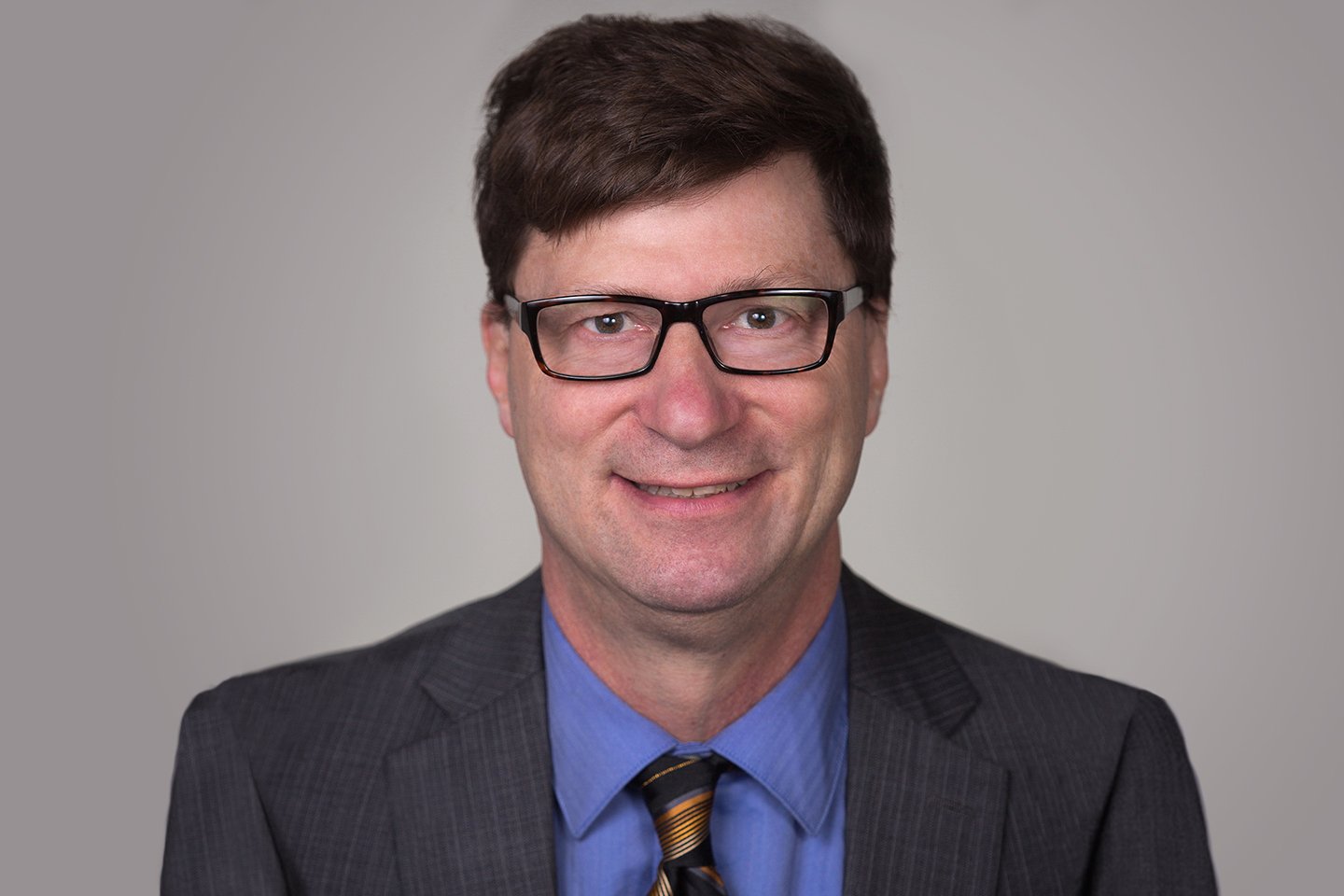 As a way to learn more about the diverse educators who share their expertise with our medical school students, OUWB presents a special interview series called "Take 5." Let us know what you think.
Professor James Grogan, Ph.D., teaches biochemistry and molecular biology at Oakland University William Beaumont School of Medicine. He joined OUWB after serving as professor of biochemistry and associate dean for curriculum at Ross University School of Medicine. He has also had research affiliations with the National Cancer Institute in Bethesda, Md., and the Boston University Goldman School of Dental Medicine. His other work includes developing programs to support curriculum content integration, and his current research interests include preclinical curriculum change. With more than 20 years of experience teaching biochemistry and molecular biology, Dr. Grogan is interested in teaching methods that enhance student engagement, and has published research about how metal ion interactions drive structural and functional activities of proteins in embryological development and human drug metabolism.
Did a defining moment cause you to decide to go into teaching?
As a child, I saw a doctor take a blood sample and decided I could never be that kind of doctor. Outside of that early experience, I never had any epiphanies to help sort out my career direction.  What certainly did have an impact on my thinking were my early mentors, many of whom showed a commitment to both research and teaching. Their sense of service to students was what most resonated with me. That was how I caught the bug.
What do you enjoy most about your job?
I enjoy planning teaching methods that will create meaningful experiences for students. We are living in a transition time in medical education, wherein experimentation in teaching and assessment is the norm. It is lucky timing for professors inclined to try new modes of instruction, different from those they experienced as students. Formal lecture presentations are now subject to revision as newer evidence-based approaches are being developed and reported in medical education journals. Change is difficult in education, but it usually leads to positive learning outcomes.
What kind of research did you do at the National Cancer Institute? At BU?
At the National Cancer Institute, I worked with a team in the Laboratory of Molecular Carcinogenesis (LMC) investigating cytochrome P450 enzyme biochemistry and genetics. This enzyme superfamily has diverse functional relevance in health and medicine. My work investigated features of cytochrome P450s in toxicology and drug metabolism. My research at BU Medical Center concerned enamel protective features of antibacterial peptides derived from salivary secretions. Protein structure and function research continues to contribute to knowledge, which improves clinical care, and now with better and faster methods driving discovery.
What was it about OUWB that appealed to you?
There are many reasons to like OUWB from a faculty perspective.  There is a strong education culture at OUWB and faculty members are fully committed to improving teaching and student-learning.  The medical program is relatively new, which lends excitement to what is possible and developing.  And the curriculum is well designed to support a continuum of basic science learning into clinical practice. The administration also emphasizes their commitment to ideals of diversity and inclusion, a critical competence for effective clinical practice today.  Those were first impressions and I continue to be positively impressed by the students, faculty and administration at OUWB.
So it wasn't the weather? (Ross University in the Caribbean.)
Heat, humidity, and a yearly dose of hurricanes are highly overrated, in my opinion. I've been advised to "embrace the seasons" and that advice is working well in Michigan, so far!
It's a new year: Do you have anything in particular you hope to accomplish at OUWB in 2017?
In a broad sense, I want to support OUWB students to reach their goals of becoming successful physicians. I want to create memorable teaching experiences that will remain with students beyond medical school exams and into clinical practice. I want to develop medical education research projects that will stimulate deep learning in the classroom. The OUWB faculty members have a strong commitment to medical education research, and I hope to contribute to that in a positive way in 2017. Personally, I have a fitness goal this year and also aim to cut down on unhealthy food choices!
What is something most people don't know about you?
I was a soccer player as an undergraduate student at Bard College, in New York state. I've since hung up my boots to avoid injury, but continue to reminisce about the value of teamwork and camaraderie on the field and in life.