Thursday, Mar 16, 2017
OUWB students showcase research at annual OU conference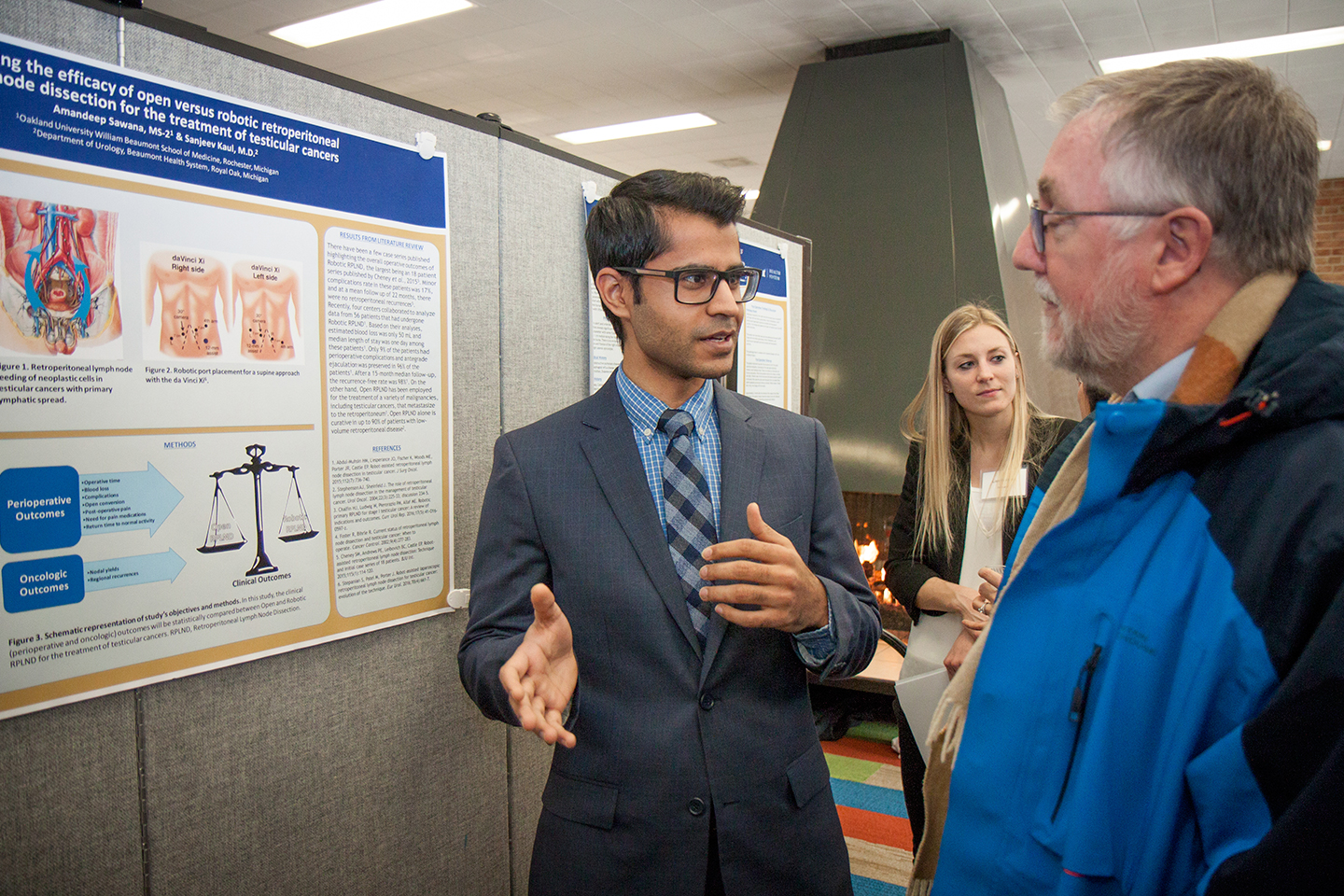 Amandeep Sawana explains his research to Stephen Loftus, Ph.D., OUWB Associate Professor of Medical Education.
Twenty-eight OUWB medical students participated in Oakland University's second annual Graduate Student Research Conference. The event spotlighted a diverse array of research topics with OUWB students representing almost 40 percent  (39/100) of the accepted abstracts and more than 25 percent of the oral presentations selected (9/35).
Following breakfast and registration, the day started with a 90-minute block of oral presentations arranged in breakout sessions consisting of four to five participants, with each presentation running 15 minutes. Nine OUWB students spoke about their research ranging from artery exploration and embolectomy to the development of a screening tool for obstructive sleep apnea. These student presenters included Tolulope Ifabiyi, Shelby Potkin, Jonathan Hue, Aishwarya Navalpakam, Brandon Nguyen, Peter Chen, Brian Lu, Spencer Darlin, and David Vinh-Phuc Nguyen.
After the oral presentations, the event continued with a series of poster presentations with the following OUWB students discussing their research: Amandeep Sawana, Ishani Shah, Jatin Sharma, Justin Yuan Jamilah Alhashidi, Anita Bajpai, Jacquelyun Cameron, David Chu, Lauren Foster, Devon Freudenberger, George Fu, Lisa Galasso, Rafaella enova, Benjamin Ghiam, Derrick Huang, Jean-Pierre Iskanda, Kade McQuivey, Kyaw Naing, and Andrew Pham.
Judith Venuti, Ph.D., chair of the Department of Biomedical Sciences, served as a moderator and explained that the conference was an opportunity for the rest of the Oakland University community to learn about the breadth and quality of research undertaken by OUWB students. Additionally, she surmised that it was a venue for them to present their work in a less stressful environment in preparation for presentations at regional or national meetings.
 "Overall, the conference was a terrific opportunity for our medical students to meet and mingle with other graduate level students from across the campus and learn about the ongoing research at Oakland in other disciplines -from computer engineering to the social sciences," said Venuti. "I was very impressed by the presentations I attended and found the quality of them quite remarkable."
Claudia Petrescu, dean of Graduate Education at OU, said this year's conference featured twice as many presenters as last year's event.