Virginia Uhley, Ph.D., R.D.
Associate Professor in the Department of Foundational Medical Studies
Associate Professor in the Department of Family Medicine and Community Health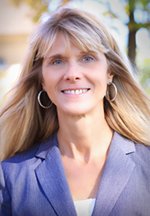 Dr. Uhley joined the Oakland University William Beaumont School of Medicine in 2012 as assistant professor of Nutrition. She is responsible for the development, integration, and assessment of the longitudinal nutrition curriculum (M1-M4).

Dr. Uhley earned her graduate degrees from Wayne State University in Nutrition and Food Science with a minor in Physiology. She completed her postdoctoral fellowship in clinical laboratory biomarkers associated with health risks in the Department of Internal Medicine at the Karmanos Cancer Institute in Detroit. Prior to joining the OUWB School of Medicine she held faculty, clinical, and research appointments at Wayne State University and the University of Michigan. From 2004-2012 she was the Director of the Longitudinal Nutrition Curriculum at the University of Michigan Medical School.

Dr. Uhley's research focuses on the role of nutrition on the prevention and treatment of chronic diseases such as obesity, cancer, and diabetes. She is an expert in nutrition assessment methodology, measurement of clinical laboratory biomarkers associated with dietary intake, and medical nutrition therapy for obesity, diabetes, and cancer. She has published papers on body weight regulation, cancer prevention, metabolic regulation of phytochemicals, diabetes prevention, and the impact of dietary fat intake on health risks. Dr. Uhley is also actively involved in national, state, and community committees that review and establish guidelines for medical education, nutrition, wellness, and health risk assessments.
Contact Information:
Office: 458 O'Dowd Hall
Phone: 248-370-3668
Email: uhley@oakland.edu
Specialties:
Nutrition assessment methodology, measurement of clinical biomarkers associated with nutrition status, prevention and treatment of diabetes, cancer, and obesity, and metabolic syndrome
Education:
Ph.D., Nutrition and Food Science, Wayne State University, Detroit, MI
M.S., Nutrition and Food Science, Wayne State University, Detroit, MI
B.S., Family and Consumer Resources, Wayne State University, Detroit, MI
Certifications:
Registered Dietitian, Academy of Nutrition and Dietetics
Healthcare Provider CPR and AED, American Heart Association
Outdoor Emergency Care Technician, National Ski Patrol
Research Interests:
Impact of nutrition on the prevention and treatment of chronic diseases such as obesity, cancer, diabetes, and community health interventions