From sewing masks to collecting donations for those most in need the faculty, staff, students and alumni of the School of Music, Theatre and Dance (SMTD) at Oakland University have been busy finding ways to help during the COVID-19 pandemic.

"I am overwhelmed by the faculty, student, and staff response to our campus and community needs," said Dr. Amy Hardison Tully, director of the SMTD.

Christa Koerner, OU costume shop supervisor, said she began making masks for her family and friends, but as demand grew she enlisted help to make more masks for those in need.

"I asked my two assistants to join me, and one of my colleagues suggested contacting students and alumni, as well," Koerner said. "Now I have three students, two alumni, two staff assistants and a friend making masks at home. Once a week, we connect to exchange masks and materials. I'd say we've made around 400 masks so far."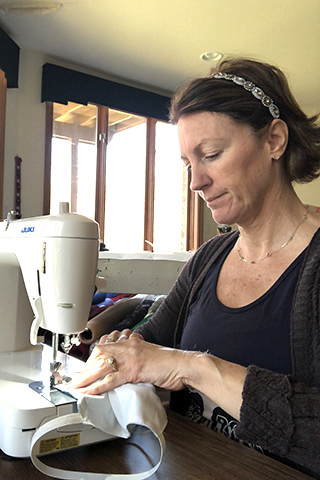 Christa Koerner
Koerner said the masks have been donated to the Oakland County Sheriff's Office, Aurora Health System in Wisconsin, and McLaren Oakland Hospital in Pontiac, as well as various nursing homes and essential businesses.

"One student has a parent employed by Kroger, so she's making masks for Kroger employees," she said. "I was also contacted by a friend who works for a veterinary office, and I'll be making masks for them, as well."

Joe Beck, technical director with OU's SMTD, said he was inspired to help after hearing that OU President Ora Hirsch Pescovitz had offered the use of the university's campus and facilities to Beaumont Health System.

"I thought we might have supplies that could be useful to them," he said.

Beck, who had already donated a box of N95 face masks for first responders at Superior Ambulance Service of Michigan, worked with the SMTD scene shop to gather additional items, including 50 safety glasses, two face shields, 15 half mask respirators and a box of nitrile gloves. The items, which were worth around $1,500, were given to the Office of Environmental Health & Safety for distribution.

"It's not a lot, but it was what we had," Beck said.

In addition, Leslie Littell, a special lecturer in theatre, has been making masks with her church sewing group. She has worked with Koerner and Associate Professor of Theatre Jeremy Barnett to connect healthcare workers in New York, Massachusetts, Michigan and parts of Canada with individuals who are making personal protective equipment.

"These are just a few behind-the-scenes examples of community assistance by our faculty and staff," Hardison Tully said, noting that the collaborative project, Oakland Strong, which originated as an artistic response to COVID-19 and the interruption of students' daily life, has now been organized as a fundraiser to assist others struggling with food insecurity, moving and medical expenses.

"It's not easy for performing arts classes to transition to an online or electronic format, and in the midst of this crisis, SMTD faculty never lost sight of our students' needs," she said. "These empathetic acts of kindness and their desire of just wanting to help in some way by not sitting idly are reminders that we will all get through this together."

The Office of Environmental Health and Safety is helping to coordinate the collection of donations of medical supplies on campus. Sought after items include:

• disposable N-95-N-99 respirators (e.g., industrial type disposable respirators, like those sold at hardware stores for painting)

• PAPR respirators (can be used) and associated components (hoses, hoods, etc.)

• disposable gloves

• face shields or goggles

• aprons

• shoe covers

• disposable surgical/procedure masks (no homemade or fabric versions)

• hand sanitizers or sanitizing wipes

OU departments, labs and offices that would like to donate new/unused and clean medical supplies, can email Cora Hanson, Director of Environmental Health and Safety, chanson@oakland.edu. Collections are by appointment only.