In April, musical theatre seniors from Oakland University's School of Music, Theatre and Dance traveled to New York City to perform their senior showcase for casting directors, agents and managers, and to participate in masterclasses and seminars with the industry's leading artists.

"Showcase in New York was a whirlwind of a week," said Noah Canales, a musical theatre major at OU. "Our class was able to see tons of Broadway shows, including Music Man, Company, and Come From Away. We were introduced to such a professional community with our many masterclasses and lectures, learning what it takes to find success in a high-caliber industry."

The showcase took place April 10-11 at The Green Room 42. In addition to Canales, it featured 2022 seniors Antonio Vettraino, Braeden Haggarty, Stanley Misevich, Chloe Matta, Griffin Krause, and Ash Moran, as well as 2021 seniors Mariah Colby, Hannah Grace Johnson, Mekhi Holloway, Emi Fishman, Madelyn Kaplan, Sam Sommer, and Trevor J. Powell, who were unable to make the trip last year due to the COVID-19 pandemic.

"I was fortunate enough to interview with several agencies, and have recently signed with the esteemed Bloc NYC Talent Agency," Canales said. "I am also amidst callbacks for multiple roles in Hamilton, alongside a few national tours. I feel confident that I will find work soon."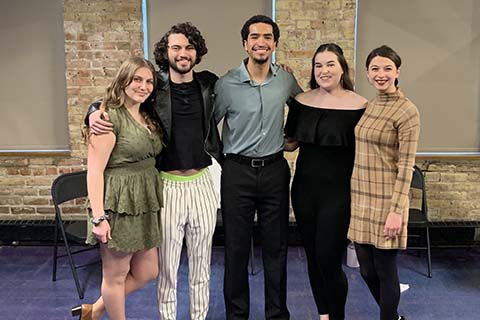 Also this spring, five SMTD acting seniors — Kassie Dunaj, Kyle Kiesler, Jalen Wilson-Nelem, Isabella Goff, and Gwyneth Labine — traveled to Chicago and performed for local agents and casting directors during their own senior showcase, which took place April 9-13.

"Our trip to Chicago was amazing," Labine said. "The showcase itself was a great experience because we performed and then got some really great feedback about our pieces and also our headshots and resumes, which is very important to hear from professionals in the field."

In addition to presenting their acting showcase to a handful of top talent agents in Chicago, the students participated in five workshops that were hosted by the Acting Studio Chicago. The workshops focused on on-camera and scene study work, improvisation and voice-overs for commercials and animation.

"I absolutely adored the improv workshop because that is something that's not fully offered at Oakland and as part of our curriculum," Dunaj said. "We also were able to do some sightseeing. A few of us went to see Drunk Shakespeare, where a cast of actors put on Macbeth and one of them is drunk. We also went to the top of the Willis Tower (formerly the Sears Tower).

"As for the actual showcase, we got amazing feedback from multiple agents, who commented on our pieces and on our headshots and resumes," she added. "We were able to ask them questions, and discuss our futures with them. We also were asked to keep in contact with them. It was a great experience for us to see what it's like being in Chicago, the way the business works, and overall just getting the acting experience."

The students were also treated to an alumni dinner at Giordano's restaurant, where they were joined by six recent OU theatre grads.

"Our senior experience in Chicago tends to be a little more low-key than NYC, but the kids had a great time and learned a lot," said David Gram, assistant professor of theatre at OU.

For Wilson-Nelem, one of the highlights of the trip was being able to explore Chicago with his friends and fellow students.

"We had lots of freedom in deciding what to do and what to see," he said. "When we weren't exploring the city or finding great food, we got to perform our rehearsed material for four Chicago agents. While I did not receive any offers from the agents we met, they all responded very positively through email and two of them mentioned connecting with them if I decided to make the move out to Chicago."

For more information, including headshots and resumes, of the musical theatre seniors, contact Josh Young at joshuayoung@oakland.edu, and for the acting seniors, contact David Gram at dgram@oakland.edu.