Oakland University and the Detroit Institute of Music Education (DIME) have partnered to provide Bachelor of Arts degrees in performance, songwriting and music industry business classes to students wanting to study commercial music and pursue a career in music.

"We are thrilled to announce this relationship between Oakland University and DIME," said Amy Hardison Tully, director of OU's School of Music, Theatre and Dance. "Their quick rise as leaders in the world of commercial music performance is very exciting, and their community involvement in downtown Detroit is something that the School of Music, Theatre and Dance and the university as a whole is eager to be part of. We look forward to the collaboration between the two schools and the opportunities that await our students, faculty, and community members."

Current DIME students are now able to transfer to Oakland University to continue their program.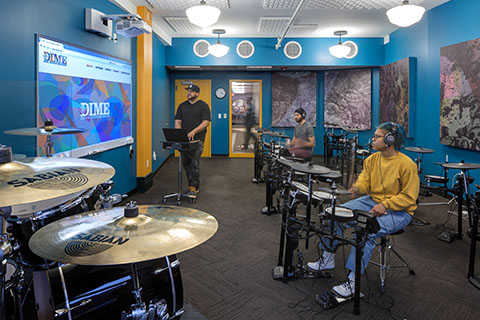 "We have been working hard over the summer with our colleagues at Oakland University to ensure students have a smooth transition into OU," said Sarah Clayman, founder and managing director of DIME. "Due to COVID-19, many classes will be delivered online, with one-to-one sessions where possible. We are committed to giving students the best educational experience possible during these times, and recognize that home-study may be a challenge for some.

"We are giving all OU@DIME students access to both OU and DIME's virtual learning environments, where students can study on their own time" Clayman added. "We are focused on continuing to provide students with real-life experiences via masterclasses and online lectures."

Many existing DIME faculty members will continue to teach these programs as they know the curriculum well and have established strong relationships with the DIME students. DIME is looking forward to meeting OU faculty members and bringing DIME students to the OU campus for shared classes and experiences. OU students and faculty will also have access to the Underground, DIME's live music venue in Downtown Detroit.

"DIME's partnership with Oakland University is a huge win for young people of Detroit," said Rick Sperling, CEO of Sperling Arts Strategies. "As the founder of Mosaic Youth Theatre of Detroit, I witnessed the impact DIME had on talented Mosaic alums, giving them a place to continue to grow their musical talents and business smarts in college without leaving Detroit. As an arts education consultant, I have seen the excitement and passion DIME has created for Detroit high school students."

New students can enroll at Oakland University to take general education and music core classes in Fall 2020. They will also be invited to participate in online masterclasses and any safe, in-person events.

"Inspiration advanced through education is such a powerful combination," said Lisa Applebaum of Applebaum Family Philanthropy. "DIME, now in partnership with such a vital institution for our community, Oakland University, take this an important step further by maximizing and transforming the next generation into pioneering leaders.

"Applebaum Family Philanthropy is so proud to help strengthen DIME and its critical relationship with Oakland University," Applebaum added. "The future of professionally educated music entrepreneurs is very bright thanks to DIME and Oakland University coming together. I look forward to the many new leaders who will now be cultivated as a result of this partnership."

For more information, please visit dime-detroit.com.

About DIME Group (DIME Detroit, DIME Online)

DIME is a group of music institutes dedicated to teaching the next generation of modern musicians and entrepreneurs. DIME Group has been named in Billboards Top Music Business Schools for the second year running (2020 & 2019). DIME is a Pathway Partners for DSA providing lessons and curriculum in songwriting, the art of emceeing, music production and music business. Founded by music industry veterans Kevin Nixon and Sarah Clayman, DIME offers advanced music students a unique study experience in contemporary music, with expert musicians and music industry professionals teaching programs in guitar, bass, vocals, drums, songwriting and music industry studies. Nixon and Clayman launched DIME Detroit in 2014, joining the effort to revitalize and reinvigorate Detroit's music landscape. DIME Online programs are delivered entirely online, allowing students true flexibility in their studies. Among the higher education awards that will be offered to students via DIME Online are: RSL Level 4 Extended Diploma in Creative Industries, and RSL Level 5 Extended Diploma in Creative Industries. DIME also owns Original 1265 Recordings, an independent record label distributed worldwide by Caroline/Capitol Music Group.

About Oakland University

Oakland University is a doctoral, Carnegie Classification R2 "High Research Activity" university located in Oakland and Macomb counties, Michigan. The main campus is located on 1,443 acres of scenic land in the Southeast Michigan cities of Rochester Hills and Auburn Hills. The university also maintains program space at the University Center in Clinton Township and at the Anton/Frankel Center in Mount Clemens.  Oakland University offers bachelor's degrees, graduate degrees and certificate programs, and is dedicated to delivering a distinctive college experience. Oakland University is organized into the College of Arts and Sciences (which includes a School of Music, Theatre and Dance), the Oakland University William Beaumont School of Medicine, and the Schools of Business Administration, Education and Human Services, Engineering and Computer Science, Health Sciences, Nursing, and The Honors College. At Oakland, the student experience is enhanced as students work alongside inspired faculty and community mentors in laboratory, field and corporate workplace settings. Students enjoy small class sizes, countless research and social opportunities, and a high rate of job placement after graduation. In fact, 96 percent of OU graduates stay and work in the state. This rich campus atmosphere is complete with residence halls, Greek life, Division I athletics and more than 300 student groups that lend to the total college experience. Learn more at www.oakland.edu.