A 10-concert series celebrating the music, humanity and legacy of Ludwig van Beethoven through his 32 piano sonatas will conclude with a series of virtual performances on Dec. 15, 16 and 17.

"Last October, we began our journey through Beethoven's 32 piano sonatas with a great appreciation for the composer's music, humanity and legacy," said Tian Tian, associate professor of music at OU. "When COVID-19 put a pause to live performances, we were forced to cancel the rest of our series.

"Fortunately, with the great support of our staff and department, we are able to present three virtual concerts featuring alumni, current students, and a wonderful guest artist," Tian added. "We hope you will join us to continue the celebration!"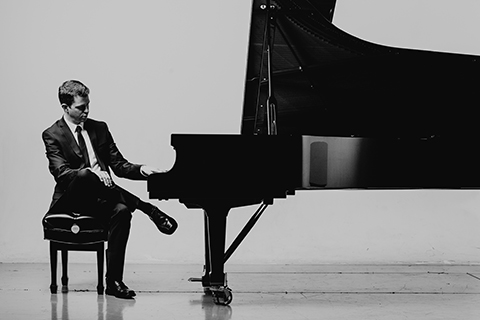 Stephen Beus
On Tuesday, Dec. 15, OU piano alumni — including Joe Walters (Op. 2, No. 3), Joshua Kolpak (Op. 54), and Alex Kopitz (Op. 109) — will perform at 7:30 p.m.

On Wednesday, Dec. 16, the concert series will continue at 7:30 p.m. with a performance by OU piano students Bryce Dudal (Op. 2, No. 1), Joshua Rao (Op. 27, No. 1), Jennifer Stilwell (Op. 2, No. 3), and Xiaohan Yu (Op. 31, No. 3).

The concert series will conclude on Thursday, Dec. 17 with a performance by guest artist Stephen Beus (Op. 106, "Hammerklavier") at 7:30 p.m. Beus has been called "strikingly original" with "an interpretive voice all his own" by Fanfare Magazine.

All performances are sponsored by The Judd Family Endowed Fund and will be livestreamed online via Zoom. The livestream is free, but an RSVP is required to box office manager Megan Herald at smtdboxoffice@oakland.edu. You will be emailed a Zoom link prior to the performance date.