In early March, SMTD musical theatre seniors traveled to New York City to perform for casting directors, agents and managers, and to participate in masterclasses and seminars with the industry's leading artists. The acting seniors traveled to Chicago and performed for local agents and casting directors at Stage 773. They also participated in a number of workshops at The Acting Studio, including classes that focus on improvisation, voice over and on-camera work, auditions, and a concentrated introduction to the theatre, film, and television industry in Chicago. The OU students  were one of the last groups of college students to do a showcase prior to the COVID-19 pandemic. "Our seniors are very lucky in that the week leading up to the first case of the virus was the week that they were there," Assistant Professor of Theatre Josh Young said during an interview with Spectrum News NY1 about moving OU performing arts classes online. "So I would venture to say that we were the last class that got to do a senior showcase." As a result of the showcase, musical theatre student Clayton Sallee was signed to The Price Group.

Every spring, Oakland University's School of Music, Theatre and Dance recognizes distinguished students, alumni and community members with MaTilDa Awards, which are named to honor Matilda Dodge Wilson, who donated the land on which Oakland University is built. The MaTilDa Awards ceremony, originally scheduled for Monday, April 6, is in the process of being rescheduled. A complete list of this year's winners can be found here.

We are thrilled to announce this exciting news from Academic Affairs at OU: Phyllis White (Department of Music) has received the Online Teaching Excellence Award; Kerro Knox (Department of Theatre) has been promoted to full professor; and Karen Sheridan (Department of Theatre) has been named Distinguished Professor of Theatre.

Professor Kenneth Kroesche traveled to Texas from Feb. 29 to March 2 to lead a weekend of rehearsals with the Austin Brass Band in preparation for their now cancelled performance at the North American Brass Band Championships. While he was in the area he presented masterclasses for the Tuba and Euphonium students at St. Mary's University in San Antonio and Texas State University in San Marcos. Since March 23, Kroesche has also provided OU and high school students with a free one-hour online masterclass covering the fundamentals of brass playing every Monday through Friday at noon. He plans to hold these supplemental lessons throughout the course of the summer to provide motivation for students during the times of isolation.


For the first time, Oakland University Community Music is offering virtual lessons for all ages in all instruments/voices. "As we all adjust to being at home, many of us are missing our musical experiences," saidKatrina Van Maanen, a voice teacher for OU Community Music. "While we can't bring back rehearsals, we can bring music education to you. We're currently offering virtual lessons in voice, piano, strings, woodwinds, brass, percussion, even acting." For more information about virtual music lessons this summer visit oakland.edu/smtd/communitymusic.

Although conferences were canceled due to COVID-19, Dr. Lauri Hogle was accepted to present a research paper at the World Conference of the International Society for Music Education, a paper at the Music in Schools and Teacher Education Commission pre-conference, and a workshop session for the Music in Special Education and Music Therapy Commission pre-conference. Collaborating with a fellow alum from OU's Ph.D. in Music Education program, Dr. Hogle and Dr. James Isabirye were also accepted to present "Musical agency and identity nurtured in sociocultural learning contexts in Uganda and the USA" at the ISME World Conference. Passionate about her research of singing across the lifespan, in varied contexts, by all people, Dr. Hogle recently presented two papers: "Inclusion of a choral learner with ASD through play-full intersubjectivity" and "'Singing is like I'm caught with my pants down': What fosters singing agency?" at the International Symposium on Research in Choral Singing, sponsored by the American Choral Directors Association. Three of her recent articles are in press for international music education research journals and an invited book chapter is now in press.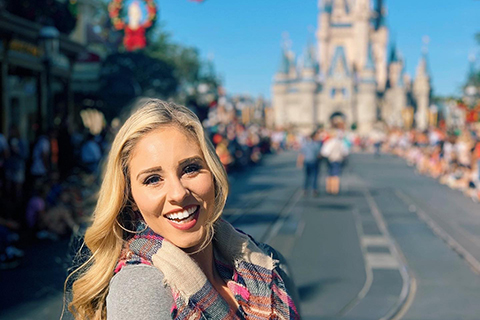 OU dance alumna Laura Dunseth (Coleman) has danced for many of the big entertainment companies in Orlando, and finally realized her dream to dance for Disney as a parade performer for The Walt Disney Company. "I'm so thankful for the OU dance program for helping me grow and guide me to be able to go after my goals and dreams," said Dunseth, who earned a bachelor's degree in dance in 2016. Dunseth said she started auditioning for Disney in her senior year of college. "There were many times I thought this would never happen and felt like giving up, but something in me kept pushing, kept trying, and kept auditioning," she said. "The moment when I was offered a position as a parade performer was when I knew all my hard work had paid off-and it was the most surreal moment. I thank God for blessing me with this opportunity of a lifetime, and I pray I never take a moment of this for granted! Now my dream since I was a little girl is coming true, and I can't wait to dance down Main Street USA."

An appearance by the Stone Sound Collective, an ensemble featuring Oakland University Professor Mark Stone, at the University of Michigan in February was highlighted in the Center for World Performance Studies' 2019-2020 Year In Review.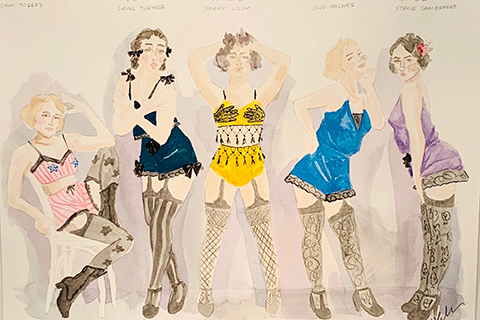 The United States Institute for Theatre Technology featured Matthew Carlsen (BFA '20) in a series of posts dedicated to designers whose productions were canceled or postponed due to the global COVID-19 pandemic. The photos (left) display the stunning work Matthew did as costume designer for the SMTD production of "Cabaret" by Kander and Ebb.

Dr. Jennifer Fox Oliverio will be joining the music faculty this fall as Assistant Professor of Music (trumpet.) Prior to this appointment, she served on the faculty at Missouri Western State University and the University of Missouri - Kansas City. Jen earned her DMA in trumpet performance and completed the Preparing Future Faculty certificate program for higher education teaching at UMKC, her master's degree in trumpet performance from the University of Arkansas - Fayetteville, and her bachelor's degree in music education and trumpet performance from Ithaca College. Jen is principal cornet of the Fountain City Brass Band and plays flugelhorn with the Athena Brass band. She is also the conductor for the Fountain City Youth Band, 2019 North American champions. Jen has performed as an extra with the Kansas City Symphony, the Alabama Symphony, and as second trumpet with the MahlerFest Orchestra. She is also one of the founding members of the Trilogy Brass trio. Jen is a highly sought after soloist, teacher, and clinician, regularly performing master classes and recitals across the United States.

Acting alumnus Mark Ujik (BFA '19) was in The Little Girl Who Lives Down the Lane at Monsterbox Theatre. Later, he toured with the Michigan Shakespeare Festival MiSFits as Romeo (Romeo & Juliet) and Malcolm (Macbeth). Due to the virus, he is in Michigan working on art projects and the Virtual Art Festival, as well. "By September, I will be heading out to Chicago to achieve my dreams in the theater world!"

Regina Carter, SMTD artist-in-residence, was featured in a "Q&A" article in Richmond magazine: "At Oakland, there was a thriving jazz scene. We were exposed to all these amazing musicians. After college in Detroit, musicians like trumpeter Marcus Belgrave would run these camps out of their houses where young musicians would just go and learn about composing, soloing and playing with others. He would take us out on gigs. That's how I really learned this music, on the jazz scene in Detroit." To read more, visit richmondmagazine.com/arts-ente…/…/q-a-regina-carter.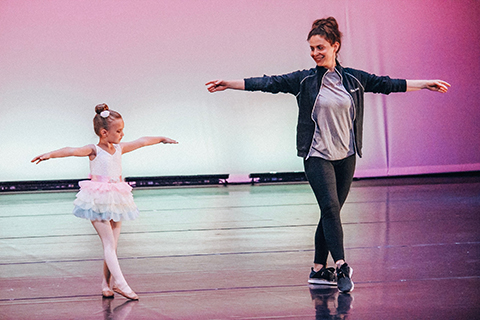 Acting alumna Lauren Rich (BFA '11) — who works in sales and consulting and teaches at the Eisenhower Dance Center — graduates next month with an MA in Business.

Acting alumnus Pablo Calzada Munoz (BFA '16) currently resides in California, and works as an attorney for Netflix. He graduated from the Chapman Dale Fowler School of Law in 2019 and became a licensed attorney for the State of California in December 2019. 

OU alums (and husband and wife) Matt Smith and Allyson L. (Ortwein) Smith worked together in a public service announcement about gun safety. Allyson — who is an actress, choreographer and dance teacher —  is a double alum in musical theatre and dance and Matt —who is currently the director of choirs at Lake Orion High School — is a music education alum.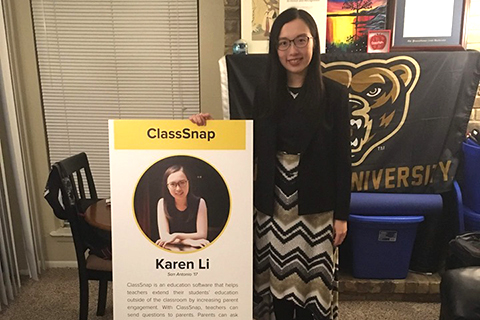 Piano performance alumna Karen J. Li and Music Education alumna Domonique "Niki" Rose are recipients of this year's Young Alumni 10 Within 10 Award, which recognizes the exceptional impact young alumni make within their professions and throughout their communities. Li is currently a software engineer at an EdTech company in Dallas. She built ClassSnap — an app for teachers and parents — and finished as a finalist in a social entrepreneurship competition in San Antonio last November. Li has had quite a journey in the three years since she graduated: she completed a two-year commitment with Teach for America and attended a full-time software development program, with an end goal of working for EdTech. About her time at Oakland University, Li said, "I entered OU in my third year in the U.S., and I remembered being rather shy because I was still trying to navigate around the new environment (new country, school, major etc.) OU gave me the perfect platform to build myself up. I was behind on repertoire when I first entered the program, but Professor Happel helped me to catch up and I even won the concerto competition. All the opportunities I had at OU helped me to build character and learn about my strengths and weaknesses. I feel more confident in what I do now, and I think that confidence stemmed from my self-discovery journey at OU." Rose, who is currently in her ninth year of teaching K-5 General Music in South Lyon Community School District, said she is "honored" to receive the award, and grateful for experience at Oakland University. "I learned early on in my undergraduate education that OU was a special place," Rose said. "My professors, Dr. VanderLinde, Dr. Cunningham, Dr. Shively and so many others gave me support that made me feel prepared early on in the program. I'm so grateful that in the music education program we had hands-on experience in surrounding schools very quickly. Now, as a teacher, I always have my classroom doors open for Oakland's music students. I can't help but see a little bit of me as the music education students step into our classroom, eager to make their mark in the world."

OU Jazz Director Sean Dobbins has been named associate professor of music (jazz studies) at Indiana University's Jacob School of Music. Gwyn Richards, David Henry Jacobs Bicentennial Dean of the Jacobs School said, "As artist, teacher and entrepreneur, (Dobbins) motivates and inspires those around him to grow — grow talent, potential, organizations, themselves and jazz. Our students will be changed by his presence at IU." SMTD director Amy Hardison Tully said, "We will miss his artistic contributions to SMTD and we will miss him as a colleague. We wish him all the best and know that the jazz studies program at IU is getting the best that OU has to offer."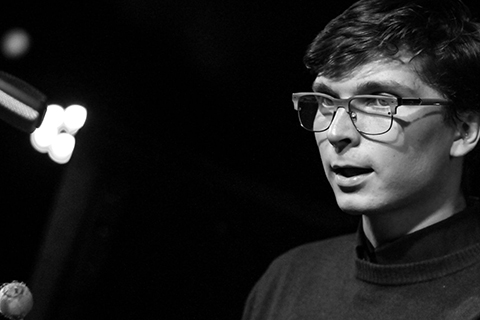 Peyton Miller's piece "Rondo" has been selected as one of four finalists in the International Composition Contest for Harpsichord "SIMM 2020." Peyton — who is a music major studying percussion performance — thanks his "incredible mentor" Terry Herald. The ceremony will be held in Milan, Italy, where the pieces will be performed and winners will be selected.

William Raveau (BFA '17) performed with The Detroit Actor's Theatre Company after graduation. He now lives in New York and is applying for graduate programs in directing.

Acting alumna Jordan Elise Taylor (BFA '19) recently finished her first year of the acting MFA program at Case Western Reserve University/Cleveland Playhouse in Ohio.

Jessica Payette's book, "Eleanor Smith's Hull House Songs: The Music of Protest and Hope in Jane Addams's Chicago," was selected by the Senate Library Committee to be a featured presentation at the Authors at OU event, which was supposed to be held March 11. Dr. Payette, associate professor of music, co-authored the book with Associate Professor of Sociology Graham Cassano and Rima Lunin-Schultz, former director of the Hull-House Museum at the University of Illinois-Chicago. The book is the first to study Jane Addams's establishment of arts programs at the Hull-House Settlement in Chicago and the compositions of Eleanor Smith, director of the Hull-House Music School from 1893 to 1936. Smith's song cycle, "Hull House Songs," was released in 1915 as a folio to celebrate the 25th anniversary of the Hull-House settlement. The score, an example of early 20th-century protest music, is the first American song cycle that captures the perspectives of the working class and serves as a compact keepsake for posterity, musically commemorating the Settlement's early initiatives, including the protection of sweat-shop workers, the abolition of child labor, and the suffrage movement.

Theatre Design and Technology alumna Elaina Ciccone (BFA '19) is currently living in Boston and works for The Huntington Theatre Company and Blue Bottle Coffee. She is excited to continue working again "in theatre and coffee" when post-pandemic life resumes.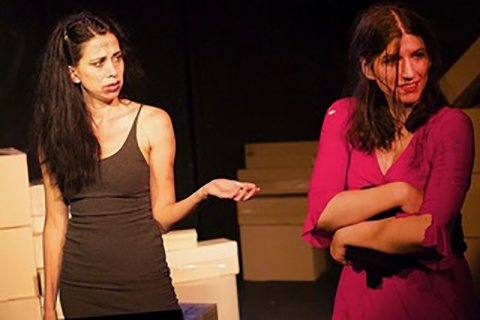 Musical theatre alumna Cassandra Svacha — who recently returned from London after she graduated from the Central School of Speech and Drama in London, England with her MFA in Advanced Theatre Practice in Contemporary Directing and Performance — has been invited to participate at the Directors Lab North in Toronto. Thirty selected directors from around the world will gather to investigate this year's theme: Adaptation. Directors Lab North started in 2011 and works to connect directors and theatre makers from all over the world in conversation, workshops and development.

Phill Harmer, theatre alum ('16) and past OU stage combat instructor, is working as an Equity stage manager and teaches theatre at Detroit Country Day School.

We are excited to announce just a few of our students and alums that are headed to graduate school in the fall:

• Josh Bryzelak (BA '18) accepted a graduate assistantship at Austin Peay State University in Tennessee. He will be pursuing his master's degree in music education.

• John Hallman (BM '19) has accepted a graduate assistantship at the University of Wisconsin-Milwaukee. "I am so thankful for Dr. Nicki Roman for guiding me during this process, and Dr. Jeff Heisler for being a mentor to me during my undergrad," Hallman said. "I'm looking forward to this new chapter in my life and I'm excited for what the future brings."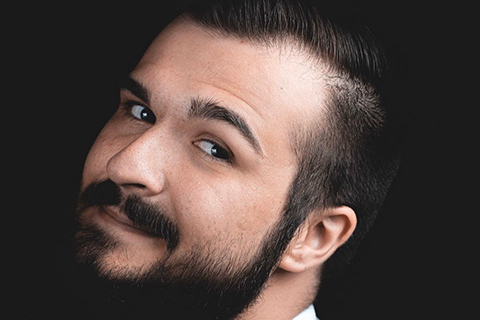 • Vocal performance major Mario Melone has accepted an offer from the University of Michigan for their graduate vocal performance program. Dr. Drake Dantzler, Mario's teacher at OU, had this to say: "We are so proud of Mario for his hard work, and for his growth as a performer and singer at OU. Mario took advantage of so many things at OU, including traveling to Europe with the Chorale and playing two leading roles in our operas. And, even more importantly, Mario is beloved for his warm personality and kind heart. We will miss him around Varner, but we are sure he will do fantastic things at Michigan."

• Piano performance major Paige Broadworth had a spectacular audition season and has decided to pursue a masters degree in piano pedagogy at the University of South Carolina, one of the top pedagogy programs in the country. She was also accepted to/received assistantship offers from Michigan State University, the University of Alabama and Bowling Green State University. Tian Tian, OU associate professor of music, said "We are so proud of her achievements and know she will represent OU well as she moves forward."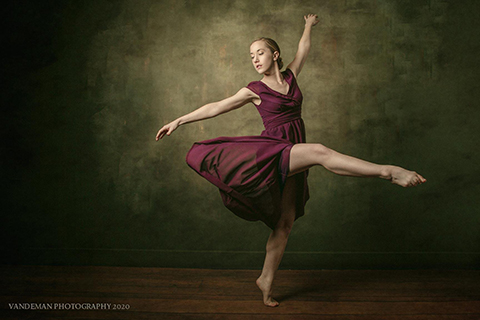 • Katie Phelan (BFA '14) will be attending the University of Iowa this fall to pursue a Master of Fine Arts in Dance (specifically choreography, focusing in screendance.) She has been awarded an Iowa Arts Fellowship and a teaching appointment to fully fund her studies. Phelan is a screendance researcher, choreographer, and educator pursuing her Master of Fine Arts in dance at the University of Iowa. She holds a Bachelor of Fine Arts in dance, a minor in journalism, and a minor in advertising from Oakland University. Phelan has performed as a company member with Phoenix Rising Dance Company in Indianapolis, Ind., under Justin Sears-Watson; as a core member on AscenDance Chicago in Chicago, Ill.; as a freelance artist in shows by J. Lindsay Brown Dance in Chicago, Ill.; and danced in works by Eisenhower Dance, Gregory Hancock Dance Theatre, and Motus Dance Theatre. Phelan's choreographic works have been seen in NewDANCEFest (2017) by Eisenhower Dance in Detroit, Mich., Cultivate (2016/2017) by Motus Dance Theatre in Indianapolis, Ind., and Hope (2018) by AscenDance Chicago in Chicago, Ill. Phelan is the founder and director of 16:9 Dance, for which she has choreographed and produced multiple dance films. (Photo by David Van Deman)


SMTD News/COVID-19 Response

From sewing masks to collecting donations for those most in need the faculty, staff, students and alumni of SMTD — including Christa Koerner, OU costume shop supervisor; Joe Beck, technical director with OU's SMTD; and Leslie Littell, a special lecturer in theatre — have been busy finding ways to help during the COVID-19 pandemic. "I am overwhelmed by the faculty, student, and staff response to our campus and community needs," said Dr. Amy Hardison Tully, director of the SMTD. Read more about their efforts here.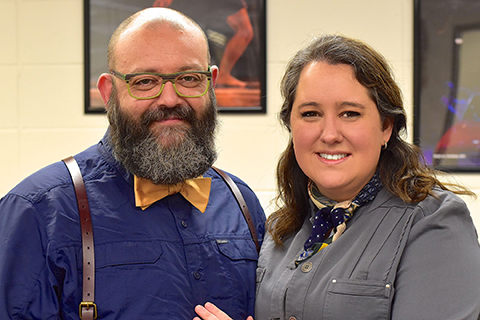 Music alumnus Michael Medvinsky has sewn about 200 cotton masks and printed 180 face shields for health care workers. "My whole family is involved in it," he says about the efforts. His family – wife Elizabeth [OU music alumna and director of Oakland University Community Music], 14-year old daughter Dahlia and 13- and 9-year old sons Ari and Jude – assist with cutting fabric and elastic. Although it can be tedious work, Medvinsky says his kids enjoy knowing that they are helping others during this crisis. Click here to read the complete story.

SMTD alum Alex Ruthmann (M.M. '02; Ph.D. '06) and a professor of music education and music technology at New York University Steinhardt in New York and the NYU Shanghai Program on Creativity and Innovation, was interviewed on Friday, March 20 on MSNBC about what it's been like to return to China during the Coronavirus outbreak. "I decided to come back, in part, because it is getting better here," Ruthmann said. As of March 20, China's National Health Commission reported that there had been no new local Coronavirus cases for two consecutive days. Ruthmann, who said he does not have any symptoms of the virus, was placed in quarantine at a hotel near the airport as precaution before being allowed to re-enter the country. "It's been an opportunity for me to continue my work here in quarantine, where it's frankly very safe," he said. "The stores are opening up, businesses are opening, you can go out and get food and continue somewhat of a daily life. Here, everyone is very sensitized to being safe and the procedures. More than anything, I know that if I were to get sick, there's capacity in the hospital system, and that's really the big risk that I see back in the United States and in other places. There's really this societal buy-in to taking it seriously and that's something that I hope everyone around the world will begin to do."

Two musical theatre students, Stanley Misevich and Mackenzie Grosse, have created a podcast calledArt Brain. In the premiere episode, they talked about their adjustment to the virus, the shutdown, and new art being created during this time.

Great Plains Theatre artistic directors — theatre alumnus Mitchell Aiello (BFA '16) and Layne Roate — have created "Quarantine," an original "Into the Woods" parody song. They remind us to "help keep art alive with a little joy and laughter in our hearts during this time! Stay safe and take care of each other."

Kimberly (Lucius) Lopez, a 2001 musical theatre alum, was working on a production of The Lion King with her son, 10-year-old Amado, when they learned it would be cancelled due to the COVID-19 pandemic. "He was playing Timon, the role he really wanted," she said. "I was basically assistant directing. I watched all those kids learn and grow everyday. It was so much fun, and so sad (when it was cancelled)." Lopez said she hopes production will resume and they will still be able to perform the show this fall.


Chicago roommates Aaron Fox (BFA '19), Brandon Wright (BFA '20) and Rebecca J. Lister (BFA '19) have been busy! Fox most recently closed a show with the Cornservatory in Chicago, and has been working as an essential worker with Starbucks. Wright just got to Chicago and has participated in a variety of staged readings and worked as a telemarketer for Steppenwolf Theatre. Lister has been freelancing as a stage manager and organizing a virtual theatre and art festival with fellow theatre alums Elaina Ciccone, Mark Ujik, and Wright. "With the current theatre closures, many artists and students have found themselves out of theatre work," Lister said. "The financial burden that the COVID-19 outbreak has caused made us think about the situation that many OU MTD students and alumni must be in, especially those who do not qualify for government stimulus. Because of this, we are organizing this festival. We plan to include original plays, spoken word pieces, digital art, and anything else that participants envision." The pieces will be livestreamed to Facebook and various other social media platforms throughout the week of June 1 - 6. All funds raised that are not needed for the operation of the festival will be split evenly amongst participants. "Our goal is to raise as much money as possible to ease the participants' financial burdens," Lister said. If you have any questions about the festival, email the organizers at intermissionartsfestival@gmail.com.

The School of Music, Theatre and Dance would like to thank David Monaghan and Evola Music for lending keyboards to our Class Piano students who didn't have piano/keyboards in their homes.