The November edition of the OU Magazine featured two SMTD stories: Matthew Carlsen (BFA '20), was featured in an article, Constructing a Skillset, where he discussed how joining OU's musical theatre program helped him turn his childhood passion for costume design into a reality. "The faculty welcome mistakes, viewing them as growth opportunities — thus creating a supportive and friendly environment," Carlsen said. Jai Carrero (acting major) and Ja'Laaiyah Gordon (dance minor) were also featured in Voices that Matter, an article about OU students of color enduring and overcoming challenges in the hopes of aiding future generations. "If you want to see the change, be the change," Carrero said.

The Michigan Chapter of the National Association of Teachers of Singing (NATS) held online student auditions in November and three OU students placed: Seth Miller received 2nd place for collegiate Tenor, Baritone, Bass (all levels freshman-senior); Kevin Cornwell II received 1st place for collegiate Tenor, Baritone, Bass (all levels freshman-senior); and Angela Bonello received 1st place Junior Treble Voices.

Rhys Burgess (BM '17) gave his first DMA recital on Nov. 22 at the University of Maryland, where he is earning his Doctor of Musical Arts degree in collaborative piano.

The Department of Theatre's virtual play series "New Voices Rise Up!" continued on Nov. 23 with a virtual play reading of Branden Jacobs-Jenkins' Appropriate. The director of this production, OU Special Lecturer Brandon A. Wright, discussed the creative process on the Oakland County Megacast/Civic Center TV. "I think what's inspiring for me is that these students are so creative these days and because technology is already such a big part of their lives, they're really meeting the challenge of 'how do we create art in circumstances that were not meant to foster what we do?' There's some really great creativity happening, and I think that is what will make this industry thrive and come back; because the tenacity of the artists who are really, really invested in this, is stronger than a pandemic." 

Four OU Music Education students have been hired to teach in Michigan school districts: Sarah Bussineau is teaching general music, band, and choir at St. Regis Catholic School in Bloomfield Hills; Erin Kurtz is in a long term position teaching choir at Hart Middle School in Rochester Hills; Lillian Queen is in a long term position teaching general music, choir and community arts at Oak Valley Middle School/Huron Valley Virtual Academy in Commerce; and Hannah Marshall is in a long term position as choir director at Boulan Park Middle and Larson Middle schools in Troy. The OU Music Education faculty boasts, "We are immensely proud of these strong, creative, passionate women. This is a true testament to the strength of our music education program and high quality of our students."

Congratulations to three SMTD faculty members who received top honors at the 2020 OU Faculty Recognition Awards: Distinguished Professor - Karen Sheridan, Department of Theatre; Research - Lynnae Lehfelt, Department of Theatre; and Online Teaching Excellence Award - Phyllis White, Department of Music. You can watch the entire virtual ceremony on YouTube.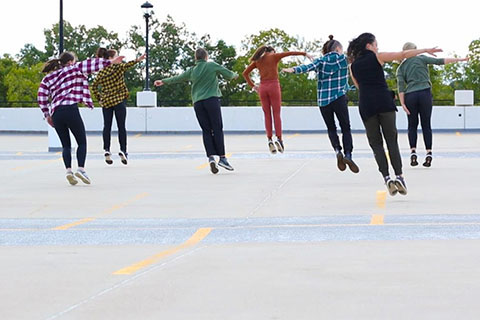 "Not, but Still," a Dance on Film collaboration between Take Root and OU's Oakland Dance Theatre, premiered on Dec. 4 on YouTube. Choreographed by Take Root founder and director Ali Woerner, in collaboration with Take Root and Oakland Dance Theatre, the film was created through the fall semester on the OU campus.

Jeff Cobb, who holds a master of music degree in choral conducting from Oakland University and is head of the Music Department at Northwestern Michigan College, took inspiration from his wife's work — "The Lesson of the Lark: Celebrating the Centennial of the Nineteenth Amendment of the United States of America" — and wrote a musical composition of the same name, which he described as a jazz suite with the various movements showcasing different styles. "The Lesson of the Lark" premiered on Dec. 4 on the Northwestern Michigan College Facebook page.

Christa Koerner, costume shop supervisor, was named OU's December Employee of the Month. Koerner was nominated for her campus and community-wide mask project started in the spring. You can read more about her service at www.oakland.edu/oumagazine/news/smtd.


Cheyanne Coss (BM '14) was a district winner in Arizona for the Metropolitan Opera National Council Auditions and will be moving on to the regional competition. Andrew Forsythe (BM '19) of Houston received a Student Encouragement Award. Jacob Surzyn (BM '17) also competed.

The end of the fall semester included several virtual live events and video premieres, such as Percussion Ensemble, Flute Studio, World Music Concert, Jazz Showcase, Brass Studio Recitals and Jennifer Oliverio, faculty trumpet recital. In addition, the 10-concert series celebrating the music, humanity and legacy of Ludwig van Beethoven through his 32 piano sonatas concluded with a series of virtual performances Dec. 15-17. The concerts featured OU piano alumni Joe Walters, Joshua Kolpak and Alex Kopitz; piano students Bryce Dudal, Joshua Rao, Jennifer Stilwell, and Xiaohan Yu; and guest artist Stephen Beus.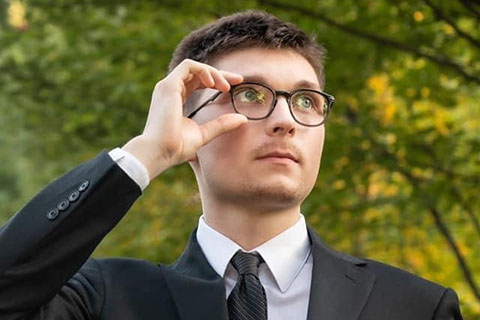 Music major Peyton Miller's "Stravinsky Octet for Winds Conducting Project" was selected as the awardee for the Provost Undergraduate Student Research Award - Fall 2020. The project will entail historical research regarding Stravinsky's Neoclassical period and will include Peyton conducting a performance of Stravinsky's Octet with the help of eight hired musicians. He will use both the resulting recording of the performance and scholarly research to provide a basis for his findings. Peyton says he is "very grateful to the committee for being willing to select a research proposal rooted in the arts."

Ashley Rozanski (BFA '12) and Brian Leduc recorded a version of "Text Me Merry Christmas" for the Avon Players Theatre's "Forever Christmas: A Virtual Celebration" event, which premiered Dec. 12. To watch the entire performance, visit http://avonplayers.org/.

Members of the Oakland Chorale and Oakland University Chorus premiered a video for "How Lovely are the Messengers" from Saint Paul by Felix Mendelssohn on Dec. 19 on Facebook and YouTube. This Saturday (February 20) at 8 p.m, please join us on YouTube or Facebook as the Oakland Chorale premieres a video for "Imaginari Pace" by Michael A. Mitchell. "Imaginari Pace" — which means "Imagine Peace" in Latin — was composed by Dr. Mitchell for the Oakland Chorale's 2020 European concert tour, which was canceled because of the global pandemic.

At the end of December, music major Austin Chasnick performed in a masterclass with Stephen Williamson, principal clarinet of the Chicago Symphony Orchestra. The masterclass, which was on Facebook Live and sponsored by Clarinettissimo and Orca Concerts, included high-level students from major programs across the country. Dr. George Stoffan, OU associate professor of music and Austin's clarinet professor, said "Austin played beautifully and represented us so well. I was very proud!"

Musical theatre major Noah Canales and music major Cassidie Singelyn organized a "12 Days of Christmas" video series, featuring everyone in the voice studio of Dr. Alta Marie Boover. The first video featured Canales singing "The Christmas Song." "It brings me abundant joy to see them," Dr. Boover said. "Usually in December we all have busy in-person performance calendars. It's especially wonderful to see them creating these festive experiences in their own spaces."

Dr. Ben Fuhrman, a lecturer of music technology and composition at Oakland University, and Mike List, percussionist and OU dance accompanist, completed editing a piece they performed in 2018. The piece can be viewed on YouTube. Fuhrman also released an album, Synthesizer and Computer Works, in December. For more information, visit benfuhrman.bandcamp.com.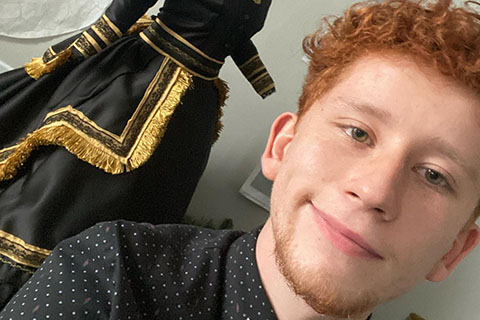 In the beginning of January, several OU Theatre students competed in the Region III virtual Kennedy Center American College Theatre Festival (KCACTF). Sophia Cannella won the Student Dramaturgy Award for Outstanding Rehearsal Package for her work on OU's production of Macbeth; Colin Franz won the Allied Design and Technology Award for his draping project. This honor awards him a week-long internship at the Santa Fe Opera and advances him to the KCACTF National Festival in April. Colin and Liv Kunkle won the Spirit Award for the Tech Olympics Team. Lastly, Mariah Colby, Dy'Mon James, Antonio Vettraino and Dryden Zurawski were semi-finalists in the Irene Ryan Acting Competition, and Mariah, Dy'Mon and Dryden advanced to the finals.

In January, Ian Lester (BM '18) — who studies with Dr. Kenneth Kroesche — was named the winner of the 2021 Mirari Brass Quintet Call for Scores in the extended works category with his composition "Three Episodes for Brass Quintet". Lester received the $1,000 grand prize and was featured on the "Call for Scores" Episode of the quintet's podcast Mirari UNMUTED. The Quintet will record "Three Episodes" and premiere it in a live performance at a later date. Lester is currently pursuing his doctorate degree in euphonium performance and master's degree in composition at the University of Missouri - Kansas City.

Dr. Alta Marie Boover, mezzo-soprano, presented a virtual performance of Bon Appétit — a one-woman operatic scene by Lee Hoiby based on Episode No. 228 of Julia Child's PBS television show "The French Chef" — on Jan. 16. She also discussed the production on Oakland County Megacast/Civic Center TV.

Dr. Enrique Rios-Ellis has joined the School of Music, Theatre and Dance as visiting assistant professor of music. Prior to teaching at OU, Dr. Rios-Ellis was on the faculty at California State University Monterey Bay where he taught courses in Latin American music, music theory, performance and arranging. His musical journal and immigration to the United States has led him to discover the depths and integration of indigenous and Latin American music and its ability to transcend borders. To learn more about Rios-Ellis, visit oakland.edu/smtd/faculty-staff/enrique-rios-ellis.

Oakland University honored its 2021 Keeper of the Dream Scholarship winners on Jan. 18 in a virtual tribute. One of the nine honorees is Ja'Laaiyah Gordon, a senior marketing major with a minor in dance and a CORE Ambassador in the Center for Multicultural Initiatives. The Keeper of the Dream Scholarship Awards celebration honors the legacy of the late civil rights leader, Dr. Martin Luther King, Jr. and awards scholarships to students that best demonstrate exceptional leadership qualities through their involvement on campus and in the community by breaking down racial and cultural stereotypes and by promoting unity among all people to foster a campus environment rich in diversity and multiculturalism.

Music majors Angela Bonello and Kyle Paoletti won the Dora Dawson Award from Tuesday Musicale of Greater Pontiac. Bonello (soprano) was awarded 1st place. She sang "Apparition" by Claude Debussy and "Let the Bright Seraphim" from the oratorio Samson by George Frideric Handel. Paoletti (marimba) was awarded 2nd place. He played Invention No. 8 by Johann Sebastian Bach and "Rayleigh" by Cody Holmes. Paoletti studies percussion with Dan Maslanka and Bonello studies voice with Dr. Alta Marie Boover.


Drs. Jeffrey Heisler and I-Chen Yeh's recent recording of "Wild Silk" (for baritone saxophone, piano and percussion), a piece they commissioned by Andrea Reinkemeyer, was included on the new Society of Composers INC album (Drift) released on PARMA Recordings. Learn more about the album at www.navonarecords.com/catalog/nv6318/.

The virtual Michigan Music Conference was held Jan. 28-30 and Oakland University was well represented. Sessions included: "Partnerships of Empowerment: Empowering University Faculty, K12 Faculty, Preservice Teachers, and Music Learners...Together" featuring Dr. Lauri A. Hogle, OU visiting assistant professor of music; "MSBOA Music Education Workshop for New Teachers" featuring Spiros Xydas (PhD '14); "A Shift to Student-Centered Mentoring in a Shifting World of Music Teaching" featuring Dr. Lauri A. Hogle and Dr. Pamela L. Klena, visiting OU assistant professors of music; "Navigating the Undergraduate Degree" featuring Josh Kolpak (BM '16); "The Uncomfortable Conversation: Race/ Using Black History and Music to Reach Your Students" featuring Quincy Stewart (BM '10); "Stress-Free Sight-Reading: Strategies to Teach and Nurture Sight-Reading Confidence From Day 1" featuring Whitney Brainard (current music education doctoral candidate); and "Using an Undergraduate Research Grant to Tackle a Social Justice Topic through Music and Visuals" featuring Kasey Julian (current music education student).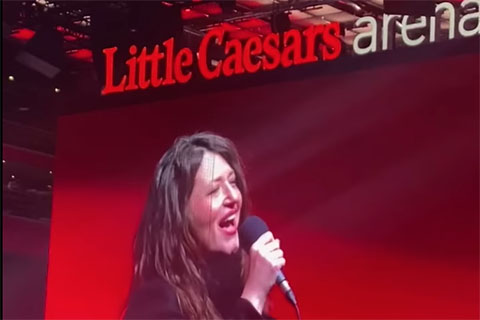 Singer-songwriter Amy Petty sang the National Anthem at the Detroit Red Wings game on Jan. 30. Petty earned a bachelor's degree in voice performance from Oakland University. Dr. Michael Mitchell, professor of music at OU, called Petty "one of the best singers and human beings I've ever had the honor of teaching."

Take Root held its annual OU intensive with the OU Dance Department from Feb. 1-5. On the first day of the intensive, Director and Founder Ali Woerner, with Take Root Musical Director Jon Anderson, held a live Zoom session with OU dance majors and fourth graders at Harlan Elementary School as part of Take Root's Arts Education Impact Outreach Program. The fourth graders learned about how their science lesson on potential and kinetic energy could be studied through movement and music. Students also created movement and music with Woerner and Anderson, finding their own discoveries through their personal movement choices. Harlan Elementary School Principal Alex Agius even joined in on the fun!

On Feb. 5 Oakland University's Department of Theatre hosted a two-hour masterclass with stage, film and TV actor Colm Feore. Feore is a 13-year veteran of the Stratford Festival and currently stars as Sir Reginald Hargreeves / The Monocle on Netflix's Umbrella Academy. Seven current theatre students, as well as one prospective student, had the opportunity to work with him. "One of the greatest takeaways I got from Colm is, 'yes have your dreams, yes shoot for the stars, but be happy and gracious and remind yourself how lucky you are to get to participate in this profession,'" said Conor Rajan, a senior acting major. Lynnae Lehfeldt, associate professor of theatre, said "Our students have had the rare opportunity of working with one of the best screen actors of our time."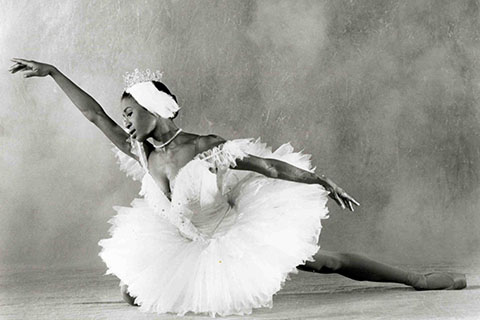 On Wednesday February 10, the OU Department of Dance presented "Black Dancers in Ballet," a conversation with ballerina Lauren Anderson (one of the first African American dancers to become a principal for a major dance company, the Houston Ballet) and Dr. Mariama Diagne (senior researcher in the Department of Cultural Management and Gender Studies at the University of Music and the Performing Arts Vienna).

The Oakland Chorale was included in the "Ivan Goran Kovačić′ Festival of Love" Virtual Valentine's Day Concert, which took place in Zagreb, Croatia. You can view their portion at about 32.50. 


The School of Music, Theatre and Dance hosted a variety of recruiting events throughout the month of January and February, including Inspire the Choir, Piano Pedagogy Workshop, Clarinet Solo and Ensemble Workshop, Collegiate Voice Audition Workshop, Virtual Dance Day, Virtual Theatre Day. Several hundred people attended the Inspire the Choir event, which featured Grammy Award-winning composer and conductor Eric Whitacre, whose works are programmed worldwide and whose ground-breaking Virtual Choirs have united singers from more than 145 countries; and Stacey Gibbs, a highly sought-after composer and arranger best known for his arrangements of spirituals, which have been performed by college, university, high school, and professional ensembles both domestically and internationally.

The Oakland Chorale was included in the "Ivan Goran Kovačić′ Festival of Love" Virtual Valentine's Day Concert, which took place in Zagreb, Croatia. You can view their portion at about 32.50.

Oakland University is hosting a virtual Piano Day competition for pianists 18 years and younger. The event is sponsored by Evola Music and advance registration/entry is required by Monday, March 1. You can submit your entry at http://bit.ly/OUPianoCompetition. There is a $35 registration fee. Winners will be announced on Piano Day (Sunday, March 21) with cash prizes up to $1,500, masterclasses with OU faculty and more. For more information, contact Dr. Tian Tian at ttian@oakland.edu.

Music Ph.D. student Nichole Mayes will be presenting at the 2021 Virtual ASTA (American String Teachers Association) National Conference on March 5. She will be presenting "Teaching the IB: Fitting the Traditional Ensemble into the IB Program" with Joseph Lewin-Ziegler, one of her orchestra colleagues from the Bloomfield Hills campus of the International Academy. This session will give attendees a quick introduction to the IB language and acronyms, as well as some authentic ways of assessing students using the MYP Arts Guide and rubrics.

The Department of Music welcomed several high-profile guests to its (virtual) campus recently — including composer Jennifer Jolley, John Bruce Yeh and Dr. LaToya A. Webb — and this will continue in March with "A Conversation with Kevin Day" on March 1 and "Mirror, Mirror on the Wall...Am I Providing Opportunities Reflecting All?" with Lori Schwartz Reichl on March 8.

Dr. Alta Marie Boover, an assistant professor of voice at OU, will be performing with the Toledo Opera in The Music Behind the Mural, a documentary/performance featuring Boover, Associate Professor of Music Dr. Drake Dantzler, and the Toledo Opera resident artists. "I wrote the documentary, which features music associated with artists in a famed mural, which is installed at the historic Valentine Theatre in Toledo," Boover said. The Music Behind the Mural will premiere at 7 p.m. on March 18.


Carrie LaFerle Gergely (BA '03) is the new managing director of The Groundlings Theatre & School in Los Angeles. Prior to this appointment, she had spent ten years as the business manager and six months as the interim managing director.

The School of Music, Theatre and Dance will present Amplified at 5 p.m. on April 17 outside the Varner Recital Hall. The event is a celebration of OU's artists of color and will feature SMTD dancers, singers, actors, and instrumentalists. Event coordinators are currently seeking "talent captains" for the event — one in dance, vocal performance, and music/instruments. Anyone interested should contact Brandon A. Wright at wright6@oakland.edu or Mekhi Holloway at mekhiholloway@oakland.edu by March 3. 

Scott Gwinnell, special lecturer in music, is giving a free virtual clinic for all levels and instruments on melodic stylizing through the Michigan Jazz Festival from 1-2:30 p.m. on March 6. Students can audit, actively participate, and need no jazz theory background. Please RSVP here.

Milica Govich, a special lecturer in theatre at OU, had two guests visit her Acting for the Camera 3 class recently. Angela Boehm of Angela Boehm Casting in Ohio held a masterclass and asked each student to submit a self-tape for a film she is casting. "It was an incredible class," Govich said. In addition, Govich's niece, director Milena Govich, held a masterclass with the group. Milena Govich recently directed an episode of the NBC sitcom Chicago Fire, as well as two episodes of Chicago Med in late 2020. "I am thrilled that these students were able to get such incredible classes from top people in the entertainment industry," Milica Govich said. "And they did well!"

Musical Theatre alumni Adrienne Fleming (BFA '09) is choir director at Allen Community College in Kansas. "I am currently in my third year here at Allen CC," Fleming said. "In addition to serving as choir director, I have a studio of 10 voice students, teach a section of theatre appreciation online and serve as vocal coach for the musical productions."


Taylor Hillary Boykins (BM '11), a featured soloist with Bach in Baltimore, concluded her Zoom conversation with Maestro T. Herbert Dimmock with performances of J.S. Bach's "New Year Cantata: The Christmas Oratorio, Part IV" and J.S. Bach's "Cantata 30a, Angenehmes Wiederau, freue dich in deinen Auen (Pleasant Wiederau, rejoice in your meadows!)." Watch now at: bachinbaltimore.org/virtual-series/#tboykins

Disney's D Cappella, a seven-member a cappella group, released its latest single, "Kiss the Girl," with SMTD alum Joe Santoni (BA '14) on lead vocal. Check it out on YouTube.

OU Gold Vibrations was chosen as the opening track on this year's BOCA album. "I had an amazing time producing and working on this album and with these people," said Music Education Alum Chris Brody. "Crazy to think that a track that I arranged in 2013 is going to be bopping in 2021."

OU alumni Lauren Lenz (BM '16) is directing Opera NextGen's virtual production of Cosí fan tutte on March 12 and 14. Jacob Surzyn (BM '17) has been cast as Guglielmo Cover.

Music student Lily Belle Czartorski has been cast in her first professional opera role as Elder Constance in Matthew Aucoin's chamber opera Second Nature with Opera Grand Rapids on April 20 and May 2. This follows her having won third place and an Audience Favorite award in their Collegiate Opera Competition this fall.


Fil Starostka (BM '16), who studied under Gordon Simmons while attending OU, is expected to graduate with a DMA this summer from Louisiana State University.

The Wall Street Journal reviewed The Glitch, a 22-minute, two-character opera by composer Nico Muhly and librettist Greg Pierce, performed by baritone Lester Lynch and soprano and OU alumna Krysty Swann. "The intensity of the voices and both singers' remarkable ability to act with their faces are such that their performances never seem oversized or artificial on the small screen. Instead, we are drawn into their worlds." Read more here.

Josh Young, assistant professor of theatre, was invited by Sheldon Harnick (lyricist of She Loves Me and Fiddler on the Roof) to sing on a never-recorded version of John Philip Sousa's "Stars and Stripes Forever" where Harnick added lyrics. Josh recorded his part on OU's campus and it was released on February 10. Josh has also added two performance dates to his 2022 calendar: with the Detroit Symphony Orchestra for "The Best of Rodgers & Hammerstein" in March and with the Philly Pops for "Modern Broadway: The Music of Andrew Lloyd Webber, Kander & Ebb and More!" in April.

On April 6, prospective high school students are invited to the Oakland University Jazz Festival presents a 90-minute program that will feature a pre-recorded faculty performance w/ interviews and a live webinar with guest artist Regina Carter.

Stay tuned to our social media and website for a very special announcement regarding an outdoor arts festival this spring!