Oakland University's Department of Theatre hosted "A Candlelight Vigil to Honor the Lives of Breonna Taylor, Ahmaud Arbery, George Floyd and Countless Others" on June 7 at The Elliott Tower at Oakland University. About 100 people attended the vigil, which was featured in an article in The Detroit News. "The diversity of our department is our greatest strength," said professor Anthony Guest, chair of the Department of Theatre. "Something like this (event) is important. We are storytellers, and if we are not telling stories that represent all of humanity, then we are not doing our job."

Jeffrey Heisler, associate professor of music, arranged this version of "Over the Rainbow" several years ago for his mentors John Sampen and Marilyn Shrude. During his sabbatical time in Taiwan, he recorded it with Jerry Kuro atTRIO Music管樂器維修販售專門店 (Taipei) with his wife (and OU piano faculty member) Dr. I-Chen Yeh. Dr. Heisler says, "I feel humanity needs more optimism right now — hopefully, enjoying this music will help. Cheers everyone!" https://youtu.be/CJbW5ciP0Kk

Brandon Santana, Musical Theatre (BFA '18), shared this video on social media. "This piece I wrote is dedicated to all of the lives we have lost. Enough is enough."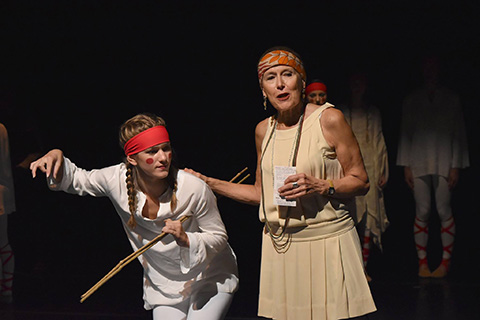 The Oakland University Department of Dance would like to congratulate students Kaitlin Arena and Gabriela Cascioli on their induction into the National Honor Society Dance Arts (NHSDA.) This honor recognizes students for their excellence in dance artistry, academics, professionalism, and leadership within the department. Two additional OU dance students — Isabella Vincent and Kathryn Calleja — received the "Graduation with Honors" status from NHSDA. Vincent, in addition to her senior recital for her BFA, did research on dance reconstruction and combined traditional research with her experience with Millicent Hodson and Kenneth Archer's reconstruction of Nijinksy's Rite of Spring at OU (2017) in her thesis, "Dance Reconstruction: An Exploration of its Impact on History." Calleja, who majored in dance and pre-physical therapy, brought together both of her courses of study in her thesis: "The Effects of Improper Pointe Shoe Health and Practices." In addition to their leadership within the department, both of these women worked tirelessly with community and other university organizations; Vincent as an apprentice for Eisenhower Dance Detroit, and Calleja at the Gamma Phi Beta sorority, where she served as scholarship chairwoman, education vice president, and president. Both Vincent and Calleja are graduates of the Honors College at OU.

OU jazz faculty members and SMTD alumni Sean Dobbins and Marion Hayden performed "Jazz and Civil Rights" on June 11 as part of the Kerrytown Concert House LIVE @ THE 415 series.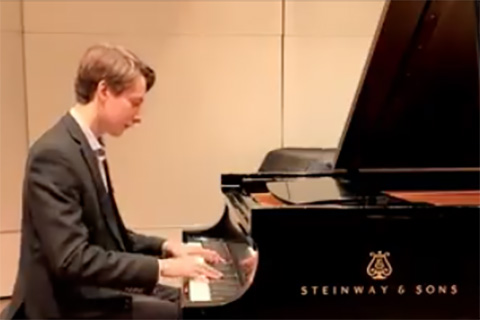 Members of the OU piano studio presented "Pieces of Healing" from June 15-July 21. Performances were posted every Monday and Thursday, featuring students and faculty performing original compositions as well favorite classics. In times of panic and isolation, this project brings hope and togetherness with the goal of helping our community to move forward. You can rewatch the performances here: https://www.facebook.com/watch/139626736090786/

Dr. Pamela L. Klena, visiting assistant professor of music, successfully defended her dissertation, earning a DMA in Wind Band Conducting from the University of North Carolina - Greensboro. Dr. Klena's primary research interest is gender diversity among wind band conductors and is committed to furthering inclusivity in the field. At OU, Dr. Klena conducts the Oakland University Symphonic Band, teaches elementary and secondary instrumental music education methods courses, and supervises student teachers.

Alumna Krysty Swann is a featured voice in Nicole Heaston's Purple Robe Song Series rendition of Roland Carter's arrangement of "Lift Every Voice and Sing."

OU's Josh Young, assistant professor of theatre, was on the panel of The Broadway Q&A Series on June 26 on Playbill's YouTube channel. This series — brought together by The Growing Studio and Playbill— is a free, weekly video series that features live interviews with Broadway professionals and faculty from major university theatre programs. Young was joined by Vincent Cardinal, chair of musical theatre at the University of Michigan.

The spring performances for Oakland University Community Music were canceled this year, but OU students/teachers carried on with virtual recitals! To see a sampling of the great work they have been doing, visit www.facebook.com/watch/oucommunitymusic/1530495450458570/

The OU Department of Theatre's production of Facing Our Truth: Ten-Minute Plays on Trayvon, Race and Privilege has received the Kennedy Center Citizen Artist Award. This award recognizes programs in higher education using theatrical production to promote long-term societal impact through an artistic, empathetic exploration of our complex cultural and physical world, and advocates for justice on campus and throughout the world. Kelli Crump, director of the production, said to her students: "I am so proud to have you as my colleagues in artistic activism. Be proud. Stand strong. Keep creating. Keep fighting."

At the end of June, the OU Department of Dance and the Michigan Dance Council hosted virtual Gaga/people dance classes with Ya'ara Dolev, Tanja Saban and Shamel Pitts.
Gaga Movement Language גאגא שפת תנועה classes offer a framework for users to connect to their bodies and imaginations, experience physical sensations, improve their flexibility and stamina, exercise their agility and explosive power, and enjoy the pleasure of movement in a welcoming, accepting atmosphere. For more information, visit: www.gagapeople.com/en/about-gaga/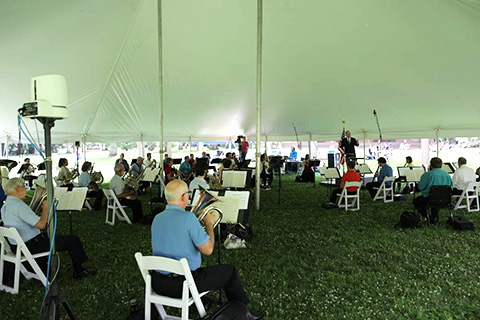 Kenneth Kroesche, professor of low brass, performed his first concert since March on June 28 as euphoniumist with the Toledo Symphony Concert Band. The concert was recorded at the Rutherford B. Hayes Presidential Library and Museum in Fremont, Ohio for a private audience. To ensure the safety of the performers, the ensemble was arranged in a socially distanced configuration with 10 feet between each player. The concert was broadcast on the PBS affiliate, WGTE-TV in the Toledo, Ohio area on July 4.

The fifth anniversary of the Summer Carillon Series, which started on July 10, concluded on August 14. This year's performers included Dennis Curry, George Matthew Jr., Tiffany Ng, John Gouwens, Ray McLellan, and Paul Stelben. "Listening to carillon music is a great way of enjoying a live outdoor performance while social distancing in a large, open area," said Dennis Curry, OU's resident carillonneur.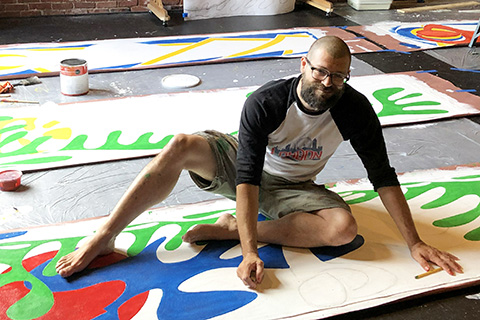 When the Marblehead Festival of Arts was canceled this year, Marblehead native and OU Associate Professor of Theatre Jeremy Barnett wanted the arts to still be celebrated during Fourth of July week. He proposed and executed a project for five custom painted canvases to be installed on the façade of the Marblehead Little Theatre firehouse, a historic brick building located at 12 School Street. "If people cannot gather inside MLT's Firehouse Theatre, then let its exterior offer the inspiration and joy that its performances have provided for so long," Barnett said. "History tells us that when the unexpected occurs, that is when the arts become fuel for the creative spirit." Barnett was also featured in this video for his art installation at the Marblehead Little Theatre in Marblehead, Mass. In addition to the Marblehead Little Theatre, Barnett has been invited to create another mural in collaboration with two galleries in Marblehead, and the Marblehead Museum and Historical Society has invited him to include his paintings in their permanent collection.

The Oakland University Department of Theatre "OU Summer Theatre Workshops… Online!" took place July 13-17 and featured theatre performance and design workshops, meet-the-faculty sessions and masterclasses with world-class theatre artists Laura Michelle Kelly (Broadway's Mary Poppins) and Jen Price Fick (art director for The Tonight Show with Jimmy Fallon).

Music alums Daniel Abrahams (PhD '13) and Dakotah Cooper (BM '10, M. Ed. '14) have contributed to a new book written by Frank Abrahams, "Aligning Music to STEM: Theory and Practice for Middle School General Music." The book — which serves as a road-map for today's music educators who are tasked with promoting and fulfilling a rich arts curriculum, while still understanding and incorporating the realities and skill sets required in current and future job markets — is available at www.giamusic.com/…/aligning-music-to-stem-book-g9968.


Acting alum Esau Pritchett (BA '99) is one of the featured stars of "WHILE WE BREATHE: A Night of Creative Protest To Benefit The NAACP Legal Defense Fund, the Bail Project, BOLD, BYP100, FTP, the Justice Committee & SONG." The special, which premiered July 29 via YouTube, includes powerful new works by some of Broadway and Hollywood's most vital voices.

Pritchett also has a recurring role in Fox's "Prodigal Son," which has been renewed for a second season. Pritchett lives in New York and was cast in Blue, directed by Phylicia Rashad, which was to open in April. He has participated in Zoom events since the shutdown and will be talking to current theatre students at some point during the coming year.

The OU Summer Virtual Jazz Intensive — with  instructors Regina Carter, Nancy Stagnitta, Sean Dobbins and Timothy Blackmon — took place July 20-24. The Jazz Intensive focused on themed topics, such as the history of women in jazz, bridging classical to jazz, jazz as language, etc. "Regina is an extraordinary artist, and I was excited for the opportunity to bring our unique voices together," Stagnitta said. "My performances with Sean Dobbins are some of my most memorable, and I was honored to be a member of this fantastic team."

Former theatre student Alex Benoit has landed a spot in a WeatherTech commercial. Benoit, who left OU to pursue an acting career in Chicago, has most recently been studying at the London Academy of Music and Dramatic Art.

The Cousino High School Marching Band completed band camp in early August, and there were many levels of SMTD representation, including: alums Jason Rose (Cousino director of bands, MM '15) and John Andersen (low brass instructor and BM '19); current students Zach Musienko (trumpet instructor) and Sarah Bussineau (future Cousino student teacher); and future Golden Grizzly Harrison Rose, 4-year old son of Jason and Niki Rose (SMTD alumna and lecturer, and recent Young Alumni "10 Within 10" awardee). "We were so excited to have so much OU representation at camp this month," Niki Rose said. "They were great! Not only did the students love having these OU alums at camp, but they learned so much from them. You can tell they have such a strong foundation and passion from their experience at OU. We even had a staff elimination block to practice basic marching skills and the final four instructors were all from OU!"

During the month of August, the School of Music, Theatre and Dance highlighted graduating seniors on its Instagram page.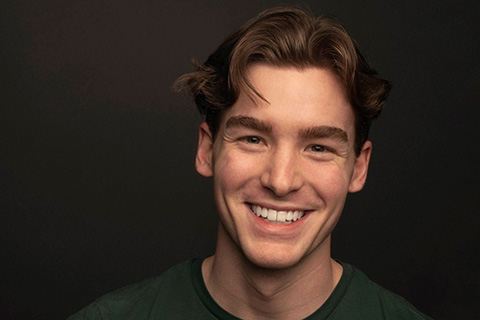 Matthew Carlsen (BFA '20) has won the 2020 Kennedy Center American College Theater Festival (KCACTF) National Award for Costume Design for his presentation/costume design of OU's fall 2019 production of Urinetown. This honor includes a scholarship and a professional development residency. "I am so proud of all I have been able to accomplish in my short time at OU and I'm glad I was able to discover my passion for costume design when I did," Carlsen said. "I'm glad to know that there is light at the end of a summer of cancellations, disappointments, and uncertainty." Carlsen also won the Region III award in January 2020 and advanced to the national festival in April 2020.

A research article written by James Isabirye (PhD, 2019) has been accepted for publication in the international journal Research Studies in Music Education. The article, based on his dissertation study, is titled "Indigenous Music Learning in Contemporary Contexts: Nurturing Learner Identity, Agency, and Passion."

On Aug. 10 and 11, Dr. Jennifer Oliverio, new assistant professor trumpet, and Dr. Kenneth Kroesche, professor of low brass, hosted the Oakland University Brass Band Intensive for new and returning members of the Brass Band. The two-day virtual event was designed to work on the fundamentals of brass playing and assist in the preparation of audition music and pieces that will be performed in the fall. In addition, special guest artist Juan Berrios, who plays French horn and tenor horn in the Dallas Brass, presented a masterclass on doubling on those instruments, and Dr. Mike Mitchell, professor of music and director of choral activities, gave a session titled "Singing for Brass Players."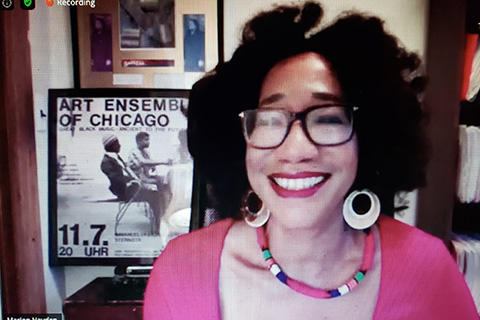 Oakland University's School of Music, Theatre and Dances hosted a panel discussion on Wednesday, Aug. 19 for SMTD faculty about Culturally Responsive Teaching. "Culturally Responsive Teaching is a pedagogical approach that builds connections between what students learn in schools and their cultures, languages and life experiences," said SMTD Director Amy Hardison Tully. "These connections help students develop higher level academic skills and see the relevance between what they learn in schools and in their lives. Additionally, culturally responsive teaching sends the message that educators value all students, and that multiculturalism is an asset. Culturally responsive teaching also affirms, responds and celebrates fundamental cultures and offers full, equitable access to education for students from all cultures." The distinguished panel for the Aug. 19 event included Marion Hayden, Gregory Patterson, Tim Blackmon, Chinelo Amen-Ra. "We plan on hosting at least one event a month, probably remotely," Tully said. "We hope these sessions will serve both faculty and students with relevant information and supportive resources related to discussing difficult topics with compassion while forging a path forward for change."

The School of Music, Theatre and Dance would like to welcome some of our new faculty members: Tim Blackmon, special lecturer of music (jazz); Whitney Locher, visiting assistant professor of theatre (costume design); Jennifer Fox Oliverio, assistant professor of music (trumpet); and Brandon A. Wright, special lecturer of theatre (acting). 

Barbara Bland, a voice instructor and lecturer at Oakland University, will be teaching a new section of Alexander Technique, which will be offered in the fall on Tuesday and Thursday from 8:30-9:50 a.m. This section (THA 2014 CRN 45564) will be fully online and synchronous, and it is open to all SMTD students. Alexander Technique is a method that helps students to become aware of their habits of tension, holding and overwork that interfere with optimal performance. The Technique helps the student to change these harmful habits and reduce strain, fatigue and potential injury. Alexander Technique specifically addresses the connection of the mind to the body to help deal with mental and physical stress so that one can become more calm and clear thinking. Alexander Technique is commonly known as a hands-on modality but can also be taught very effectively without touch. The worldwide Alexander Technique Organization has been working collaboratively since the beginning of the pandemic to share and discover the best ways of teaching AT online and helping our students. "Please join me for Alexander Technique if you are interested in learning how to enjoy your craft with more ease and freedom," Bland said.

Jazz special lecturer Scott Gwinnell's group, "Something to Live For" will be performing at the Detroit Jazz Festival from 11 p.m. to 12 a.m. on Sept. 5. "Something to Live For" revisits Billy Strayhorn's masterpieces through a contemporary lens, with the help of some of Detroit's most talented jazz musicians. They explore the virtuoso's library, combining energy and sophistication to present a unique vision in a way that Strayhorn would've appreciated. Also on Sept. 5, music faculty member Dan Maslanka will be playing drums with the Tartarsauce Traditional Jazz Band from 11:25 a.m. - 12:25 p.m. at the Ren Cen Sound Stage. For more information and to livestream the performances, visit https://www.detroitjazzfest.org/.

Dr. Lauri A. Hogle, visiting assistant professor of music education, experienced a fruitful summer of publishing and presenting. Her new publications include an invited book chapter published in August, "Empowering Strategies for Student-Centered Learning in Choir" in The Choral Conductor's Companion, edited by Brian J. Winnie. She virtually presented "Inclusion in ensemble settings: Parallels of Universal Design for Learning (UDL) and social constructivist approaches" for the Music in Special Education and Music Therapy Commission pre-conference of the International Society for Music Education. She also virtually presented "Inclusion of a choral learner with ASD through play-full intersubjectivity" and "'Singing is like I'm caught with my pants down': What fosters singing agency?" for the Symposium on Research in Choral Singing of the American Choral Directors Association. Although the World Conference of the International Society for Music Education was canceled due to COVID-19, she was accepted to present three papers, "'I'm afraid I will make a mistake': An exploration of singing agency in children," "Developing Preservice Music Teacher Agency Through Transformative Duoethnographic Process," and, as co-presenter with fellow OU PhD graduate, James Isabirye, "Musical agency and identity nurtured in sociocultural learning contexts in Uganda and the USA."

White Lake Chamber Music Festival had to cancel its summer 2020 season due to the pandemic. OU music faculty member and Detroit Symphony Orchestra flutist Jeffery Zook, along with fellow DSO musicians Kimberly Kaloyanides Kenndy (violin) and David Ledoux (cello), offered a virtual performance for that festival August 10, 2020 with an on-the-air recital on Blue Lake Radio. This performance included the world premiere of the Trio No. 2 for Flute, Violin and Cello by Edgar Girtain, which was written for this group known as the Detroit Symphony Trio.

Dance alumna Jasmine Brewington (BFA '19) recently completed her first year of teaching at Northridge Academy, a K-8 school in Flint, Mich. "It has been an interesting year to say the least," Brewington said. "In addition to teaching dance, Brewington also taught 1st grade social studies last year alongside three teachers and will be teaching 2nd grade social studies this year. She has also been teaching virtual dance classes to her students on Thursday evening due to the COVID-19 pandemic. "At the school, students are provided with their own Chromebook," she said. "However, when students return home many of them do not have access to technology." To help bridge the digital divide, Brewington raised funds via DonorsChoose to ensure that every first grade student at the school would have access to a tablet. "The school did their best to educate our students through packets and online classes," she said. "However, many of our students were unable to log in online to receive the help they needed." Going forward, Brewington said the school will be providing all students with Chromebook, as well as school supplies, breakfast and lunch, and assisting parents with obtaining affordable Internet. "Yes, my first year of teaching was impacted by the pandemic," she said. "However, I did my very best to provide my students with the best education, whether in seat or remote learning."

The National Association of Teachers of Singing (NATS) 56th National Conference, originally planned for Knoxville, Tenn., was held virtually this year. "Studio Solutions with Flowball Interventions," a poster presentation by OU Associate Professor of Music Dr. Drake Dantzler and recent alumna Caroline Roberts (BM '20), can be seen in this YouTube link, starting at the 12.08 mark. Dana Lentini (MM '16)  launched her brand new book, "Children Will Listen, Pediatric Pedagogy for Children 5-13," at her session and it was a great success. John-Paul White, professor of music, said "OU was really well represented" nationally at NATS this year.

The Oakland Chorale planned a European concert tour for June 30 to July 9. Stops included Prague, Budapest, and Bratislava. Dr. Michael A. Mitchell, professor of music and conductor of the Oakland Chorale, said, "They were singing beautifully, so of course we were disappointed to have to cancel. We will take another tour as soon as it is safe and can't wait!"

Lastly, a word about our upcoming performance season:
Since March, COVID-19 has completely disrupted the season calendars at almost every performing arts institution across the country. The evolving state and CDC guidelines force us in the School of Music, Theatre and Dance to also adjust our planned student and guest artist performances for the 2020-21 season. As a result, we will not print a season brochure this fall however, we invite you to visit our website and social media for up-to-date performance and event information. Be assured that we are working tirelessly to develop both an innovative and safe performance experience for our students ... and for you! Stay tuned as we plan a creative mixture of virtual, live streamed and, when safe and appropriate, small in-person productions. Thank you for your patience and your support.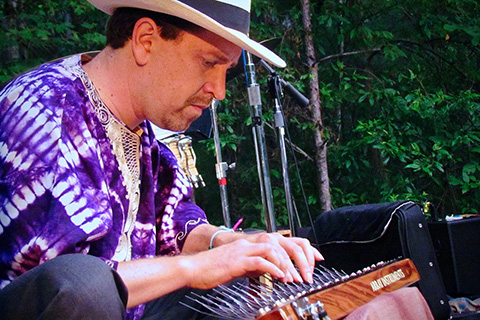 Our first performance — Mark Stone - International Peace Day Concert — will be held Sunday, September 20 at 4 p.m. outdoors in the Varner Hall courtyard. All guests who wish to attend should email the box office manager Megan Herald at mherald@startickets.com with their name and the number of individuals in their party. All attendees are required to register in order to attend, attendance is limited to 100, and everyone will be asked to be socially distanced.

Established by a United Nations resolution in 1981, the International Day of Peace provides a "globally shared date for all humanity to commit to Peace above all differences and to contribute to building a Culture of Peace." Mark Stone, associate professor of world music and percussion, will share a program featuring original compositions for the newly-invented Array Mbira, an American-made 120 key lamellaphone. The 2020 theme for the International Day of Peace is "Shaping Peace Together."