Oakland University has been awarded a $321,075 Healthy Aging grant by the Michigan Health Endowment Fund in support of the university's HOP-UP-PT (Home-based Older Persons-Upstreaming Prevention-Physical Therapy) program.

The HOP-UP-PT program is housed in the School of Health Sciences and is designed to provide early preventative interventions to senior citizens at risk of being homebound by facilitating partnerships between community centers and local physical therapists.

"The HOP-UP-PT program has been a successful care model where physical therapists visit the homes of older adults who are at risk of falls or have difficulty moving to provide specific exercises and recommendations to keep them safe and active in their homes and communities," said Dr. Chris Wilson, an assistant professor of physical therapy at OU.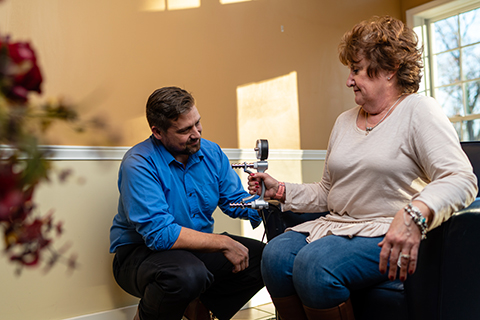 "This funding will provide the opportunity to establish reimbursement and technological approaches of the HOP-UP-PT program, which will ultimately provide older adults with access to providers who can provide strategies and tools to age-in-place safely," said Dr. Sara Arena, an associate professor of physical therapy at OU.

Dr. Arena applied for the grant in August with Dr. Wilson and Dr. Lori Boright, a visiting assistant professor of physical therapy. Dr. Arena and Dr. Wilson will be co-principal investigators on the project, while Dr. Boright will serve as the project coordinator.

"The HOP-UP-PT program offers an opportunity for prolific cost savings and addressing social determinants of health if it is broadly available to older adults," Arena said. "The long-term goal is to integrate HOP-UP-PT into the standard of care for aging adults within the scope of reimbursable healthcare services."

According to Arena, the grant funds provided by the Michigan Health Endowment Fund will be instrumental in launching a strategy that will:

• Establish a payment methodology for insurance reimbursement;

• Address provider and participant technological challenges associated with telerehabilitation (an aspect of the second half of program participation);

• Build infrastructure to upscale, diversify, and individualize the HOP-UP-PT program.

"The COVID-19 pandemic brought the healthcare system a multitude of challenges and the HOP-UP-PT program was not an exception," Arena said. "However, given the programs ability to move to a telerehabilitation delivery model, participants were still able to engage in the program throughout the stay in place orders and beyond.

"One aim of the 2020 Michigan Health Endowment Healthy Aging funding will help to build a more robust technology delivery method for the program given the likelihood telehealth, in some form, is now a permeant feature in the healthcare delivery model," she added.

For more information about the HOP-UP-PT program, visit oakland.edu/shs/community/hop-up-pt.