Upon recommendation by the Office of Senior Vice President for Academic Affairs and Provost Britt Rios-Ellis, and with support of President Ora Hirsch Pescovitz, the Oakland University Board of Trustees unanimously approved a request to appoint David Garfinkle, Ph.D.; Zissimos Mourelatos, Ph.D.; and Barbara Oakley, Ph.D. to the rank of Distinguished Professor at the formal February meeting. The appointment is effective August 15, 2021.

A selection committee of their peers recommended Professor Garfinkle, Professor Mourelatos, and Professor Oakley for consideration of these appointments and wrote letters of support for the nominations. The provost's office also did an extensive review of each professor's body of work.

"I want to thank (the Board of Trustees) very much for this honor," said Garfinkle, a professor in the Department of Physics. "I also want to thank the university for supporting us through the years in our quest to do our research, teach our students, and reach out to the wider world beyond our campus."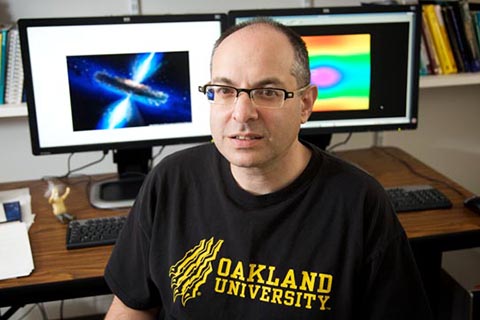 David Garfinkle
Professor Garfinkle is an outstanding scientist and leader in the field of general relativity, especially its application to black holes and the big bang, and has a worldwide reputation as an expert on space-time singularities. His work has been funded by the National Science Foundation, the Natural Sciences and Engineering Research Council of Canada, and the Research Corporation. He is a Fellow of the American Physical Society, a member of the Foundational Questions Institute, an associate of the Cosmology and Gravity Program of the Canadian Institute for Advanced Research, and a two-time Kavil Institute of Theoretical Physics scholar.

Garfinkle also is a versatile teacher who teaches courses in introductory physics, astronomy, modern physics, mathematical methods for physicists, numerical methods of physicists, mechanics, electricity and magnetism, quantum mechanics, thermodynamics, and nuclear physics — many at both the undergraduate and graduate levels.

"Professor Garfinkle is highly respected by his OU colleagues, who have on numerous occasions expressed their admiration of his academic stamina over the years and describe him as a model example of faculty who should be awarded the rank of distinguished professor," Rios-Ellis said.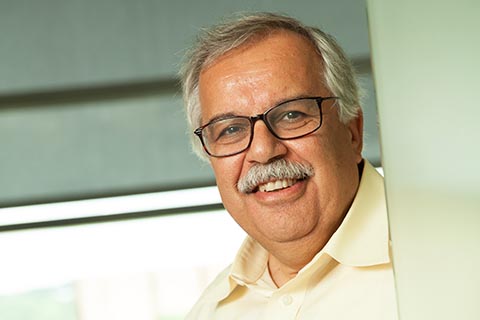 Zissimos Mourelatos
Professor Mourelatos joined Oakland University in 2003 after an 18-year career at the General Motors Research and Development Center. As a world-renowned expert in the areas of design under uncertainty, reliability and safety, random vibrations, and noise, and vibration and harshness, his research contributions are nationally and internationally acclaimed. He is a Fellow of the American Society of Mechanical Engineers and the Society of Automotive Engineers.

Mourelatos is also the author of a book, multiple book chapters and more than 220 journal and conference papers. His work has been supported, among others, by the U.S. Army, the National Science Foundation, General Motors, Chrysler, General Dynamics Land Systems, Federal Mogul, and Beta CAE Systems.

"His extensive and impactful research, external funding, hands-on commitment to developing the next generation of engineers and engineering faculty, and service to the profession merit Professor Mourelatos being awarded the rank of distinguished professor," Rios-Ellis said.

Mourelatos, a professor in the Mechanical Engineering Department, said he was "honored and humbled" by the appointment.

"I would like to thank our Dean, Louay Chamra, for supporting me over the years and for nominating me for this particular honor, and also the Provost and the selection committee," he said. "I would also like to thank all my graduate students over the years. For the past 20 years, they've worked for hard for me to be in this position today. Last, but not least, I would like to thank Oakland University. It's a wonderful place; a very dynamic environment with many opportunities for flexibility. I think we have a great future."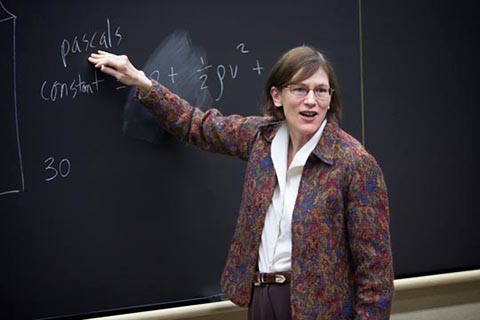 Barbara Oakley
Professor Oakley is both a revolutionary and true innovator in the area of pedagogy and is recognized as one of the world's leading experts in learning, especially in the STEM (Science, Technology, Engineering and Mathematics) disciplines, and in the design of high-quality online pedagogical materials. Since joining Oakland University in 1998, she has made significant contributions as a productive scholar in the areas of STEM pedagogy, neuroscience and social behavior. Her books have been translated into over 20 different languages around the world.

"She has pioneered important work that has significantly helped the Academy understand what impacts a person's interest in subject matter, along with what affects their ability to master mentally difficult material," Rios-Ellis said. "It is truly impressive that of the 10,000 MOOCs (Massive Open Online Courses) currently available worldwide, her course, Learning How to Learn, is the world's most popular with over 3 million registered learners from over 200 countries."

In recognition of her exemplary course materials and approach, Oakley was honored as Coursera's Inaugural Innovation Instructor in 2015, is the recipient of the IEEE William E. Sayle II Award for Achievement in Education, the Theo C. Pilkington Award for Biomedical Engineering Education, Michigan Distinguished Professor of the Year, and the Oakland University Teaching Excellence Award.

"My department chair, Dr. Robert Van Til, has done a lot to support my work over the years," said Oakley, a professor of Industrial and Systems Engineering at OU. "I would also like to extend my appreciation to President Pescovitz for her great vision for our university."

The Distinguished Professor recognition includes a one-time salary stipend of $2,500 plus an annual supplies and services allocation of $1,500, up to five years, to be paid from the provost's discretionary fund.

Established in 1988 by the Oakland University Board of Trustees, the rank of Distinguished Professor is conferred on eminent faculty members for the duration of their service at Oakland. According to the criteria for Distinguished Professor status, the individual must be preeminent in at least one of three categories: scholarship, teaching, or public or professional service. This distinction has been conferred on a small and highly select group of outstanding individuals. Honorees are selected by the Provost and the Distinguished Professor Advisory Committee.