In recognition of his exceptional leadership, service, and accomplishments, Oakland University alum Michael Kenny (CAS '78) has been awarded an honorary Doctorate of Arts degree. The degree was presented on Friday, Dec. 17 during the university's fall commencement ceremony.

"With my OU undergraduate diploma in hand, I was well prepared to set course on a lifelong pursuit of intellectual enrichment through reading and learning," Kenny said. "To now receive an OU honorary Doctorate of Arts feels like a journey back to the beginning that made it all possible. I am intellectually indebted to OU and emotionally humbled to receive this award and inspired to continue my pursuit of knowledge and wisdom. My heartfelt thanks to the university and the OU community."

Throughout his legal career at the international law firm Alston & Bird, Kenny has secured jury verdicts and settlements of more than $1 billion and successfully defended clients from plaintiff claims of more than $20 billion. He has also served as lead appellate counsel in 55 federal and state courts, including the U.S. Supreme Court, and 11 federal circuit courts of appeal.

Kenny's talent as a lawyer has landed him on several prominent lists including Chambers USA: America's Leading Lawyers for Business, Best Lawyers in America, and Georgia Super Lawyers. He was also named Atlanta's Antitrust Lawyer of the Year in 2013, and has received both the Distinguished Achievement Award and the Distinguished Alumni Award from Oakland University.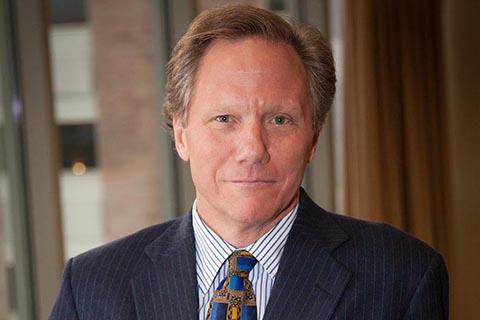 Michael Kenny
"Fond memories seem to endure," Kenny said. "Mine certainly do of my student days at OU, with three majors and the excitement of self-exploration through books, lectures, term papers, and the vigorous exchange of ideas in small classes led by dedicated teachers. I sensed then, and experience has shown, that my education would open up an exciting world for me for continuing personal and professional growth."

To ensure hardworking and dedicated students receive the same opportunities he did as an undergraduate student, Kenny began significantly contributing to the Undergraduate Research in Science Gift Fund, which supports undergraduate science students during summer research projects with OU faculty members.

In addition, to maintain support for students in the sciences, Kenny and his wife, Elizabeth, have endowed and generously donated to the Michael P. and Elizabeth A. Kenny Merit Scholarship for the Sciences, which is awarded annually to promising undergraduate students in the departments of biological sciences, chemistry or physics.

In a 2016 OU Magazine article, Kenny explained that he and his wife created the scholarship "…in the hopes of helping high-achieving science students in two ways: We wanted to help OU attract and retain excellent students and we wanted to honor these students with a title that reflected their merit … By creating the scholarship, we hope that terrifically talented young men and women will be able to pursue their intellectual passions and enhance the reputation of OU."

Outside of Oakland University, Kenny and his wife have demonstrated even broader philanthropic support with the endowment of the Elizabeth and Michael Kenny Scholarship at Georgia State University to provide support to students who, without financial assistance, may be unable to complete their college education at GSU, and contributions to The Link in Atlanta, a non-profit that provides counseling, psychotherapy, and support groups to people of all ages, helping them to heal and rebuild their lives.