Everything started with Matilda Dodge Wilson. She was a self-made, modern woman of the 20th century who lived an all-American success story. Her largest contribution to the area occurred in 1957 when she and husband Alfred Wilson donated their 1,400+ acre estate, including Meadow Brook Hall, and $2 million dollars to Michigan State University to form a branch campus in Oakland County. That branch would become Oakland University in 1963. From its inception, Matilda insisted on incorporating strong liberal arts into the foundation of OU's academic programming. Wilson, a longtime Republican, was also appointed the 43rd Lieutenant Governor of the state of Michigan in 1940. She was the first woman to serve as Lieutenant Governor of a U.S. state.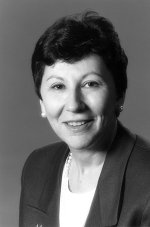 Sandra Packard
Fast forward to 1992 and that is when Sandra Packard served as Oakland University's first female president from 1992 to 1995. During her time as president, she introduced a capital improvement program; increased state funding; increased gifts and grants; introduced a School of Engineering master's program; received Board approval of a Sports and Recreation Center concept; and created the student liaison position to the Board of Trustees. Packard was an American Council on Education (ACE) Fellow in Academic Administration and a Mellon Fellow, where she worked with the president and executive vice presidents for Academic Affairs and Business and Finance. Currently, the Kresge Libraries host a collection of her papers.
Today, the top two roles of president and provost at Oakland University are each filled by women leaders in Ora Hirsch Pescovitz and Britt Rios-Ellis, respectively.
Ora Hirsch Pescovitz
President Ora Hirsch Pescovitz, M.D., is a renowned academic leader, health care executive, pediatric endocrinologist and researcher who has published more than 190 papers and books. Dr. Pescovitz came to Oakland University in July of 2017, bringing years of academic, medical and business expertise, along with cutting-edge insights on education, healthcare and the challenges of serving patients in a fast-changing environment.
President Pescovitz currently serves on the Detroit Economic Club Board of Directors, the Board of Medical Main Street in Oakland County, Michigan, the Horizon League Board of Directors, the Board of Directors and Member-at-Large Executive Committee for the Michigan Association of State Universities, Citizens Research Council of Michigan Board of Trustees, the 149 Medical Inc. Board of Advisors, and is Co-Chair of Detroit Drives Degrees Leadership Council. She is a member of the Horizon League Investment Committee, the New Presidents' Academy Advisory Committee of the American Association of State Colleges and Universities, a corporate member of the Rochester Rotary Club, a member of the Michigan Chapter of the International Women's Forum, and an Honorary Member of the Oakland University Chapter of Golden Key International Honour Society. In addition to all her professional accolades, she is a proud mother to three children and five grandchildren.
Britt Rios-Ellis
Britt Rios-Ellis joined Oakland University as Executive Vice President for Academic Affairs and Provost on January 4, 2021. Rios-Ellis said she was drawn to Oakland for its "cutting-edge combination of programs, research, community-based efforts and focus on student success." She added, "I felt a strong sense of connection with the OU community and the mission-driven way in which leadership, faculty and staff seek to transform students' lives through quality education. OU's focus on diversity and inclusive excellence is also a great match and well-aligned with my personal philosophy, life's work and career focus."
Prior to coming to OU, Rios-Ellis served as Founding Dean of the College of Health Sciences and Human Services at California State University, Monterey Bay where she led strategic planning efforts, established Nursing and Social Work departments and co-founded the Master of Science Physician Assistant Program, the first program of its kind in the California State University system.
Today, Oakland University's student body also slightly leans to more female students as the fall 2020 enrollment statistics from the Office of Institutional Research and Assessment found that 10,582 of OU's 18,552 students, or 57%, were female. Of the new incoming students in fall 2020, a total of 2,797, or 59.1%, were female.
From its inception, to today, and into the future, women will continue to play important roles in the "Herstory" of Oakland University. Enjoy and celebrate women's achievements during Women's History Month and always.