Teresa Rodges, interim director of Pre-College Programs and coordinator for community service partnerships at Oakland University, and Dr. David Strubler, a professor in the Department of Organizational Leadership, were among the recipients of this year's "Dreamer Award" presented by the Greater Pontiac Community Coalition (GPCC) during their 27th Annual Martin Luther King Jr. luncheon held January 20 at the St. George Cultural Center in Bloomfield Hills.

The award is presented to individuals who are making a difference in the community.

"I am both humbled and honored to receive the 'Dreamer Award,'" Rodges said. "It's because of others that I am receiving this award. People like (GPCC Founder) Pastor Douglas Jones, (OU Vice President for Student Affairs & Chief Diversity Officer) Glenn McIntosh, and individuals that I have worked with at GPPC, The Pontiac Promise, Oakland University, McLaren and St. Joseph Hospitals, have made it possible for me to dream big and keep striving to do better as it relates to helping others that are less fortunate."

Prior to joining OU's Division of Student Affairs and Diversity, Rodges held the position of executive director of the School of Nursing Continuing Education at Oakland University-Focus Hope, executive director of the McLaren Oakland Hospital Foundation, vice president of development and marketing at Matrix Human Services and annual giving manager at St. Joseph Mercy Oakland.

"In my current role, I have the opportunity to bring together partners that promote post-secondary education, economic and workforce development, healthcare and wellness, arts and culture, civic engagement and non-profits and neighborhoods," Rodges said. "When working together, like Dr. Martin Luther King Jr., we can have a broader reach to ensure that we collaborate to make the change."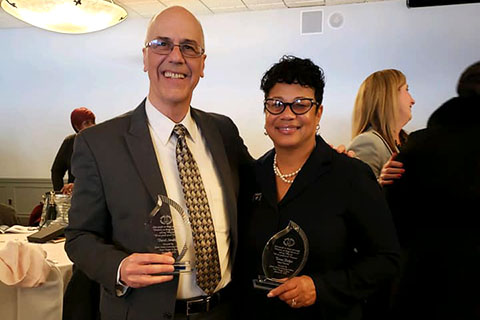 David Strubler and Teresa Rodges
Strubler is a former Human Resources manager and Champlain College business dean. He is also a continuous improvement expert, a Pawley Lean Scholar, and former associate vice president at Kettering University. Strubler previously served as director of the Delphi Onsite Education Program and was supervisor of communications and training at Nissan Technical Center. His current research and community service projects include the development of the Talent Development Coalition, a pre-apprentice program for 18-29-year-old underemployed, recovering and returning citizens who learn and earn by building or renovating homes through Habitat for Humanity.

"Having spent most of my life being 'accused' of being a dreamer, it is encouraging to finally be positively acknowledged for being one," Strubler said. "It is even more meaningful because it comes from Pontiac, my birthplace, and from Pastor Douglas Jones, for whose leadership I have the greatest respect."

In addition to Rodges and Strubler, this year's "Dreamer Award" recipients included OU alumni Dr. Peter Karsten, president of the Baker College of Auburn Hills campus; Jennifer Llewellyn, manager of Workforce Development at Oakland County and director of the Oakland County Michigan Works! Agency; and Derinda Shaw, office manager/clerk at Welcome Missionary Baptist Church in Pontiac.

"I was honored and humbled to receive such a prestigious award along with other persons who do so much for our community," Shaw said. "I would like to thank Pastor Jones and the Greater Pontiac Community Coalition for giving me this recognition."

Jones, a community activist and pastor of Welcome Missionary Baptist Church in Pontiac, founded the Greater Pontiac Community Coalition in 1994 to "create change for the better, in the lives of the people and communities of Oakland County." It represents over 190 Oakland County individuals, community groups, businesses, politicians and clergy who have pooled their resources and talents to address the needs of individuals and the community.

For more information, visit www.greaterpontiaccommunitycoalition.org/.