"When you go to a foreign country, you learn so much about yourself and different cultures," says senior journalism major Claudia Marques Molina. "It opens your mind and becomes part of you."   
She speaks from experience.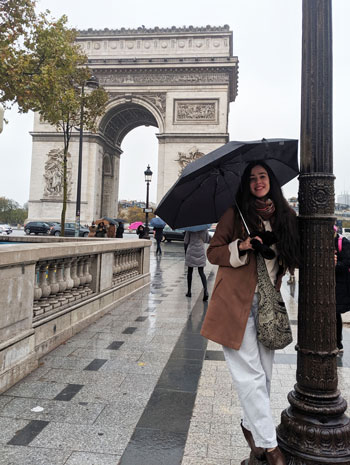 Claudia Marques Molina near the Arc de Triomphe in Paris.
After spending her first 18 years in Brazil, Molina came to the United States as an international student with dreams of becoming a foreign correspondent. She enrolled in Oakland University's journalism program, with a minor in French, to develop her language and writing skills. She strengthened her command of English and eventually set her sights on studying abroad in France. 
"Coming to the U.S. taught me that to really master a language, you need to immerse yourself in it," said Molina, who also speaks Spanish and Portuguese. "I decided that to really learn French, I needed to go to France."
Molina spent the fall 2019 semester in Lyon, France's third-largest city and a World Heritage Site known for its historic industrial districts, architectural landmarks and world-famous cuisine. As a guest student at the Catholic University of Lyon, she took classes in French language and European politics. Her favorite course, "Lyon Beyond the Walls," explored the nooks and crannies of the town, with students interviewing local business owners to practice their   comprehension and conversation skills. 
"We would interview these people, friends of our professor, completely in French and write down the information," said Molina. "Then we'd meet our professor for lunch afterward and talk about the experience. She would even buy us food to teach us more about the culture."
Molina and her classmates filled their weekends with various jaunts, including a day trip to Switzerland and visits to museums, theaters and other attractions around Lyon.
"We spent so much time together and grew very close," Molina said. "It was one of the best experiences I could have asked for."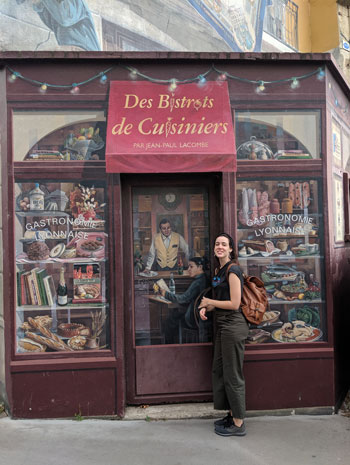 Molina in front of Des Bistrots de Cuisiniers, a gourmet restaurant in Lyon.
The Lyon experience is one of more than 280 study abroad and study away programs OU offers through its faculty, partner universities and third-party providers. OU's Office of International Education helps students navigate these opportunities and find a match for their academic and personal goals.
"We meet with students and talk about their interests, the courses they need, financial aid and scholarships, and any questions or concerns they have," said Alex Zimmerman, director of International Education at OU. "We also help with paperwork and provide a pre-departure orientation that tells them how to prepare and what to expect in terms of academics, health and safety, cultural differences and other issues." 
OU students can study abroad in more than 40 countries or study away at nearly 200 universities in North America. Programs are held year-round and range from a week to a full academic year. They cater to a wide array of academic majors, including language studies, business, engineering, nursing and health sciences, to name a few.
About 200 OU students study abroad each year, Zimmerman said, although that number is considerably lower this year due to the coronavirus pandemic. He noted that most study abroad programs planned for winter 2021 are still on schedule, but some will depend on a vaccine being approved.
"Once a vaccine is approved and widely distributed, that will help allay the fears that people have and eliminate some of the barriers to travel, such as getting a visa or waiver to go to certain places," he said. "We're monitoring the situation closely and keeping students as informed as possible."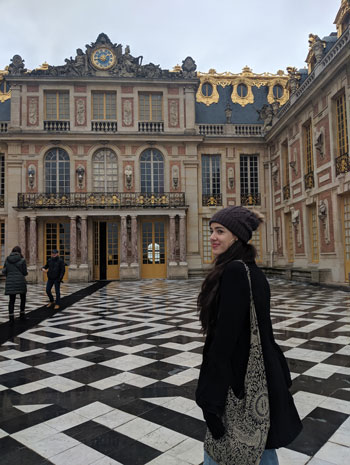 Molina at the Palace de Versailles.
In winter 2021, Molina plans to go to Montevideo, Uruguay, where she will study the history of feminist movements in South America.
"The program offers a lot of internships with local organizations that fight for gender equality and women's rights," said Molina, adding that she's also excited to develop her Spanish skills. 
Molina's interest in world affairs began when she participated in Model United Nations while in high school. One of her goals is to work with UNESCO, a branch of the UN that promotes peace through international cooperation in education, science and culture. 
"Being a girl in South America, I saw how hard it is, based on your gender and economic level, to get the education that you need," Molina said. "I just feel so privileged to have had the opportunity to study abroad, and I want to help others have those opportunities." 
She said that while some students might feel intimidated to study abroad, breaking away from the familiar is both rewarding and empowering.
"Before I took the brave step of studying abroad, I didn't feel like I was up to the task," she admitted. "But it only took me the courage of taking on the adventure to find out I was perfectly capable of going to a completely new place and making the best of the experience.
 "I was able to create a network, make friends and communicate with people. It's amazing to put yourself in a situation where you're vulnerable and see that you managed to come out smarter and more confident. You carry that with you forever."