Dr. Ngong Kodiah Beyeh, assistant professor of organic chemistry at Oakland University, has received a five-year, $700,000 CAREER Award from the National Science Foundation. The award will support research and education on halogen bonding, a process that could transform the field of materials science.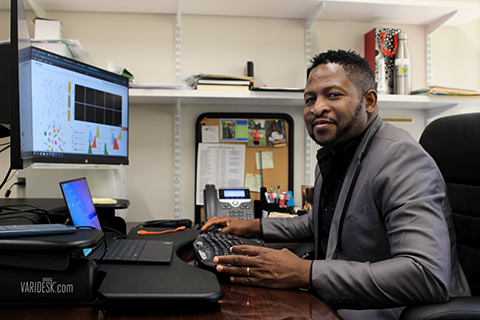 Dr. Ngong Kodi Beyeh will use a $700,000 NSF CAREER Award for research and education on halogen bonding, a process that could transform the field of materials science. 
In collaboration with materials science experts at the University of Michigan, USA (Dr. Nicholas Kotov) and University of Windsor, Canada (Drs. Simon Rondeau Gagne and John Trant), Dr. Beyeh will use halogen bonding to build and test new materials that could have a range of practical uses for society.
Dr. Beyeh explained that halogen bonding is just beginning to be studied by materials scientists and is similar to hydrogen bonding, which is known for maintaining the structure of biological substances like DNA and protein molecules, as well as commonly used synthetic materials such as nylon and polyurethane.
However, halogen bonding has several key properties that distinguish it from hydrogen bond interaction, heightening its appeal for making stronger, more resilient materials. Not only is halogen bonding water repellent, but it's also highly directional, meaning that it grows in a predictable direction and could be used to create materials that are self-repairing. 
"A lot of times adverse weather conditions can cause materials to crack," Dr. Beyeh said. "Halogen bonding can help protect materials from water and enable them to regenerate on their own without people having to fix them."
"Right now, because the science is relatively new in the materials community, we don't have a direct application yet," Dr. Beyeh continued. "We are trying to see if this idea can work in a real-life application, which is why the NSF funds these types of fundamental projects. We need to first understand how this halogen bond interaction works in polymeric materials (composed of long, repeated chains of molecules), then we can see if it will lead to improved materials with real-life applications." 
Dr. Beyeh noted that when hydrogen bonding was first discovered over 100 years ago, scientists were unaware of its applications, but now they are widely understood and utilized. Scientists hope that the study of halogen bonding could follow a similar trajectory.
"There's a lot of similarity between the hydrogen bond and halogen bond, so the belief in the field is that halogen bonding is also going to have a transformative impact in the future."
The CAREER Award is part of the NSF's Faculty Early Career Development Program, which recognizes early-career faculty members who have demonstrated the potential to serve as academic role models in research and education, and to lead advances in the mission of their department or organization.
With the funding, Dr. Beyeh will hire an OU doctoral student to work on the research year-around and also recruit OU undergraduate students and students from the Pontiac school district to collaborate on the project during summer months. 
"I'm currently the treasurer of the Black Faculty Association at OU, and I'm going to work with them to reach out to underrepresented minority students," said Dr. Beyeh. "I want to show that science is for everyone." 
Additionally, Dr. Beyeh will work with Teresa Rodges, OU's senior director of Pre-College Programs and Community Partnerships, to recruit diverse students and Dr. Dawn Woods, assistant professor in OU's Department of Teacher Development and Educational Studies, to assess the student impact of the project. He will also work with Clinical Pharma Solutions, a minority-owned company, for further outreach.
"I'm very thankful to receive this prestigious award from the NSF and for my colleagues and students in my lab who contributed to making this a successful research proposal," Dr. Beyeh said.   
For more information on OU's Department of Chemistry, visit oakland.edu/chemistry.