Oakland University has been selected to participate in a Data Literacy Institute project aimed at increasing the use of data to boost student success, including the number of graduates.

"Data collection and analysis are key components of all student success initiatives," said Dr. Anne Hitt, associate provost and associate professor of biological sciences at OU. "We can use data to determine which student success tactics or programs are the most cost-effective in helping different student populations graduate on-time in their chosen major with minimal debt."

A team from OU's campus will take part in the institute alongside 11 other public universities in its "transformation cluster" and work collaboratively as part of the Association of Public and Land-grant Universities' Powered by Publics initiative.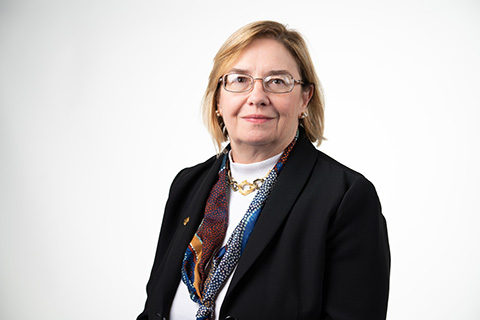 Dr. Anne Hitt
"One of the central aims of Powered by Publics is to better leverage data to boost equity and student success," said APLU President Peter McPherson. "Public universities have long recognized the immense value of using data to track and improve student success, especially for students from underserved populations.

"The Data Literacy Institute will work to bolster data literacy not just in Institutional Research offices, but across campus and especially among key decision-makers," he added. "A greater and improved use of data can make a real difference in a university's ability to help more students succeed."

The Data Literacy Institute is a joint APLU-Association for Institutional Research (AIR) effort and supported by funding from Ascendium Education Group.

"Unlocking the tremendous potential of data to inform better decisions and increase the success of all students requires universities to invest in the knowledge and skills of faculty and staff," said Christine Keller, executive director and CEO of AIR. "The Data Literacy Institute is an important step in recognizing the importance of institutional-wide data literacy and its role in building stronger connections among data providers and data users to close equity gaps for the benefit of students."

Over the next two years, approximately 20 participants from each campus, representing a variety of departments, will complete coursework through the Data Literacy Institute, which will be developed by AIR.

Coursework will be tailored to the needs of each participating institution. The first term will provide data literacy training to each cross-campus cohort of participants. The second term will focus on supporting participants in applying new data literacy skills to a unique student success challenge at their institution.

The Data Literacy Institute will use a peer learning community model to provide in-person and virtual training on effective practices and tools to improve data literacy skills. The work ultimately aims to develop a data literacy program model that could be continued at participating institutions and available for adoption by other colleges and universities across the country.

"Participation in the APLU/AIR Data Literacy Institute, along with 11 peer institutions, is an incredible opportunity for OU," Hitt said. "Not only will 20 faculty and staff be trained in data literacy, but in the Winter term we will apply data literacy skills to an OU specific student success initiative. The long-term expectation is for participants in the Data Literacy Institute to train their colleagues across the university to establish a culture of data-driven decision making."

The 11 other institutions participating in the Data Literacy Institute include: Bowling Green State University; Central State University; Illinois State University; Kent State University; Miami University; Montclair State University; Towson University; University of Maine; University of Minnesota-Duluth; Western Michigan University; and Wright State University.