Friday, Mar 27, 2020
OU offers tips for successful remote learning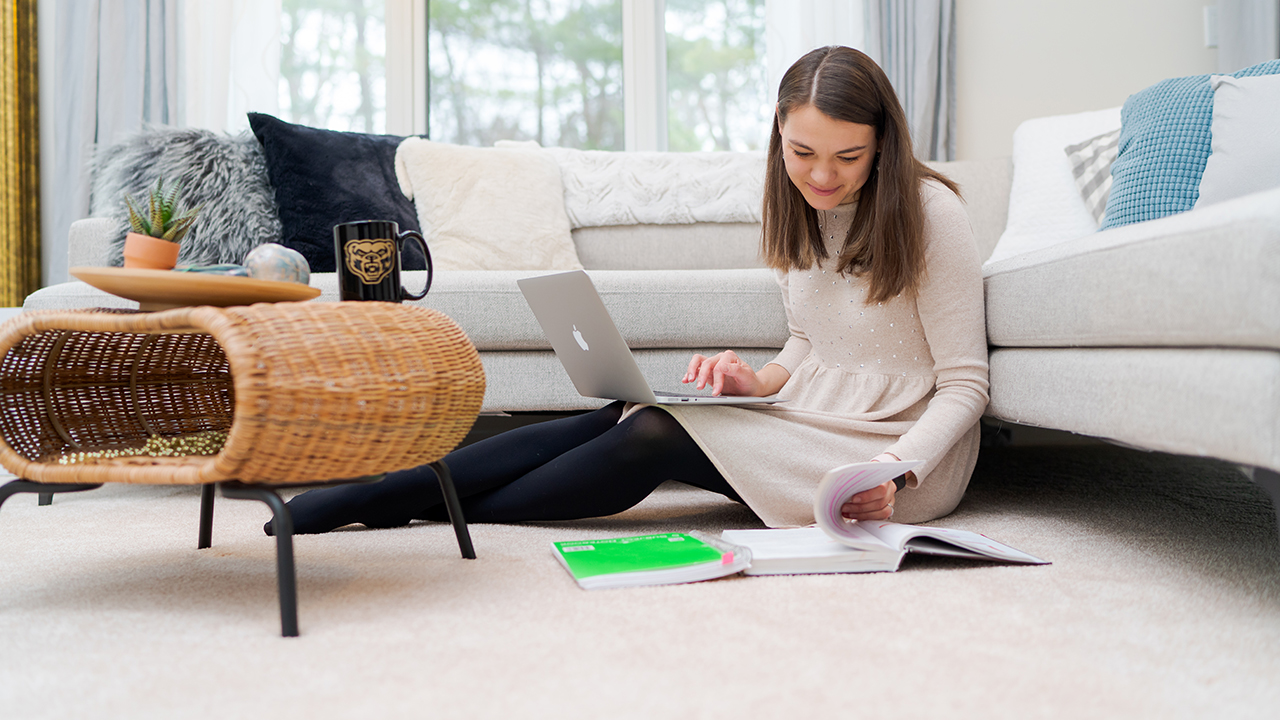 In response to the COVID-19 pandemic, OU students are transitioning from the classroom to online learning.
In an effort to slow the spread of the COVID-19 pandemic and protect the health of the community, Oakland University has suspended face-to-face instruction through the end of the semester (April 25) and has transitioned to online learning instead.

While there are many benefits to learning remotely, there are also many challenges to overcome. In response, Oakland University is offering the following tips to help students as they transition from the classroom to online learning:

Email is more important than ever

• Check your email three times a day (turning on email notifications on your phone can help).

• Organize emails from each class into separate folders.

Routine is key

• Use Google calendar or planner to create a weekly schedule. Include time for reading, reviewing course materials, working on assignments and studying for quizzes and tests.

• Google Tasks, which is built into webmail, is a great way to keep track of due dates. From Tasks, students can add due dates, subtasks and links to their calendar.

• Create a "study space" free from clutter and distractions.

• Be sure to add breaks!

• Set a notification so you don't forget to log in at online meeting times.

Academic support is always available

• Tutoring and Supplemental Instruction are being delivered online.

• View the tutoring schedule at oakland.edu/tutoring

• Schedule a Writing Center appointment at oakland.edu/ouwc

• Check espace.oakland.edu for updates from your SI leader.

• Stay in touch with your professor via email and Moodle or by "e-visiting" his/her office hours regularly.

• Reach out to your academic adviser for support and/or to schedule a meeting with an academic coach to discuss strategies for online learning

The delivery is different, but the course is the same

• Staying on top of course material is even more important when you are not able to be physically present with your professor and classmates at regularly scheduled times.

• Check Moodle at least once per day.

• Study with the same effort for online classes as you would with in person.

• Quizzes, tests and assignments will be just as challenging and the time provided could be more limited.

• Rules related to academic integrity still apply in the online environment.

Practice patience and self-care

• Find time to take breaks, get outside and socialize with others virtually through phone calls, texts, FaceTime, etc.

• With others, including children (for some students), also working from home, it's important to make sure they know you are focused on your work and not frequently interrupt.

• Be a good Webex participant. Mute the mic when you aren't speaking so it doesn't pick up background noise. Make sure you have a stable Internet connection so the audio and video aren't cutting in and out.

• Be patient with your professors and with yourself. This is a big adjustment for everyone.

For more information about Oakland University's response to the COVID-19 pandemic, visit www.oakland.edu/coronavirus.