The Oakland University Department of Biological Sciences recently hosted a genomics symposium, drawing researchers from around the country to discuss the latest advances in a field that is providing new insights into the function of genes, the promise of genomic medicine and the history of life itself.   
The event was keynoted by Dr. Stephen J. O'Brien, one of the world's preeminent researchers in genomic science. The professor from Nova Southeastern University spoke about his groundbreaking discoveries, and highlighted many ways that genomics research is contributing to the health and welfare of humans and animals.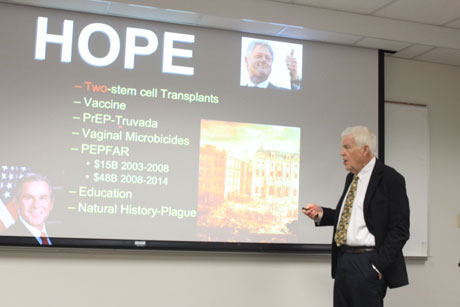 Dr. Stephen O'Brien spoke about the past, present and future of genomics research.
Dr. O'Brien is widely recognized for discovering the first AIDS restriction gene, which helped save thousands of lives. He is also known for his 25-year tenure as Chief of the Laboratory of Genomics Diversity at the National Cancer Institute, and as founder of the Genome 10K Project, an international effort to sequence the genome of every species on earth.
Dr. O'Brien emphasized the role of technology and bioinformatics in helping genomics researchers advance human health and species conservation.
"The big questions are difficult," he said. "But they are solvable with these new technologies."
Dr. Stephen O'Brien pictured with symposium organizers Dr. Fabia Battistuzzi and Dr. Taras Oleksyk.
In addition, he cited three elements that universities need to be at the forefront of genomic science: 
Computer infrastructure and IT support (to meet the computational needs of big data projects)
Young researchers in the fields of genomics and bioinformatics
High-aiming faculty
OU President Ora Hirsch Pescovitz introduced Dr. O'Brien and presented him with an OU sweatshirt at the event. 
"Dr. O'Brien's presentation was highly informative, and the type of engaging research work that inspires students and researchers from around the world," said Dr. Pescovitz. "His talk underscores our goal to be an inspiring environment for research, discoveries and a place that elevates international discourse about significant issues and breakthroughs in science." 
Drs. Stephen O'Brien, Taras Oleksyk and Fabia Battistuzzi, with the symposium presenters.
The symposium gathered students and faculty from institutions around the nation to share the latest developments on genomic research. Findings from Cornell University, Penn State University, University of Georgia, University of Michigan, Wayne State University, and Oakland University highlighted the many innovations that genomics is bringing to the fields of conservation biology, medicine, and evolutionary biology, thus impacting every aspect of life 
The event also reaffirmed OU's multi-year commitment to expand research and training in the field of genomics and big data analytics, and provided a unique opportunity for OU students Regan Miller, Dominic Mier, Justin Kulchycki, Anton Mahama, Ashley Superson, Sarah Medley, Khrystyna Schubelka, and Walter Wolfsberger to showcase their exciting contributions to this growing research endeavor at OU.
In addition, the symposium included an open class in human evolutionary genomics taught by Dr. Juan Rodriguez-Flores, assistant professor of Research in Genetic Medicine, at Weill Cornell Medical College. The symposium was organized by OU Professors Taras Oleksyk and Fabia Battistuzzi, whose teaching and research focus on genomics and evolutionary biology. Sponsorship support was provided by biotech companies Illumina and ThermoFisher Scientific, as well as Sigma Xi, The Scientific Research Honor Society.