A long journey for Oakland University's Department of Bioengineering has resulted in prestigious, formal accreditation from ABET (Accreditation Board for Engineering and Technology) — the global accreditor of college and university programs in applied and natural science, computing, engineering and engineering technologies.

Administered worldwide and a voluntary process in the U.S., ABET accreditation is seen as the gold standard for any technical program in higher education. Earning it confirms that a program is equipped to produce specialists in critical technical fields leading the way in innovation and emerging technologies. ABET's strict peer-reviewed accreditation takes years of preparation, followed by an intensive site inspection to assure quality, precision, and safety.

"The ABET accreditation further elevates the bioengineering program and validates the rigorous curriculum that fosters innovation and critical problem-solving skills in our students," said Oakland University President Dr. Ora Hirsch Pescovitz.

"We are proud of the collaboration between academic units that has created an outstanding hybrid program that provides our bioengineering graduates with a broad and in-depth education and prepares them to face technical, ethical and environmental challenges, while also protecting the welfare and safety needs of the public," she said.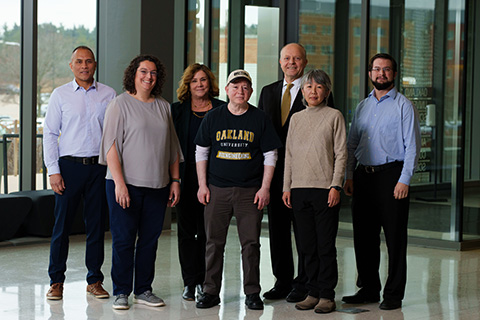 Dr. Gerard Madlambayan, Dr. Sara Blumer-Schuette, CAS Dean
Elaine Carey, Bioengineering Chair Shailesh Lal,  SECS Dean Louay
Chamra, Dr. Jia Li, Dr. Brian Dean.
OU's first interdisciplinary unit to receive this endorsement, the Department of Bioengineering stemmed from an engineering biology program created in 2015 as a collaboration between faculty in College of Arts and Sciences (CAS) and the School of Engineering and Computer Science (SECS). It officially became a department in 2019 under shared and equal governance between the two schools. 

"The Bioengineering Program clearly demonstrates the best of OU innovation and determination. It has truly paved the way for other collaborative programs, representing an exciting juncture in OU's history. I want to offer my profound thanks to the faculty and the vision and ongoing support of SECS Dean Louay Chamra, former CAS Dean Kevin Corcoran, ad current CAS Dean Elaine Carey, who tirelessly worked to bring this vision to fruition," said Dr. Britt Rios-Ellis, OU's Executive Vice President of Academic Affairs and Provost.

The accreditation action extends retroactively from October 1, 2019 through 2027 to all graduates and substantially enhances their employment opportunities at a global level.

"I am very proud of our bioengineering faculty led by Dr. Shailesh Lal, professor and the department chair, and Dr. Gerard Madlambayan, associate professor of biological sciences, who spearheaded the committee through a laborious multi-year successful preparation and review to accomplish ABET accreditation," said Dean Louay Chamra.

ABET accreditation review, conducted by the team of highly skilled professionals from industry and academia, evaluated program curricula, faculty, facilities, and institutional support.

The program's laboratory experiences providing students with opportunities to extract and evaluate medical devices received especially highly positive feedback.

"The review pointed to the quality of our faculty and laboratory facilities, which provide our undergraduate bioengineering students with the resources and hands-on experiences that prepare them for employment and continued studies," shared Dr. Madlambayan. "Receiving ABET accreditation was a monumental effort that could not have been accomplished without joint efforts from faculty in CAS and SECS, including Dr. Sara Blumer-Schuette, Dr. Brian Dean, and Dr. Jia Li who served on the accreditation committee."

Following accreditation, a number of independent college rankings placed OU's bioengineering program among the top 10 in the nation. According to the 2023 rankings from College Factual, for example, OU's bachelor's degree in Bioengineering was named #10.

"Some of the metrics influencing the rankings included curriculum, major focus and demand, graduation rate, average salary for graduates, accreditation, educational resources and cost. Accreditation was high on the list in the "Best Bioengineering Degrees Programs of 2022" article that placed our program #9 nationwide utilizing the data from the U.S. Department of Education. I was also pleased to learn that out bioengineering graduates earn the highest salary in the U.S." explained Dr. Lal.

ABET accredits colleges and universities internationally. Additional information about ABET, its member societies, and the accreditation criteria used to evaluate programs can be found at www.abet.org.