Oakland University's varsity Super Smash Bros. team finished their inaugural season with an impressive 63.64% winrate and a 21-12 record. As a result, they were ranked the #10 team in the country by the Collegiate Smash Brothers Circuit in their final Power Rankings Nationwide list.
"We had lofty goals for this year's inaugural varsity teams," said Carl Leone, Esports head coach. "However, I think our successes in all the games really exceeded everyone's expectations. Overall, our teams had a 63.87% winrate and went 99-56 in competitions."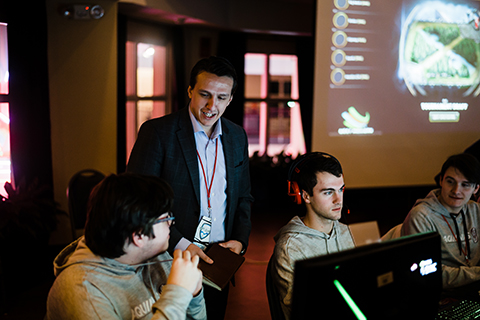 Head Esports coach Carl Leone had the Golden Grizzlies Esports program clicking on all cylinders in year one.
"We are now in the midst of recruiting next year's team members and I have seen an amazing number of talented players who might look perfect in a Golden Grizzlies Esports uniform," Leone added. "We plan to keep getting better and field nationally competitive teams again next year."
The University of Texas-Dallas lead the way on this year's final Collegiate Smash Brothers Power Rankings list. Michigan State University, Illinois-Urbana Champaign, Louisiana-Lafayette, University of Texas-Austin, Iowa State University, Mississippi State University, University of Texas-Arlington and DePaul University also earned high honors. The Power Rankings also gave honorable mention nods to Winthrop University, University of Houston and Queens College.
The Oakland University Esports program has also announced the addition of Overwatch to the list of games the Golden Grizzlies will compete in, beginning in fall 2021. Oakland just completed its first season of competition in League of Legends (18-14 record), Rocket League (60-30 record) and Super Smash Bros. (21-12 record) this year.

With the addition of Overwatch, Oakland will add eight new student-athletes to its roster, while also tallying additional players in League of Legends (3), Rocket League (2) and Super Smash Bros. (1) totaling 14 more student-athletes.

For more information about the Esports program please contact Coach Leone via Esports@oakland.edu or by Discord: Coach Leone#8401 and check out the OU Esports page of news and information at: https://goldengrizzlies.com/sports/esports/archives
Learn more about Oakland University's Esports summer experiences here.
About Collegiate Smash Brothers Circuit:
Collegiate Smash Brothers, on Twitter at @CollegiateSmash is a community dedicated entirely to the growth of collegiate Smash Bros. competitions. You can see the Power Rankings Twitter announcement here: https://twitter.com/CollegiateSmash/status/1387957972006051843
Here is the final Power Rankings list as released on Twitter