With help from her students in Oakland University's Teacher Development and Educational Studies program, OU Professor Mary Stein created innovative kits to bring science to elementary students at the International Technology Academy in Pontiac, Mich. who were impacted by the school's closure due to the COVID-19 pandemic.

"For the past few years, Oakland University's elementary education program and the International Technology Academy in Pontiac have had a wonderful working partnership," Stein said. "OU teacher candidates experienced their science methods course at the school, where they built relationships with ITA students and their teachers as they learned about, and practiced, teaching science.

"It was gratifying to see how these real-world experiences helped OU students grow, learn, and develop as future teachers," she added. "Unfortunately, this program was one of the many casualties of the COVID-19 outbreak."

According to Stein, the closure of the ITA due to the COVID-19 pandemic created "great challenges for student learning," especially for those students and their families who do not have access to online learning.

"I wondered how we might still continue our partnership and serve both OU candidate learning and ITA elementary students," she said. "It had to be a project that was safe and met the learning needs of both sets of students.

"I thought by having OU teacher candidates work on all aspects of kit development for a relevant purpose would drive home important considerations of curriculum development, such as student engagement, alignment with standards, safety, material resources, and understanding age-appropriate material development," Stein added. "Most importantly, OU candidates would know that their work during the course was meaningful and could make a positive difference in students' lives."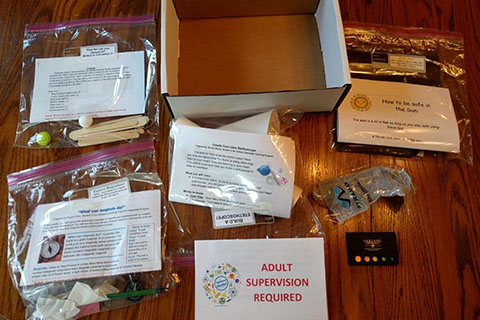 Approximately 120 kits were created and distributed on June 10 as part of the weekly meal and curriculum pick-up program at the ITA. Each kit contained a note to parents and students, safety glasses, and four engaging lessons developed by OU teacher candidates.

Due to social distancing requirements, the final kits, which were funded by donations to the Teacher Development and Educational Studies program at OU in support of OU candidate learning and school partnerships, were assembled by Stein in her home.

"Each of the four lesson packets included the directions, a data sheet, and all the materials the student would need to do the lesson," Stein said. "The lessons were designed to be fun. At the same time, it was important that students would be engaged in learning new science concepts."

For example, students could learn about building a catapult and testing launches; experimenting with magnets; making a stethoscope and studying heart rate; and exploring the sun's energy through color-changing fabric.

"OU teacher candidates learned a lot as they explored possible lessons and worked to make their final choices age-appropriate, fun, and understandable to children," Stein said. "OU candidates also had to work within a budget and explored different sources for science materials as they developed the purchasing list for each lesson."

Dr. Cynthia Carver, associate professor and chair of Teacher Development and Educational Studies at Oakland University, said the project was a fitting capstone on Stein's 21-year career at OU, during which time she has also served as interim associate provost and associate dean of the School of Education and Human Services.

"Dr. Stein is a valued senior leader in our department who exemplifies hard work and commitment," Carver said. "She has worked tirelessly over the years in service to our programs and students. She has led the elementary science education team and, while coordinator of the Elementary Education program, she helped to launch the redesign of our elementary teacher preparation program. At the same time, she led the design of a professional behaviors assessment tool that we now use in each of our teacher preparation programs.

"As one of the original members of the MI Program Network, Mary was an early adopter of practice-based teacher preparation," Carver added. "She has mentored countless faculty over the years and has always been an advocate for our students. Her dedication to serving students at the ITA in Pontiac is just one example. We are going to miss Mary!"

For Stein, who plans to retire later this month, creating the science kits is one of "many wonderful memories" she has of her time at OU.

"Each of my memories are filled with faces of people learning together and enjoying time with one another," she said. "One special memory includes an optional field trip to harvest ice at Crossroads Village for a science course. We learned about simple machines together on a cold, but sunny, day and every student in the course decided to attend. This is just one example of how dedicated so many of our students are to their academic goals."

Stein said that when she retires, there are many things she'll miss about Oakland University — but she'll miss the people the most.

"There are so many who I admire for their work ethic, creativity and the joy they bring to others," she said. "I have learned so much during my time at OU. I will work to keep in touch as I move on to other adventures."