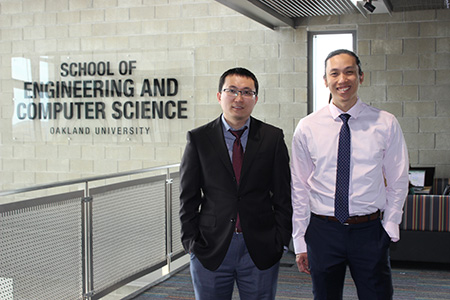 Assistant Professors Jun Chen (left) and Wing-Yue Geoffrey Louie received CAREER Awards from the National Science Foundation to support research and academic programs in the School of Engineering and Computer Science.
Jun Chen and Wing-Yue Geoffrey Louie, assistant professors in Oakland University's Department of Electrical and Computer Engineering, have received CAREER Awards from the National Science Foundation to support their respective research projects and expand academic and research opportunities for students. 
The CAREER Award is part of the NSF's Faculty Early Career Development Program, which recognizes early-career faculty members who have demonstrated the potential to serve as academic role models in research and education, and to lead advances in the mission of their department or organization.   
The awards will fund research and academic programs in electrification and robotics, two areas of strategic importance for Oakland's Department of Electrical and Computer Engineering and School of Engineering and Computer Science.
"The grants are a direct reflection of our faculty's expertise and quality of work in these rapidly evolving fields," said Osamah Rawashdeh, professor and chair of the Electrical and Computer Engineering department. "As we continue to expand our program offerings at both the undergraduate and graduate levels, as well as in the form of continuing education opportunities, the NSF CAREER Awards will strengthen our efforts to prepare students to meet the growing needs of local and national industries."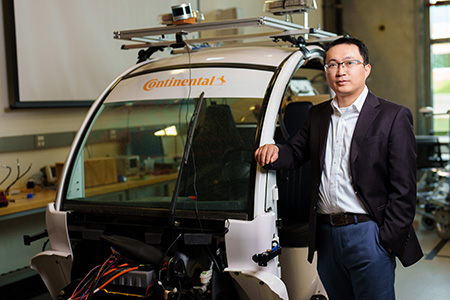 Dr. Chen's CAREER Award will support his research on how to improve efficiency of electric vehicles.
Dr. Chen obtained a five-year, $500,000 grant for research on maximizing the driving range and sustainability of battery electric vehicles. The project will use real-time vehicle and traffic data to improve battery efficiency and more accurately measure a battery's level of charge. 
"Due to battery cell variations, a significant amount of electricity in electric vehicles remains unused, which raises concerns on efficiency and sustainability," said Dr. Chen. "Active battery cell balancing control aims to address these concerns, but existing methods have limited success in battery electric vehicles due to problems in real-time constraints and limited sensing capability in many automotive systems." 
In collaboration with several Original Equipment Manufacturers, Dr. Chen's multi-disciplinary research approach will support the development of more efficient electric vehicles that minimize environmental impact and bolster the automotive workforce in Southeast Michigan. 
"I have the honor to work with a group of talented students," said Dr. Chen. "This prestigious award is not only a recognition of our group's success in this research area, but also a key enabler for our group to build an internationally recognized research program that addresses the major challenges in the control of large-scale systems, control fusion, intelligent control and battery management." 
The funding will support research opportunities for both graduate and undergraduate students, especially those from underrepresented groups. In addition, several educational endeavors are planned, including the development of new undergraduate and graduate programs relevant to automotive electrification.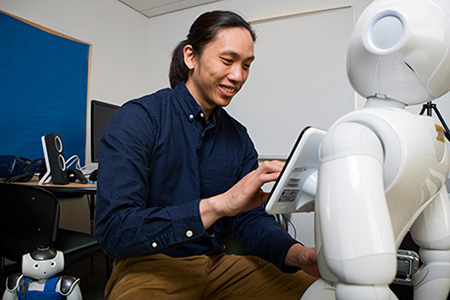 Dr. Louie will use his CAREER Award to teach people how to leverage the power of social robots in many fields, from healthcare to education. 
Dr. Louie received a five-year, $586,000 grant that will support his research on social robots. These artificial intelligence systems have demonstrated significant positive impacts across a range of areas, including delivering K-12 education, therapy for autism spectrum disorder and older adult care.  
Although they are intended to provide much needed support, social robots remain inaccessible to individuals – including healthcare professionals, educators and service industry workers – who could best use the technology to help society. This is mainly because social robots still require significant technical expertise to be deployed and there is currently no clear pathway for laypeople to use social robots for their desired applications. 
Dr. Louie's research aims to bridge the gap between social robots and individuals with no robotics or programming experience with a focus on improving quality of life for all.  
"We will develop approaches and technologies that empower laypeople to teach and customize social robots, which will transform our emerging healthcare and education workforce by increasing their capacity for delivering services previously not possible," Dr. Louie explained. 
The grant funding will support graduate and undergraduate research opportunities; interdisciplinary collaborations with experts in different domains such as healthcare, education, and psychology; new interdisciplinary courses between engineering and healthcare/education disciplines; robot-mediated healthcare/education delivery to a range of populations, including individuals with autism spectrum disorder, older adults, K-12 students, individuals requiring therapy (e.g., physical, cognitive, social and emotional therapies); and K-12 STEM outreach in the Greater Detroit Area.
"This award will provide long-term support for my career in higher education to  serve as a mentor and educator for our wonderful graduate and undergraduate students from all backgrounds," Dr. Louie added. "Overall, I believe this award will significantly improve the accessibility of robots to individuals at all technical levels, as well as their scalability across disciplines and applications, while educating an astute workforce."  
Learn more about programs and opportunities in Oakland University's School of Engineering and Computer Science at oakland.edu/secs.